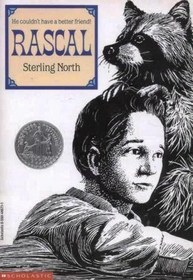 By Andrew Porter: According to a Nature program on PBS last evening — Raccoon Nation — when Sterling North's novel Rascal, about a boy and his raccoon, with cover and interior illustrations by SF artist John Schoenherr, was published, it set off a chain of events which were to lead to ecological disaster in Japan. Made into an anime, thousands of Japanese children implored their parents to buy them a pet raccoon. Pet importers brought them into Japan, where they are not native. When they became mature they were destructive and unmanageable, and they ended up being released into forests across the country.
Raccoons have bred into an enormous population, unchecked by natural predators. Their predilection for roosting in trees has meant they have moved en masse into Japanese temples, where, according to the program, they've done more damage in the last few decades than in the previous 700 years, tearing up roofs, destroying timbers and turning centuries-old wooden floors into urine and feces-soaked nests.
From Wikipedia:
North published his most famous work, Rascal, in 1963. The book is a remembrance of a year in his childhood when he raised a baby raccoon which he named Rascal. It received a Newbery Honor in 1964, a Sequoyah Book Award in 1966, and a Young Reader's Choice Award in 1966. It was made into the Disney movie of the same name in 1969. Additionally, it was made into a 52-episode Japanese anime entitled Araiguma Rasukaru.?Araiguma Rascal means Racoon Rascal. The success of the anime was responsible for the unfortunate introduction of the North American Raccoon into Japan.
The success of Rascal was good news for Schoenherr. The success of the book launched a new career illustrating books, and within several years he ceased to illustrate science fiction.