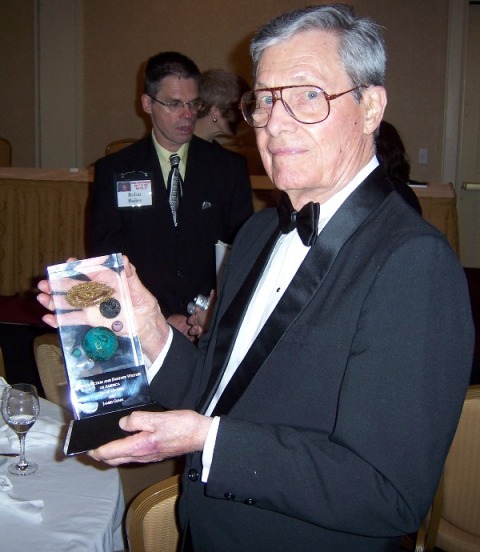 The Science Fiction and Fantasy Writers of America (SFWA) honors one living writer each year with the Damon Knight Memorial Grand Master Award.
The recent deaths of two distinguished sf writers have drawn attention to the award. The late Ben Bova is someone Gregory Benford wished would have gotten it. James Gunn, who passed away last week, deservedly did get it. And he is also now the fifth Grand Master to die in the past four years (preceded by Brian Aldiss, Ursula K. Le Guin, Harlan Ellison, and Gene Wolfe.)
What writers are File 770 readers hoping SFWA will honor in years to come? Give your ideas in a comment.
To start the discussion rolling I asked four writers who they think deserves priority.
Gregory Benford sent a list of five:
Nancy Kress
Bruce Sterling
David Brin
Greg Bear
Steve Baxter
Ursula Vernon says:
Oh lord…my choices might be rather idiosyncratic! But I'd want Terri Windling, Robin McKinley, Diane Duane, Barbara Hambly and Ellen Kushner to all be considered. Terri Windling would probably be top of my list.
Past SFWA President Cat Rambo, who led the selection process during her years in office, sent this overview:
The biggest thing stopping Bova being a candidate — and the reason a lot of my picks didn't fly — is that there's been a lot of past "the rule is they can't be dead" stuff. This leads to some weirdness (IMO), including people factoring in how healthy candidates are. To me it has to be someone who shaped the genre — my picks were Peter Beagle, C.J. Cherryh, Jane Yolen, and Bill Gibson, and I think all of them have a substantial and unquestionable legacy and influence on the field.

I'd love to see the award revamped, and be something that could go to multiple people, living and dead, each year, along the lines of the Science Fiction Hall of Fame. I know top of my list would be Octavia Butler, and there's some other now-gone folks that I would also put above Bova, although he is certainly worthy. 
That last thought about expanding eligibility resonates with Nisi Shawl 's SFWA Grand Master Wishlist:
I'm surely not the first to name Octavia E. Butler as a priority for the honor of SFWA Grand Master.  I mean.  I mean come on.  She was a MacArthur Fellowship-certified genius who demonstrably changed the field.  She was gracious, kind, and charming in person and ruthlessly gorgeous in her prose.  She was a tireless worker, a dreamer, a sincere advocate for emerging authors such as myself, and the moment for us to honor her is fast approaching.  Or maybe it's already here.

My other two picks for most-likely-to-make-Grand Master are known primarily for their short stories, a form I feel has gotten much shorter shrift than it deserves. 

Nebula-winner Eileen Gunn is a short story writer supreme.  Wisewoman and wise-ass, Eileen is generous with that most precious of authorial treasures, her time.  She teaches, she critiques, she analyzes, she sets forth on pioneering journeys to the heart of speculation and leaves shining footsteps for us to follow. 

And Ted F. Chiang (ask Ellen Klages what the "f" stands for) is a careful, precise giant in this field.  His stories are exquisite and true to the core.  Long may he live!  Long may he reign as Grand Master—and soon!
Add your own names and ideas in the comments.