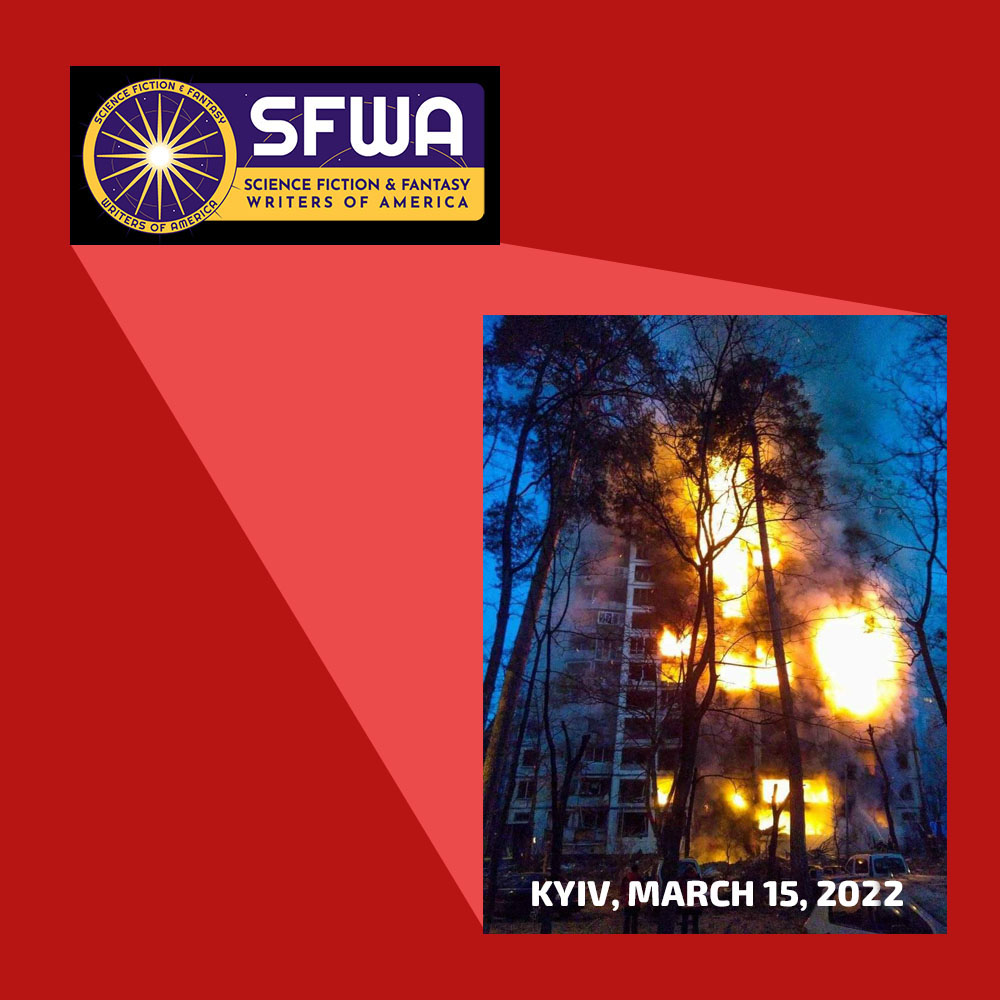 [Introduction: Boris Sydiuk, an internationally-known Ukranian fan, asked SFWA to join a global boycott of Russian books and publishers from events around the world. (See Publishers Weekly for the text of such a call by members of the Ukrainian Book Institute, the Lviv International Book Forum, and PEN Ukraine.) SFWA President Jeffe Kennedy, quoted below, replied that the Board has decided SFWA cannot participate. Sydiuk has written a guest post expressing his disappointment.]
By Borys Sydiuk: Right now, when I'm sitting at my desktop and writing this text, a cannonade nearby doesn't stop. The previous night was scary in Kyiv. Evidently, Russians are going to start demolishing Ukrainian capital like they are doing with Kharkiv, Sumy, Chernihiv, Mariupol.
The Ukrainian SFF Community joined the efforts to isolate Russia, the nazi-country of the 21st century, to force them to stop the war. The boycott by American authors we asked for is also doing the job. Many leading writers and artists of the great United States already joined the campaign.
We appealed to SFWA to also join the campaign, and here is what they replied:
"The SFWA Board of Directors met this last week to discuss and carefully review your missive. SFWA's mission is to support, advocate for, and educate creators in the science fiction and fantasy genres across the world. We do this regardless of the actions of their governments. Because our mission is tied to our incorporation and status as a charitable organization, we cannot participate or support any kind of boycott."
Can you imagine? They stay aside with popcorn watching how the greatest evil of modern time is trying to destroy a new democratic country, to genocide a European nation, to realize the "Final solution of Ukrainian question".
That is easy to appeal to status, constitution, and so on just to abstain. It is so comfortable — to abstain, sit in a shell thinking the evil will not come. But the evil will come, the evil will knock to your shell and you will abstain when the evil will be killing you. So nice!
Dear American and foreign authors, members of SFWA, do you think the board of SFWA made the right decision? Do you think you are ok to belong to an organization that is so toothless, trying to remain soft and fluffy?
Tonight Russians targeted living houses in Kyiv, they expanded to put on fire as many Ukrainian cities as they can trying to break us, trying to wipe out democracy and freedom, and bring the totalitarianism of 1984 and Animal Farm to our home, and then to yours. Abstaining today means you support the Russians in this way. Sigh.