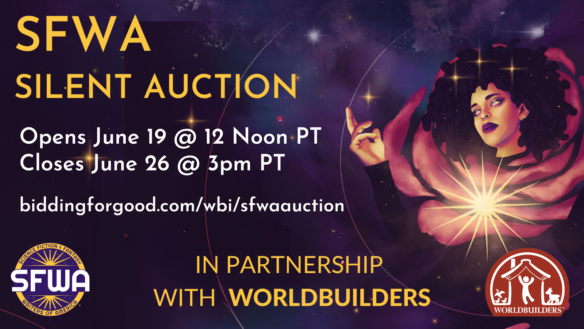 The Science Fiction and Fantasy Writers Association (SFWA), a 501(c)(3) nonprofit, is holding its third annual online auction to support its advocacy for and professional development of creators working in the speculative fiction genres. This silent auction opened today and will close June 26 at 3:00pm PT. The auction website is here.
The first 20 people to place bids in the auction will receive a free copy of the Sept./Oct. 2021 edition of Asimov's, signed by auction coordinator Jason Sanford, who has a cover story in the issue. Every winning bidder for a physical item will also receive a free copy of Asimov's Science Fiction or Analog: Science Fiction and Fact courtesy of Penny Press.
SFWA says to better serve their expanding membership of 2,500+ writers and advance the genres at large, they must broaden their outreach, and that takes funding. SFWA invites members of the science fiction and fantasy community to contribute through placing their bids on the unique items and virtual offerings of this year's auction:
Signed books from authors including Annalee Newitz, Cherie Priest, Chuck Wendig, Diana Rowland, Jack McDevitt, Fonda Lee, George R. R. Martin, Jim Hines, Kate Heartfield, Ken Liu, Mary Robinette Kowal, Maurice Broaddus, Michael Swanwick, Peng Shepherd, Sarah Gailey, SB Divya, Victor Manibo, Zig Zag Claybourne, and many more
Manuscript critiques from A.C. Wise, Alaya Dawn Johnson, E.D.E. Bell, Eugen Bacon, Holly Schofield, and many more
Virtual career advising sessions with Cecilia Tan, Mary Robinette Kowal, Julie E. Czerneda, Premee Mohamed, and many more
Online video hangouts with Alma Alexander, Cecilia Tan, David Mack, Eileen Gunn, Gary Phillips, Lydia M. Hawke, Nicole Glover, Wole Talabi, and many more
That's a veritable treasure trove of amazing opportunities and brag-worthy wins for fans, collectors, and writers alike! If you are unable to bid this year, SFWA welcomes your contribution through sharing the auction website with others who may wish to take advantage of all the great items and opportunities on offer.
SFWA has partnered once again with Worldbuilders, an organization of "geeks doing good" that supports humanitarian efforts worldwide, to host this auction. A few examples of the work SFWA has undertaken to address the needs and challenges that speculative fiction storytellers face today, and that your bids will support:
SFWA again awarded over 200 scholarships to creator populations in need for this year's Nebula Conference, for those attending in-person and online.
Writer Beware, the Estates-Legacy program, and the SFWA Blog are just a few of the highly regarded resources for authors, established and starting out, that SFWA hosts and promotes. In the last year, new resources like the Indie Pub 101 and Safety guidance for authors and event planners also debuted.
SFWA's Independent Authors Committee is continuing work on launching the HARP project to aid older and disabled authors in self-publishing their out-of-print oeuvres, and our Short Fiction Committee is making progress on the short fiction matrix that will provide a more thorough measurement of how markets may provide writers with a more professional experience.
And SFWA's benevolent funds—including the Legal Fund, the Emergency Medical Fund, and the Givers Fund Grants—continue to provide targeted, essential support for many creators and organizations in the field.
If you would like to support SFWA monetarily, direct donations are also welcome. For questions, contact the SFWA Fundraising Committee at [email protected].
[Based on a press release.]