Noreascon 3 was one of the best Worldcons ever, and the reasons for saying so are in my convention report (reprinted here in five parts a few years ago, opening with Worldcon Wayback Machine: Noreascon Three (1989) Day One). However, the convention still lay months in the future when a controversy brewed up about the committee's very public and divisive handling of an instance of Hugo bloc voting and a couple of dozen suspicious nominating ballots, all benefitting a specific author couple.
This topic has come up in comments here within the past two days and I thought I would point out there is a great deal of source material available to anyone who really wants to know what happened.
The tip of the iceberg is visible in The Long List of Hugo Awards for 1989 which shows that The Guardsman by P. J. Beese and Todd Cameron Hamilton [Pageant, 1988] was withdrawn as a Best Novel nominee, Todd Cameron Hamilton withdrew as a Best Professional Artist nominee, while authors P. J. Beese and Todd Cameron Hamilton finished sixth for the Campbell Award. No notes explain the withdrawals.
That there were problems became general knowledge for the first time with the release of Noreascon 3's Hugo nominee announcement in April 1989, containing the committee's original statement about the status of Hamilton and Beese's nominations. I've been unable to find a copy of the announcement online, so all I can offer on that score is the news account of it in File 770 #79, below.
What the committee initially assumed and how that influenced their interaction with the authors and their public communications was covered again, along with much new material, in Noreascon 3's second, voluminous press release in June. The text is online here —
We may not be privy to the Noreascon 3 committee's internal discussions, but in the second press release they amply explained and justified from their perspective the decisions that they made.
While they were frank about the information they did consider and how they made their decisions, in File 770 I criticized them for deliberately choosing to avoid gathering other useful information that would have influenced those decisions and spared Hamiton and Beese an unjustified public shaming. Copies of the relevant issues have been scanned and put online at Fanac.org is the past year or so, making that writeup easy to find as well.
Now, at least the way it's working on my computer, the text is small enough to make it hard to read. If you'll click on the image, it will bring up what at first looks like the same image. Hover your cursor — which now appears as a magnifying glass — over it and click and the page will open to full-size.
The scans from those issues follow the jump. I've also included links to the copies at Fanac.org in case the presentation there works better for you.
And in comments I will add one last bit of cryptic information.
FILE 770 ISSUE #79
http://fanac.org/fanzines/File770/File77079-10.html
http://fanac.org/fanzines/File770/File77079-05.html
FILE 770 ISSUE #80
http://fanac.org/fanzines/File770/File77080-02.html
http://fanac.org/fanzines/File770/File77080-13.html
http://fanac.org/fanzines/File770/File77080-14.html
http://fanac.org/fanzines/File770/File77080-15.html
http://fanac.org/fanzines/File770/File77080-16.html
http://fanac.org/fanzines/File770/File77080-17.html
http://fanac.org/fanzines/File770/File77080-18.html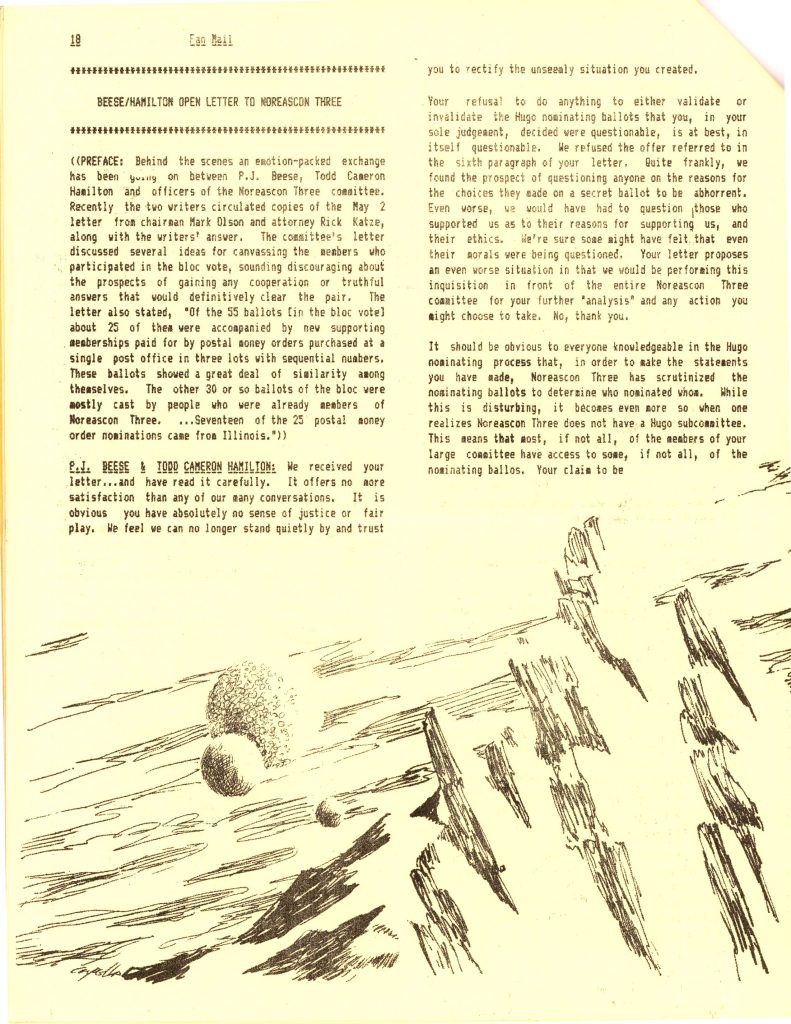 http://fanac.org/fanzines/File770/File77080-19.html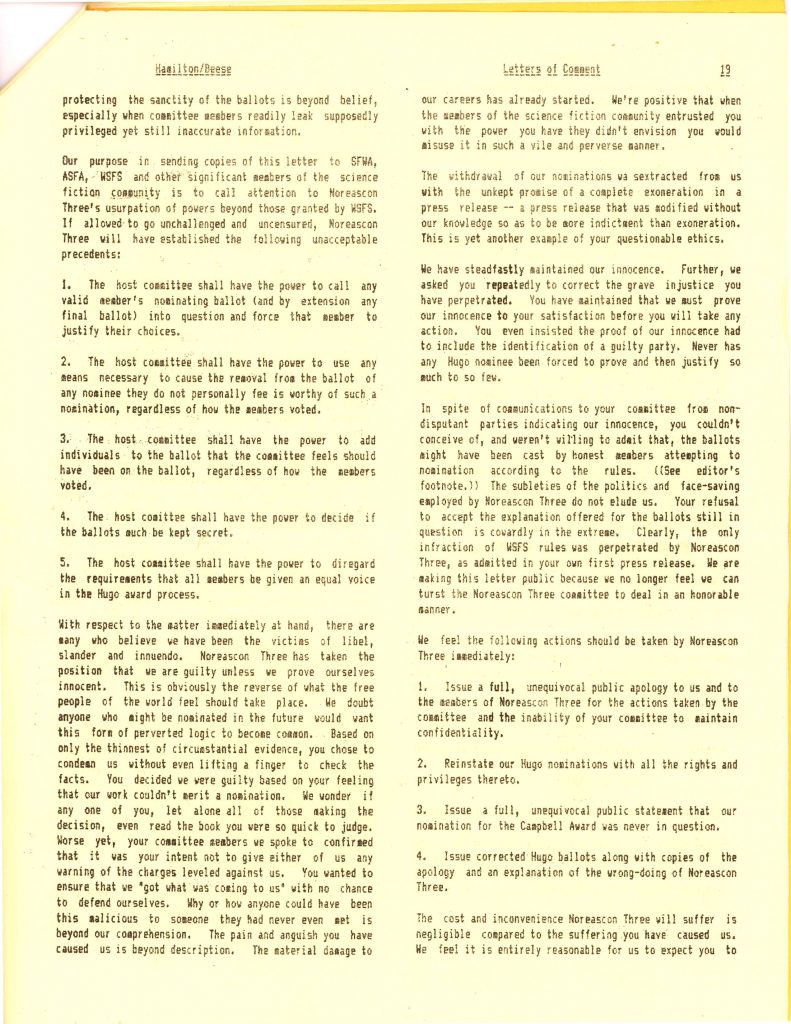 http://fanac.org/fanzines/File770/File77080-20.html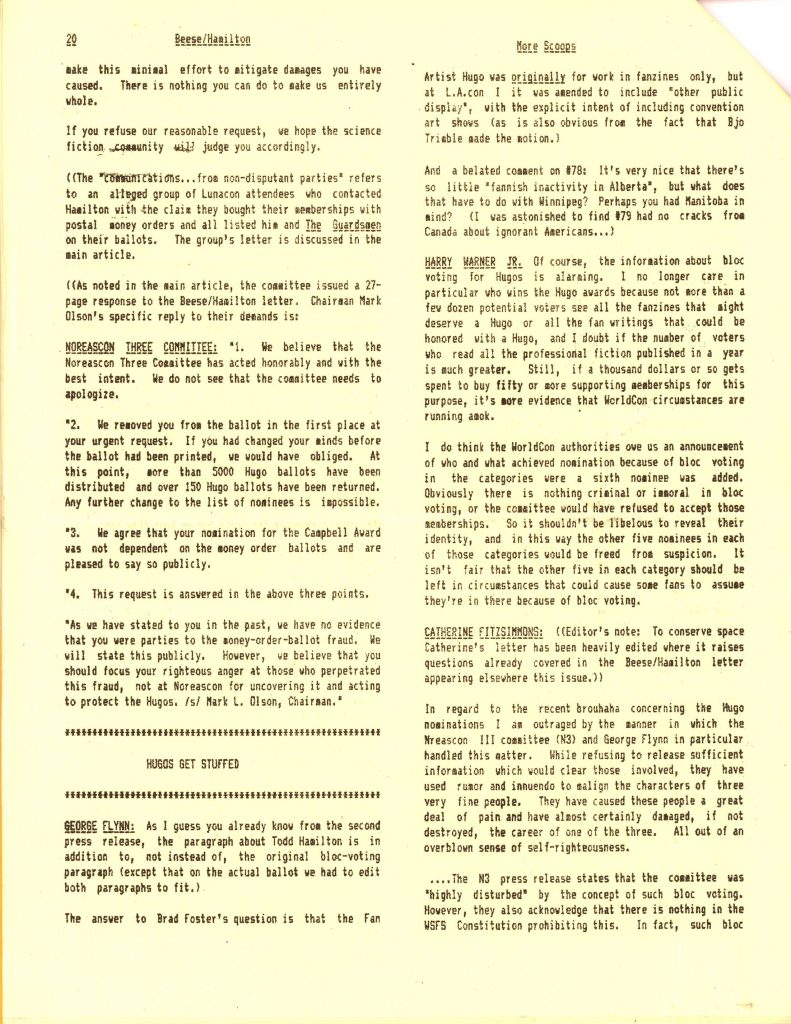 http://fanac.org/fanzines/File770/File77080-21.html