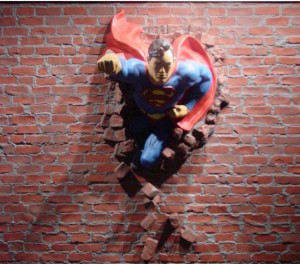 "ZAP! POW! BAM! The Superhero: The Golden Age of Comic Books, 1938-1950" exhibit at the Jewish Museum of Maryland runs until August 18. The display was curated by the late Jerry Robinson, creator of Batman's nemesis The Joker and the artist after whom Batman's sidekick Robin was named.
With the American economy in deep Depression and the rise of fascism in Europe, a group of young, largely Jewish, artists began to create illustrated stories of superheroes and provided the nation with an optimistic antidote to a growing sense of despair and helplessness. Featuring superhero memorabilia, original comic book art, and video interviews with the creators of superheroes, offers visitors an exclusive, behind-the-scenes look at the Golden Age of comic books.
"ZAP! POW! BAM!" includes an interactive telephone booth, a drawing studio where visitors can try their hands at comic book art, and a ride on the Bat Mobile.