CRIMEFEST AWARDS
The 2022 CrimeFest Awards shortlists were revealed March 15
SPECSAVERS DEBUT CRIME NOVEL AWARD
In association with headline sponsor, the Specsavers Debut Crime Novel Award is for crime novels by previously unpublished authors bring vital fresh blood to the genre.
Girl A by Abigail Dean (HarperCollins)
The Appeal by Janice Hallett, (Viper)
The Khan by Saima Mir,(Point Blank)
How to Kidnap the Rich by Rahul Raina, (Abacus/ Little, Brown Book Group)
One Night, New York by Lara Thompson, (Virago/Little, Brown Book Group)
Winter Counts by David Heska Wanbli Weiden, (Simon & Schuster)
AUDIBLE SOUNDS OF CRIME AWARD
The Audible Sounds of Crime Award is for the best unabridged crime audiobook available for download from audible.co.uk, Britain's largest provider of downloadable audiobooks.
Better Off Dead by Lee and Andrew Child – read by Jeff Harding (Penguin Random House Audio)
Girl A by Abigail Dean – read by Holliday Grainger (HarperFiction)
Slow Fire Burning by Paula Hawkins – read by Rosamund Pike (Penguin Random House Audio)
The Night She Disappeared by Lisa Jewell – read by Joanna Froggatt (Penguin Random House Audio)
Apples Never Fall by Liane Moriarty -read by Caroline Lee (Penguin Random House Audio)
The Man Who Died Twice by Richard Osman – read by Lesley Manville (Penguin Random House Audio)
The Marriage by K.L Slater – read by Lucy Price-Lewis (Audible Studios / Bookouture)
False Witness by Karin Slaughter – read by Kathleen Early (HarperCollins)
eDUNNIT AWARD
The eDunnit Award is for the best crime fiction eBook
The Turnout by Megan Abbott (Virago/ Little, Brown Book Group)
The Measure of Time by Gianrico Carofiglio (Bitter Lemon Press)
The Dark Hours by Michael Connelly (Orion Fiction)
Girl A by Abigail Dean (HarperCollins)
Running Out of Road by Cath Staincliffe (Constable/ Little, Brown Book Group)
The Royal Secret by Andrew Taylor (HarperCollins)
H.R.F. KEATING AWARD
The H.R.F. Keating Award is for the best biographical or critical book related to crime fiction. The award is named after H.R.F. 'Harry' Keating, one of Britain's most esteemed crime novelists.
The Detective's Companion in Crime Fiction: A Study in Sidekicks by Lucy Andrews (Palgrave Macmillan)
Devils, Lusts and Strange Desires: The Life of Patricia Highsmith by Richard Bradford Bloomsbury, Caravel)
Bond Behind the Iron Curtain by James Fleming (The Book Collector)
Patricia Highsmith: Her Diaries and Notebooks by Patricia Highsmith (Weidenfeld & Nicolson)
Murder Isn't Easy: The Forensics of Agatha Christie by Carla Valentine (Sphere/ Little, Brown Book Group)
Hank Janson Under Cover by Stephen James Walker (Telos Publishing Ltd)
LAST LAUGH AWARD
The Last Laugh Award is for the best humorous crime novel.
An Untidy Death by Simon Brett (Severn House)
Riccardino by Andrea Camilleri (Mantle)
Bryant & May: London Bridge is Falling Down by Christopher Fowler (Doubleday)
The Appeal by Janet Hallet (Viper)
Slough House by Mick Herron (Baskerville, John Murray Press)
The Rabbit Factor by Antti Tuomainen, (Orenda Books)
BEST CRIME FICTION NOVEL FOR CHILDREN
This award is for the best crime fiction novel for children (aged 8-12)
Noah's Gold by Frank Cottrell-Boyce, (Macmillan Children's Books)
Vi Spy: Licence to Chill by Maz Evans (Chicken House)
Nightshade by Anthony Horowitz, (Walker Books)
The Five Clues by Anthony Kessel, (Crown House Publishing)
Lake Evolution by Jennifer Killick Crater, (Firefly Press)
Twitch by M.G. Leonard,(Walker Books)
Wishyouwas: The Tiny Guardian of Lost Letters by Alexandra Page illustrated by Penny Neville-Lee (Bloomsbury Children's Books)
The Secret Detectives by Ella Risbridger (Nosy Crow)
BEST CRIME FICTION NOVEL FOR YOUNG ADULTS
This award is for the best crime fiction novel for young adults (aged 12-16).
Ace of Spades by Faridah Àbíké Íyímídé, (Usborne Publishing)
Firekeeper's Daughter by Angeline Boulley (Rock the Boat)
The Girl Who … by Andreina Cordani (Atom/ Little, Brown Book Group)
The Outrage by William Hussey (Usborne Publishing)
As Good As Dead by Holly Jackson (Electric Monkey)
Splinters of Sunshine by Patrice Lawrence (Hodder Children's Books)
The Outlaws of Scarlett & Browne by Jonathan Stroud (Walker Books)
The Island by C. L Taylor (HQ)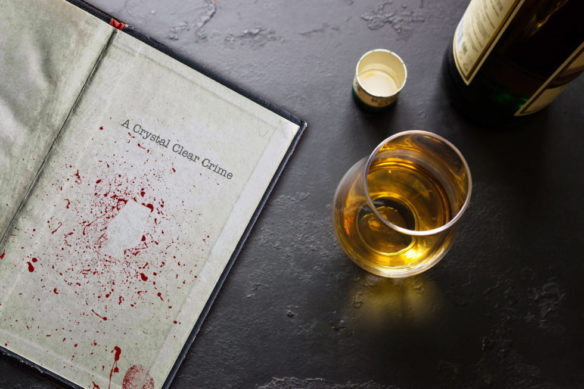 GLENCAIRN GLASS CRIME SHORT STORY COMPETITION
The prize winners of the inaugural Glencairn Glass Crime Short Story Competition were announced March 7. Glencairn Glass, a manufacturer of whiskey glasses and sponsor of the Bloody Scotland crime fiction festival, limited all story entries to 2000 words, and required them to be based on the theme "A Crystal-Clear Crime."
WINNER
Halmeoni's Wisdom by Brid Cummings
RUNNERS UP
Teardrops by Jennifer Harvey
Auld Brideby Judith O'Reilly
The first prize winner will receive £1000, and the two runners up will each receive £250. All three authors will also receive a set of six bespoke engraved Glencairn Glasses. The winning entry will be published in the May issue of Scottish Field Magazine (on shelf April 8). The runners' up stories will also be published from April 11 online on Scottish Field Magazine's website (www.scottishfield.co.uk).
You will also be able to read the winning story and the runners up stories on the Glencairn Glass website: www.whiskyglass.com from April 11.