Hugo-nominated fan artist Steve Stiles has started two blogs to help fans remember that he is – Hugo nominated!
One look at Steve's Okay, Actually It's A Blog: A Site For Sore Eyes on Tumblr offers immediate proof that this good guy deserves your vote.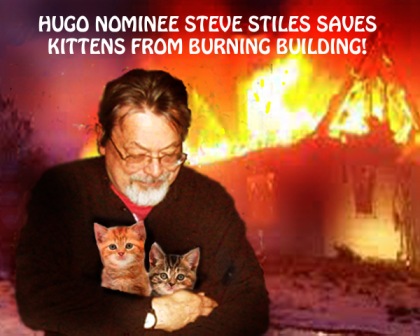 The copious examples of his excellent fanzine and comic art help too, of course.
If anything, Steve's Google+ blog is even more subtle *coff**coff* A photo caption on that site reads:
Once again (14 times!) I've been nominated for a Hugo: this photo shows what a fine humanitarian I am!
Another says:
Hugo nominee Steve Stiles despises the NRA at least six hours every day.
Good grief, Steve, no wonder Larry Correia didn't include you on his Hugo recommendation list. You coulda been a contender! Next year add a photo of yourself holding one of these assault-rifle-and-chain-saw combos and you won't believe how many votes you'll get.