By Carl Slaughter: Tad Williams has been called "The American Tolkien." His Memory, Sorrow, and Thorn series has been called "The fantasy equivalent of War and Peace." George R.R. Martin and Patrick Rothfuss both cite Williams as their inspiration, as does Eragon author Christopher Paolini. He's working on a sequel trilogy, The Last King of Osten Ard, scheduled for 2017. In preparation for the sequel, DAW reissued Memory, Sorrow, and Thorn in July.  Williams is also working on The Heart of What Was Lost, also scheduled for 2017, set 6 months after Memory, Sorrow, and Thorn.
THE LAST KING OF OSTEN ARD
The Witchwood Crown (forthcoming)
Empire of Grass (forthcoming)
The Navigator's Children (forthcoming)
In this new trilogy, Williams journeys back to the magical land of Osten Ard and continues the story of beloved characters King Simon and Queen Miriamele, married now for thirty years, and introduces newcomer Prince Morgan, their heir apparent. Also expanded is the story of the twin babies born to Prince Josua and Lady Vorzheva—a birth heralded by prophecy, which has been the subject of feverish fan speculation since the release of To Green Angel Tower. In The Last King of Osten Ard, Williams returns with the ingenious worldbuilding, jaw dropping twists and turns, and unparalleled storytelling that have made him one of fantasy's brightest stars for more thirty years.
THE HEART OF WHAT WAS LOST
The Heart of What Was Lost takes place in the half-year after the end of To Green Angel Tower, and tells of the attempt by Isgrimnur and a force largely made up of Rimmersgard soldiers to destroy the remaining Norns as they flee back to their homeland and their mountain. It also answers some questions about what actually happened in the immediate aftermath of the fall of Green Angel Tower.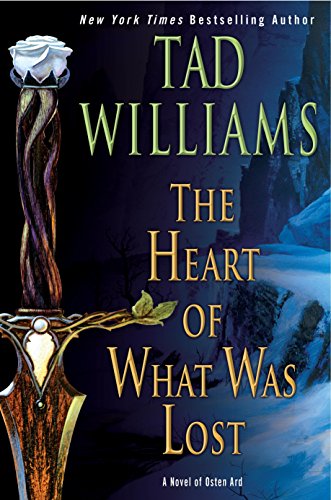 MEMORY, SORROW, AND THORN
The Dragonbone Chair
Stone of Farewell
To Green Angel Tower
Tad Williams Website: http://www.tadwilliams.com/