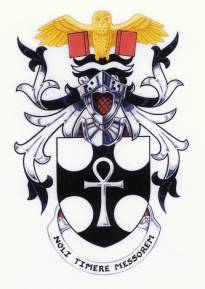 The College of Arms, official repository of the coats of arms and pedigrees of English, Welsh, Northern Irish and Commonwealth families and their descendants, granted a coat-of-arms to Sir Terence David John Pratchett of Broad Chalke, Wiltshire on April 28:  
Illustrated left are the Armorial Bearings granted to Sir Terence David John PRATCHETT of Broad Chalke, Wiltshire, Knight, OBE by Letters Patent of Garter and Clarenceux Kings of Arms dated 28 April 2010.

The Arms are blazoned: Sable an ankh between four Roundels in saltire each issuing Argent.

The Crest is Upon a Helm with a Wreath Argent and Sable On Water Barry wavy Sable Argent and Sable an Owl affronty wings displayed and inverted Or supporting thereby two closed Books erect Gules.
The motto means "Do Not Fear the Reaper."
[Lightly thieved from Ansible Links via Graham England.]