By Paul Weimer:
"The Golden Age of science fiction is twelve" – Peter Graham, 1957 (and requoted many times since)
With the anniversary of File 770, I thought I would revisit that quote from Peter Graham, that the Golden Age of science fiction is the age of 12, by looking back at what the field was doing, and what I was reading at the age of 12. I turned 12 in October 1983, having already been a reader and consumer of science fiction for a number of years, thanks to an older brother already immersed in the genre.
1983 from a book perspective for me was about year 4 of getting really into SF. Getting handed copies of I, Robot and The Martian Chronicles had led to a still-ongoing era of raiding my brother's SF books for stuff to read. Given that he's 7 years older, this meant that my formative early SF reading was always a bit out of sync with what was going on at the time. It took me a while to start reading "currently" in the genre, rather than backfilling. So out of the hundreds and hundreds of books publishes when I was 12, I had read very few of them.
But what was in books published in 1983 and 1984, you ask?  Let's look at the Hugo and Nebula nominees for an idea of what was out there:
1984 Hugo Nominees (for books in 1983)
Startide Rising by David Brin
Tea with the Black Dragon by R. A. MacAvoy
Millennium by John Varley
Moreta: Dragonlady of Pern by Anne McCaffrey
The Robots of Dawn by Isaac Asimov
I had read Robots of Dawn that year, since Asimov had been a formative author for me. I read none of thee at the time, although in a few years I would discover Brin, MacAvoy, Varley and McCaffrey. (I was about a year away from discovering Pern at this point).
File 770 (Best Fanzine) and Mike Glyer (Best Fan Writer) would both get Hugo nominations and wins in 1984.
How about the Nebulas that year?
Startide Rising by David Brin
Against Infinity by Gregory Benford, published by Timescape
Tea with the Black Dragon by R. A. MacAvoy
The Void Captain's Tale by Norman Spinrad
Lyonesse by Jack Vance
The Citadel of the Autarch by Gene Wolfe
I had not yet quite discovered Benford, so his novel was still in my future at the time. Too, for Norman Spinrad. I had an intense Spinrad phase toward the end of the 80's, but I was not there yet. I had already read a chunk of Jack Vance, but Lyonesse was still in my future. Gene Wolfe, too, was more than a decade in my future. I don't think I'd really have grokked Book of the New Sun at age 12 anyway.
Let's move onto the year 1984.  Again, a lot of my genre reading was idiosyncratically behind some years, as I was for the most part still working through my brother's back collection. And yes, I did read 1984 in the year 1984, so there's that.
1985 Hugo Nominees (for books in 1984)
Neuromancer by William Gibson
Emergence by David R. Palmer
The Peace War by Vernor Vinge
Job: A Comedy of Justice by Robert A. Heinlein
The Integral Trees by Larry Niven
Out of this set, I had read none of them that year, although in a couple of years I would read Heinlein, Niven and Gibson, and when it came back in print years later, the Vinge. I have not ever read the Palmer.
In the 1985 Hugo nominees for Novelette, the winner for Best Novelette was Octavia Butler's "Bloodchild", with that oh so memorable Asimov's SF magazine cover. As I detailed in my essay in the collection Letters To Butler, this story had a profound impact on me and my subsequent Science Fiction reading. I had just started dipping a bit into current short fiction by 1984, mainly by reading issues of Asimov's.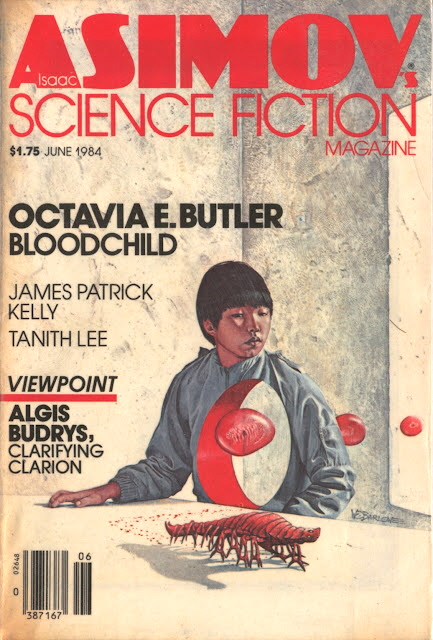 File 770 won for best Fanzine again in 1985. Mr. Glyer himself was nominated again for Best Fan Writer but did not win.
The Nebula award lineup that year for novels:
The Man Who Melted by Jack Dann
Neuromancer by William Gibson
Job: A Comedy of Justice by Robert A. Heinlein
The Integral Trees by Larry Niven
The Wild Shore by Kim Stanley Robinson
Frontera by Lewis Shiner
I have never read the Shiner or the Dann, and as far Kim Stanley Robinson, I didn't discover him, really until the Mars books, whereupon I went back and read books like The Wild Shore and enjoyed them highly.
Oh, and the aforementioned Octavia Butler Novelette "Bloodchild" won the Nebula, too.
As far as movies, 1983 and 1984 marked the first years I actually got to see movies in a movie theater. My family was not big on movie watching, so it took my older brother again to take me and my younger brother to the movies for the first time. The second ever movie I saw in a movie theater, in the summer of 1983, was Return of the Jedi. I had not seen the previous Star Wars films, and only had the vaguest idea of what was in them, even though I did have many toys from a young age. Finally, in 1983, I was able to see Star Wars as it was meant to be, on a wide screen in a theater, being immersed into SF in a visual way that really only some television properties and television-broadcast movies had provided for me.  I did watch the Ewok Adventure: Caravan of Courage that fall, and was rather disappointed in it.
But back to movies and my season of going to movies for the first time. As it so happens, the first movie I saw in a movie theater was also genre, as it so happens — Metalstorm 3d: The Destruction of Jared Syn. I recently rewatched it to try and see how it matched up to my hazy memories of a desert planet that looked out of a Doctor Who rock quarry…it does not hold up to the memories I am afraid.
Other movies I saw in 1983 and then 1984 in genre included Superman III (a huge disappointment), The Adventures of Buckaroo Banzai, which was enormous fun, the original Ghostbusters and The Last Starfighter. I remember seeing Star Trek III: The Search for Spock after months and years of seeing articles which had spoiled the as-yet-unseen-to-me Star Trek II, and the debate on "How are we going to get Spock back, because they have to". So when I saw Star Trek III, I already knew that Spock was dead and wondered just how he was going to be resurrected. I highly enjoyed Night of the Comet, although even at the time I realized that the denouement really is a downer despite its outwardly upbeat ending. All that infrastructure is doomed to fail!
I did not manage to see Dune at the time, although I remember Starlog magazine articles on it, because it disappeared from local theaters too soon. I also missed at the time Krull, 2010, Brainstorm, The Philadelphia Experiment, The Terminator, Wargames, The Right Stuff, Nausicaa, 1984, Ice Pirates, Repo Man, Videodrome, and  Firestarter.  I would see all of these in future years with the rise of VHS cassettes, however.
In terms of Television, 1983-4 was a pretty formative year, too. I watched the original V, avidly. It took a rewatch for me to really glom onto the anti-fascist theme. I was hopeful for Manimal, but the show died relatively quickly. 1983 also marked the end of Voyagers!, which married ideas of alternate history, history and time travel in a tasty genre package. 1983 and 1984 also were part of the early portion of another beloved show at the time for me, Knight Rider. The anthology show Tales from the Darkside also came out in Fall 1983. Although not really terribly to my taste (I felt really uncomfortable parallels to Brainy Smurf and how he was a butt monkey of the show), The Smurfs were also big at this time.
And of course, there is Doctor Who. People in the UK were watching Peter Davison in Season 20 (which included the 20th Anniversary special, The Five Doctors) Season 21 (which would be Davison's final season), and Colin Baker's first serial, The Twin Dilemma, I lived here in America, which meant watching old episodes of Doctor Who on PBS. This was still mostly 4th Doctor (Tom Baker) episodes at this point. It would not be until the later 80's that I would get to see the Davison episodes and beyond.
On a roleplaying game front, 1983-4 marked for Dungeons and Dragons the start of the seminal Dragonlance modules, which would eventually be turned into novels by Tracy Hickman and Margaret Weis. At this point, I was playing Dungeons and Dragons, but mostly homebrewed adventures. In a couple of years, I would move from being a player to being a GM, a role that I've usually taken more of ever since for many roleplaying games. Other roleplaying games at that type that emerged included Skyrealms of Journe (which is science fantasy cracking goodness), Twilight 2000, Toon, and the Ringworld RPG.
The 1983-1984 season of my 12th birthday, overall, was indeed, for me, a golden age, both at the time, and thereafter.