By Carl Slaughter:
OTTO BINDER: THE LIFE AND WORK OF A COMIC BOOK AND SCIENCE FICTION VISIONARY
By Bill Schelly
Otto Binder: The Life and Work of a Comic Book and Science Fiction Visionary chronicles the career of Otto Binder, from pulp magazine author to writer of Supergirl, Captain Marvel, and Superman comics. As the originator of the first sentient robot in literature ("I, Robot," published in Amazing Stories in 1939 and predating Isaac Asimov's collection of the same name), Binder's effect on science fiction was profound. Within the world of comic books, he created or co-created much of the Superman universe, including Smallville; Krypto, Superboy's dog; Supergirl; and the villain Braniac. Binder is also credited with writing many of the first "Bizarro" storylines for DC Comics, as well as for being the main writer for the Captain Marvel comics.

In later years, Binder expanded from comic books into pure science writing, publishing dozens of books and articles on the subject of satellites and space travel as well as UFOs and extraterrestrial life. Comic book historian Bill Schelly tells the tale of Otto Binder through comic panels, personal letters, and interviews with Binder's own family and friends. Schelly weaves together Binder's professional successes and personal tragedies, including the death of Binder's only daughter and his wife's struggle with mental illness. A touching and human story, Otto Binder: The Life and Work of a Comic Book and Science Fiction Visionary is a biography that is both meticulously researched and beautifully told, keeping alive Binder's spirit of scientific curiosity and whimsy.
THE GREEN EMBER
By S.D. Smith
S. D. Smith's 2014 debut epic anthropomorphic novel, The Green Ember, was met with lavish endorsements from speculative authors and Amazon reviewers alike. 90% of over 500 reviews were 5 stars. Ember Falls, the much awaited sequel, came out in September 2016.  All 35 initial reviews of Ember Falls are 5 stars.  It's been compared to Empire Strikes Back because the events turn much darker for the heroes.  Plot details on Amazon and the author's website are very skimpy.  But here are comments from the more articulate reviewers.  Meanwhile, The Black Star of Kingston, a prequel and the first in the Tales of Old Natalia series, came out in 2015.
"Here's the best way I can sum up The Green Ember for you: It reads as if Brian Jacques had Sam Gamgee's famous quote from The Return of the King ('Is everything sad going to come untrue?') nailed above his desk while writing a version of Redwall that wasn't awful. Far from being merely 'not awful,' though, Smith's first novel shows that he truly understands the essentials of storytelling. Ember picks up and rolls, its two young protagonists landing in near-constant peril of some sort or another from the fifth chapter on. Refreshingly, Smith doesn't defang the subject matter. Combatants die. Conflicts leave lasting scars. Internal politics roil old allies. And the book intentionally refuses to end neatly. Don't get me wrong, we're not talking Joe Abercrombie or George R.R. Martin here. The Green Ember is liberally seasoned with hope (and gorgeous pencil illustrations by Zach Franzen). But whenever the proceedings threaten to become saccharine, Smith tosses a little grit into the pot. The final pages find the characters with swords in their hands and a very long fight ahead of them. Indeed, the only real problem with the novel is its abrupt conclusion. I won't complain when fantasy authors decide to keep things short. Goodness knows we have too many doorstop-thick titles in the genre. But The Green Ember almost begs for a sequel. Here's to hoping that Smith pens it someday."  Loren Eaton, I Saw Lightning Fall
"This is an 'instant classic.' That is to say, it shares the same spirit of derring-do involving small characters cast into big adventure against long odds with so many of the stories I've loved through the years, from Treasure Island to Watership Down. The Green Ember is about two rabbits, sister Heather and brother Picket, who find themselves caught up in the struggle at the fabric of their world and seek to right some pretty dreadful wrongs. Along the way, they wrestle with their own weaknesses and encounter dastardly deeds, danger, and double-crosses. (Thankfully, no terrifying over-use of alliteration.) It's entertaining, thought-provoking, beautifully-written, and I'm sure will challenge its young readers to dig deep by inspiring them with both the successes and failures of its lapine protagonists."  Glenn McCarty, Eye Wonder Why
"The Green Ember is a wonderful, poignant adventure tale, set in a time of great chaos, with lament of a lost kingdom and hope for a new, peaceful time. Characterized by anthropomorphic rabbits, birds, wolves and other animals, this fresh tale certainly is within the realm of popular fantasy, with this story written for the comprehension level of middle grade readers.
"But what sets this wonderful novel apart are several things. The plot is intricately developed and works very well. When I sat down and thought about it, there is almost a chiastic layout to the plot. For a first time novel, to be that well laid out, yet still not lose sight of the joy of the characters and stories is a great feat. Also, the reader understands the story from the perspectives of the two protagonists, Heather and Pickett, who are complex and young and inexperienced. In a sense, the reader is the third partner here, because nothing is revealed to the reader until it is revealed to these two.
"Also, there are some real moments of wisdom written here, that come across very softly, but effectively. Matters dealing with the nature of evil, the real price of friendship, how different roles and interests play into larger communities, how hope and sadness can often, and sometimes must exist side by side. This is a real story of truth and beauty. There are larger points to be made, but it still remains a good story. The larger points are up to the reader to extrapolate from.
"Readers should see the influence of Lewis and Tolkien, Narnia and Middle Earth, on Smith's Natalia and his Rabbit Kingdom. Yet Smith has told an entirely original tale, that honors its forebears, but brings new light and skill to tale spinning. And like those earlier works, the reader certainly hopes that future stories will come to further expand and tell more stories, because of the truth and beauty they represent."  Jason G.
"'My place beside you, my blood for yours. Till the Green Ember rises or the end of the world!' So ends the prologue to The Green Ember. What a start! S.D. Smith's debut novel stands in stark contrast to most contemporary middle school fiction. Courage, loyalty, wisdom, and hope abound. Classic virtues are esteemed. It is moral without moralizing. It is dramatic without resorting to preteen angst. It is swashbuckling without glorifying violence. Good is good and evil is evil. Clearly Smith is influenced by Lewis' Narnia, but this isn't derivitive fan fiction. Smith has created a new world that stands on its own inhabited by wonderful and sometimes terrifying characters."  J. Hanks
"My 5-yr old son and 3- and 7-yr. old daughters are all mesmerized and plead for extra chapters when we read together. After even just the first chapter, we knew that this was going to be a rare favorite. It has proven breathlessly thrilling and so much fun, edifying… challenging for all of us. And heartrendingly tender. Beautiful. At times, profound. I cannot recommend it highly enough. Don't miss this."  Kristin B
RANDOMS
By David Liss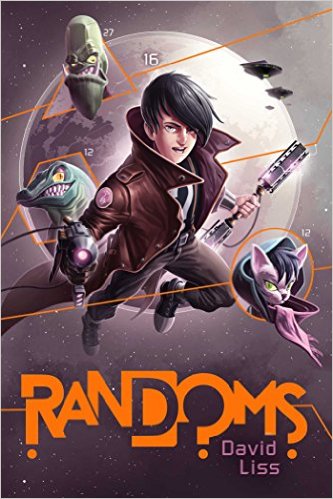 In 2015, Randoms, David Liss' riotous debut YA space opera novel, was greeted with a tidal wave of enthusiasm from fans, critics, and fellow authors.  In September 2016, Liss followed Randoms with Rebels.  With Randoms at 500 pages and Rebels at 400 pages, it's particularly impressive that Liss was able to maintain the humor, adventure, and pop culture references.
RANDOMS
A science fiction superfan finds himself on his very own space adventure when he's randomly selected to join an alien confederacy in this "exhilarating" (Booklist, starred review) middle grade debut novel.

Zeke Reynolds comes from a long line of proud science fiction geeks. He knows his games, comics, movies, and TV shows like Captain Kirk knows the starship Enterprise. So it's a dream come true when he learns the science fiction he loves so much is based on reality—and that he's been selected to spend a year on a massive space station. To evaluate humanity's worthiness, the Confederation of United Planets has hand picked three of Earth's most talented young people—and then there's Zeke. He's the random.

Unfortunately, Zeke finds life in space more challenging than he'd hoped. When he saves his transport ship from a treacherous enemy attack, he's labeled a war criminal. Now despised by the Confederation, rejected by his fellow humans, and pursued by a ruthless enemy, Zeke befriends the alien randoms: rejected by their own species, but loyal to each other. But their presence in the Confederation may not be so random after all, and as the danger increases, Zack's knowledge of science fiction might be the only thing that can save himself, his friends, and Earth itself.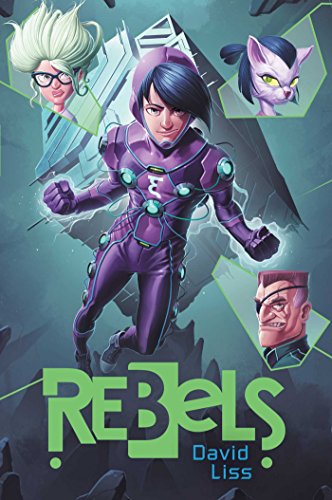 REBELS
A science fiction superfan is heading back to space on a new mission to save Earth in this hilarious follow-up to the "exhilarating" (Booklist, starred review) Randoms.

It's difficult to return to Earth and live a simple, unadventurous life after having seen the wonders of the universe—especially when you find yourself with Smelly, a self-important artificial intelligence living in your head, reminding you how much of a primitive meat bag you are. But with Smelly's help, Zeke is on his way back to space on a new, super-secret mission. Zeke may earn Earth a second chance at intergalactic membership—and better yet, he'll be reunited with Tamret, the alien girl of his dreams.

However, things never go as planned for Zeke. Conspiracy abounds as he's once again blamed for destroying a spaceship, and sent deep into the dangerous Forbidden Zone to find the military tech tree that the enemy Phands are already using. Will his knowledge of pop culture and science fiction that saved him in Randoms help again?
PRAISE FOR RANDOMS
"Liss's characters are engaging, the video-game-like competitions and SF commentary are fun, the sheer plenitude of alien species is fascinating, and the jokes just keep on coming." (Publishers Weekly)
"Real geeks wouldn't have it any other way." (Kirkus Reviews)
"Fans of science fiction and nonstop action alike will enjoy this smart, light adventure that brims with allusions to a variety of sci-fi movies and TV shows old and new." (School Library Journal)
*"First in a series, Randoms is an exhilarating read that will have no trouble hooking sci-fi fans—particularly with its many sf references—and it carries enough fun and excitement to appeal to reluctant readers, in spite of the intimidating page count. With a tip of the hat to geeks everywhere, this novel is a class act." (Booklist, starred review)
"For readers who get giddy about mentions of obscure episodes of Star Trek or complex descriptions of nanites that allow humans to build up their natural abilities as they gain skill points (complete with a flowchart), this is a comradely treat." (BCCB)
"Funny, wild, possibly deranged, and way too much fun." (Jonathan Maberry, New York Times bestselling author of The Orphan Army and Rot & Ruin)
"As fun as a barrel full of tribbles, Randoms is middle-grade space opera at its best. Scary aliens! Cat people! Exploding starships! My inner geek stood up and cheered. Kids who love sci-fi, comics, or gaming will gobble up this fast-paced story, and it will make converts out of the rest." (Pete Hautman, author of National Book Award Winner Godless)
"What an adventure! Randoms has such a clever concept behind it, and it's thrilling to ride along as Zeke Reynolds battles enemy aliens (and humans), buddies up with up with aliens (and even, sometimes, humans), and manages again and again to score his own version of victory for underdogs and 'randoms' all across the universe." (Margaret Peterson Haddix, author of the New York Times bestselling series The Shadow Children and The Missing)
"Randoms is an incredibly fun and heartfelt space adventure. With menacing villains and lovable underdogs, this book has so much to offer readers of all ages. I can't wait to read what happens to Zeke and his friends next!" (SJ Kincaid, author of Insignia)
"A smorgasbord of sci-fi geekiness, David Liss's Randoms blends angst, adventure, humor, pathos, space battles, anime, giraffe aliens, and philosophical meanderings on the nature of "humanity" into a plot that twists and tumbles towards a breathless summer-action-flick finale. Be prepared to cheer on the underdogs in this dizzying romp of a novel." (John David Anderson, author of Sidekicked)
"My fellow geeks, rejoice! We have a new hero in the form of the all-nerdy, all-knowing, Zeke. And it is no random chance that his knowledge of pop sci-fi makes him the hippest hero of the galaxy." (Tony DiTerlizzi, author of The Search for Wondla)