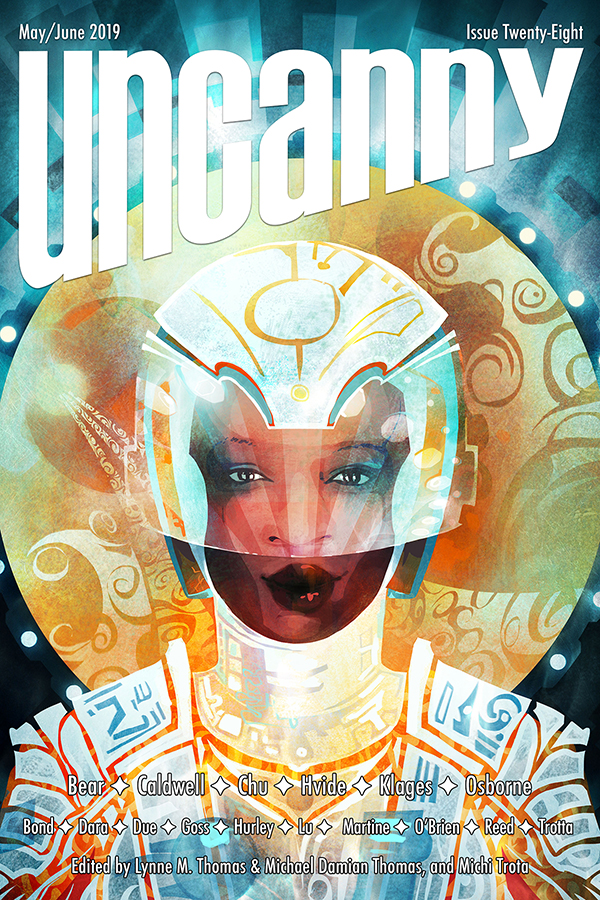 The 28th issue Uncanny Magazine will be available on May 7.
Hugo Award-winning Publishers/Editors-in-Chief Lynne M. Thomas and Michael Damian Thomas are proud to present the 28th issue of their 2016, 2017, and 2018 Hugo Award-winning online science fiction and fantasy magazine. As always, it features passionate SF/F fiction and poetry, gorgeous prose, provocative nonfiction, and a deep investment in the diverse SF/F culture, along with an award-winning monthly podcast featuring a story, poem, and interview from that issue. Stories from Uncanny Magazine have been finalists or winners of Hugo, Nebula, Locus, and World Fantasy Awards. 
All of Uncanny Magazine's content will be available in eBook versions on the day of release from Weightless Books, Amazon, Barnes & Noble, Google Play, and Kobo. Subscriptions are always available through Amazon Kindle and Weightless Books. The free online content will be released in 2 stages- half on day of release and half on June 4. 
EBOOKS. This issue will coincide with the Weightless Books Subscription Drive for a year's worth of Uncanny Magazine eBooks. The drive will run from May 1-May 15. For that limited time, people can receive a year's worth of Uncanny for $2 off the regular price. They will have giveaways for a few lucky new or renewing subscribers at particular milestones, too (including T-shirts, back issues, and tote bags.) All new or renewing subscribers will get a vinyl Space Unicorn sticker and a Space Unicorn enamel pin.
STAFF CHANGES. Uncanny Magazine will also be having some staff changes in the coming months. Managing and Nonfiction Editor Michi Trota has decided to move on from her Uncanny editorial duties at the end of 2019. Michi will be staying through Uncanny Magazine #31 (November/December 2019) to make sure we have a seamless editorial transition. Starting with Uncanny Magazine #31 (November/December 2019), the new Managing Editor will be Chimedum Ohaegbu, the current Uncanny Magazine Assistant Editor. Starting with Uncanny Magazine #32 (January/February 2020), the new Nonfiction Editor will be Elsa Sjunneson-Henry. And finally, starting with Uncanny Magazine #31 (November/December 2019), the new Assistant Editor will be Angel Cruz.
Uncanny Magazine Issue 28 Table of Contents
Cover
She's Going Places by Galen Dara
Editorial
"The Uncanny Valley" by Lynne M. Thomas & Michael Damian Thomas (5/7)
Fiction
"Nice Things" by Ellen Klages (5/7)
"Probabilitea" by John Chu (5/7)
"A Salt and Sterling Tongue" by Emma Osborne (5/7)
"Lest We Forget" by Elizabeth Bear (6/4)
"A Catalog of Love at First Sight" by Brit E. B. Hvide (6/4)
"Canst Thou Draw Out the Leviathan" by Christopher Caldwell (6/4)
Reprint Fiction
"Corpse Soldier" by Kameron Hurley (6/4)
Nonfiction
"Black Horror Rising" by Tananarive Due (5/7)
"Everyone's World is Ending All the Time: notes on becoming a climate resilience planner at the edge of the anthropocene" by Arkady Martine (5/7)
"Jennifer Adams Kelley—A Remembrance" (5/7)
"Toy Stories" by Gwenda Bond (6/4)
"'You Have Only Your Trust in Me': Star Trek and the Power of Mutual Belief" by Nicasio Andres Reed (6/4)
Poetry
"The Cinder Girl Burns Brightly" by Theodora Goss (5/7)
"The following parameters" by Nicasio Andres Reed (5/7)
"Flashover" by S. Qiouyi Lu (5/7)
"The Magician Speaks to the Fool" by Ali Trotta (6/4)
"Elegy for the Self as Villeneuve's Beast" by Brandon O'Brien (6/4)
Interview
John Chu interviewed by Caroline M. Yoachim (5/7)
Elizabeth Bear interviewed by Caroline M. Yoachim(6/4)
Podcasts
Uncanny Magazine Podcast 28A (5/7)
"Nice Things" by Ellen Klages, as read by Erika Ensign
"The Cinder Girl Burns Brightly" by Theodora Goss, as read by Stephanie Malia Morris
Ellen Klages interviewed by Lynne M. Thomas
Uncanny Magazine Podcast 28B (6/4)
"A Catalog of Love at First Sight" by Brit E. B. Hvide, as read by Stephanie Malia Morris
"The Magician Speaks to the Fool" by Ali Trotta, as read by Erika Ensign
Brit E. B. Hvide interviewed by Lynne M. Thomas