The 2019 inductees to the Society of Illustrators Hall of Fame include Hugo winner and past Worldcon guest of honor Vincent Di Fate. Artists are elected by a committee of former Society presidents and illustration historians, chosen for their body of work and the impact it has made on the field of illustration. Joining di Fate in the Hall are contemporary illustrators Roz Chast and Mark Summers, and posthumous honorees Frank Godwin, Mary Petty, and Alice Barber Stephens. The induction ceremony will be June 14 in New York.
---
About the Recipients: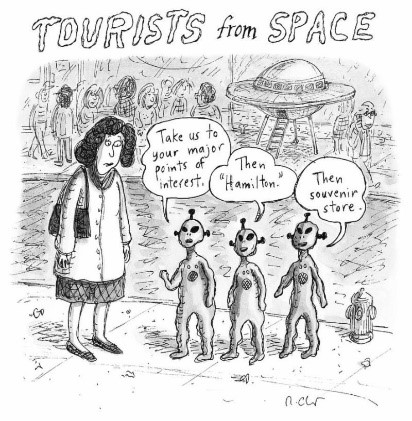 Roz Chast's work has appeared in numerous magazines through the years, including The Village Voice, National Lampoon, Scientific American, Harvard Business Review, Redbook and Mother Jones, but she is most closely associated with The New Yorker. Chast attended the Rhode Island School of Design, where she studied painting. After graduating in 1977 she returned to New York City, where she quickly established her cartooning career. In addition to collections of her New Yorker cartoons, Chast has written and illustrated a range of books. Her latest, Going Into Town: A Love Letter to New York (2017), a personalized travel guide to New York City that began as a going-away present to her
---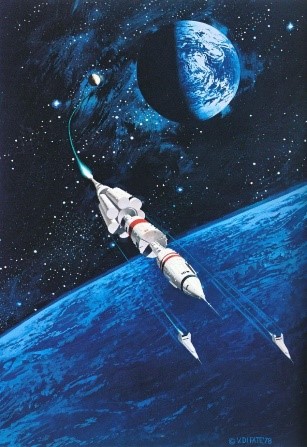 Vincent Di Fate has been an illustrator working in the specialties of science fiction, fantasy and aerospace art since the late 1960s. Di Fate studied at the Phoenix in New York City (later incorporated into the Pratt Institute as the Pratt Manhattan Center) and holds a Master of Arts degree in Illustration from Syracuse University. He is a full professor at the Fashion Institute of Technology (SUNY), a former president of the Society of Illustrators, a Hugo Award winner for Best Professional Art, an inductee of the Science Fiction Hall of Fame (2011), and a recipient of the Distinguished Educator in the Arts Award. Di Fate has also authored four books on illustration and has written approximately 300 articles on various art, science and film-related topics for magazines, books, encyclopedias and museum publications.
---
Mark Summers has been a full-time freelance illustrator since graduating from the Ontario College of Art in 1978. Author and illustration historian Steven Heller credits Summers "as giving the scratchboard medium a second life." Mark had initially worked for clients like The New York Times, the Chicago Sun-Times, The Wall Street Journal and many others, but quickly moved into all forms of publication. He has worked for every major magazine, and has contributed work for Rolling Stone, Newsweek, The Atlantic, The New Yorker, Vanity Fair, Sports Illustrated and numerous covers for Time in addition to contributing covers for most of the major publishers in the world. He has also lavishly illustrated volumes of Poe, Dickens, Moby Dick , Gulliver's Travels as well as writing and illustrating two books of his own. His work is best remembered for his decade long collaboration with Barnes and Noble, where he created the visual persona of their stores, doing portraits of famous authors that decorated their walls. For his work, Mark has received 6 medals and earned the Hamilton King Award from the Society of Illustrators in New York. At last count he had received just over 350 awards at home and globally
---
Frank Godwin (1889–1959), was an American illustrator and comic strip artist. Born in Washington D.C., Godwin worked as a young man for his father's paper, The Washington Star. Godwin studied at the Art Students League in NYC. His book illustrations were featured in classic best-sellers Treasure Island, Kidnapped, Robinson Crusoe, Robin Hood and King Arthur. He is most recognized for his comic strips Connie and Rusty Riley. Additionally, he was a prolific editorial and advertising illustrator. A Society of Illustrators vice-president, Godwin was also a member of the National Press Club and the Dutch Treat and Salmagundi clubs.
---
Mary Petty (1899–1976) was a self-taught, prolific illustrator of books and magazines whose works appeared regularly on the covers of ?The New Yorker. In total, Petty completed 273  drawings and 38 covers for the publication. Her work often depicted the New York elite, centering around the characters of the Peabody family including Mrs. Peabody and her maid, Fay. During her lifetime, Petty exhibited work both nationally and internationally. Today, her art resides in the permanent collection of several prestigious museums including  the Museum of Modern Art, the Museum of the City of New York, and the Wichita Art  Museum. The largest single collection of her work was gifted to Syracuse University by the artist.  
---
Alice Barber Stephens (1858–1932) was educated at the Philadelphia School of Design for Women (later called Moore College of Art & Design). In 1876, she was one of the first women to be granted admission into the Pennsylvania Academy of Fine Arts where she studied under Thomas Eakins. Her illustration work appeared in Scribner's Monthly, Harper's Weekly, and The Ladies Home Journal. Her work was also featured on numerous books for Houghton Mifflin and Crowell publishers, including Louisa May Alcott's Little Women, Mary E. Wilkins' The People of Our Neighborhood, Sir Arthur Conan Doyle's The Stark Munro Letters, George Eliot's Middlemarch, and Nathaniel Hawthorne's The Marble Faun.
Founded in 1901, the Society of Illustrators and its Museum of Illustration together comprise America's longest-standing nonprofit organization dedicated to the art of illustration. The mission of SI/MI is to promote the art and appreciation of illustration and its history and evolving nature through exhibitions and educational programs.
[Based on a press release.]