Blogger has blocked user access to Vox Day's Vox Popoli blog, telling readers it is "under review due to possible Blogger Terms of Service violations." Blogger is owned by Google.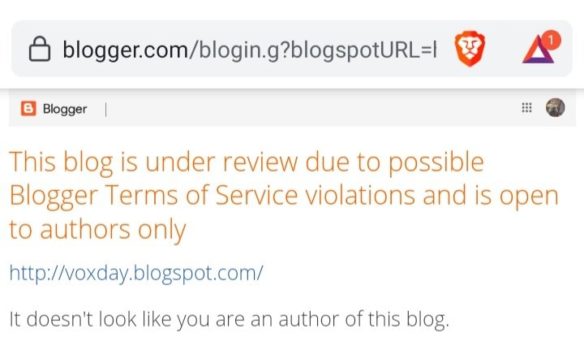 Vox Day immediately restored availability of Vox Popoli's posts at a new URL, "milobookclub.com", and commented on the situation in "Conflict is the air we breathe" [Internet Archive link.] He begins:
As you've almost certainly noticed if you're here, Google has decided to roll the dice and take its chances with the Legal Legion of Evil. As with YouTube, Blogger hasn't entirely deplatformed the account, but instead elected to block access to the blog while publicly issuing false and defamatory statements about it.

This is not a surprise. This day has been a long time in coming, and we have been prepared for it on every front. You may wish to note that this post was made barely an hour after Google took action. Special thanks to the dev team, who were ready for instant action and whose rapid response time allowed such an easy and seamless transformation….
He does not reveal Blogger's stated reason for the action. It might be his anti-vaccination posts, or advocacy of racism, or even his anti-corporate posts targeting Marvel – but since these things have been his regular drumbeats for some time, one can only speculate why Blogger took action today.
Comments have not been turned on at the new URL, nor are past comments available there. Vox Day says his SocialGalactic platform is hosting parallel discussions of each post.
[Via Camestros Felapton.]