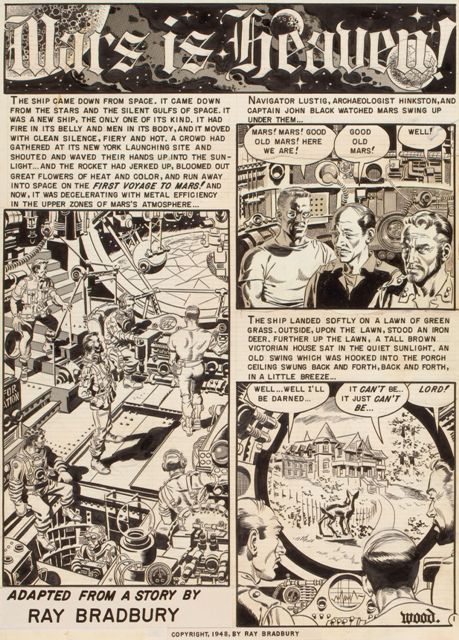 Internet bidding has begun in Heritage Auctions' Illustration Art Signature Auction which includes an array of items from the collection of the late Jerry Weist. This is HA's second auction from his estate and will be the last substantial selection. Download the catalog here [large PDF file]. Final bidding takes place June 27 and 28 in Beverly Hills.
Several pieces have already attracted high-dollar offers. At this writing, there's $10,000 bid for an Al Feldstein black-and-white cover for EC's Weird Fantasy. Michael Whelan's painting for the cover of The Martian Chronicles is up to $7,500. And $19,000 is the latest bid for Wally Wood's 8-page adaptation of Ray Bradbury's "Mars Is Heaven," published in the 1950s by EC Comics' Weird Science (the very thing Mark Evanier was blogging about just the other day.)
A four-issue set of Joe Shuster and Jerry Siegel's rare fanzine Science Fiction, The Advance Guard of Future Civilization is currently going for $2,000. Issue #3 contains "The Reign of the Superman," with Shuster's first drawing of Superman, five years before the character was unveiled in Action Comics #1.
Sf, fantasy and horror artists represented in the auction include Charles Addams, John Berkey, Rick Berry, Hannes Bok, Chesley Bonestell, Howard V. Brown, Edd Chastain, Vincent DiFate, Leo & Diane Dillon, Emsh, Clay Ferguson, Virgil Finlay, Frank Kelly Freas, Robert Fuqua, Tom Kidd, Josh Kirby, Frank R. Paul, Richard M. Powers, Alex Schomburg, J. Allen St. John, Van Dongen, Wesso, Michael Whelan and Gahan Wilson.
There are two noteworthy pieces from the Weist collection by people better known for their writing, a grotesque fantasy in green and yellow by Robert Bloch (1957) and a pink alien by Ray Bradbury (1958).
There's even some art with fannish connections, by Lou Goldstone (for Voice of Imagination) and Alva Rogers.
Additional lots from other sources feature Maurice Sendak's preliminary sketches for The Wild Things, and an editorial cartoon of Hitler by Theodore Suess Geisel. (Doctor who?)
[Thanks to John King Tarpinian for the story.]