It's official! Animal Crossing crossed the finish line. Microsoft Flight Simulator buzzed past the competition. StarCraft battled to victory. And Where in the World Is Carmen Sandiego? found its way into the history book. These four iconic games today joined the World Video Game Hall of Fame.
Nintendo debuted the Animal Crossing game in 2001, offering players leisurely gameplay set in real time amid changing seasons. Players were invited to start a new life by moving into a colorful town filled with villagers, each with their own distinct personality. The game gave players the freedom to complete activities and collect objects as they liked, with each day holding the potential for new surprises and discoveries. Players responded to the mellow gameplay and quirky characters, kicking off a long-running series for Nintendo with numerous games. Animal Crossing: New Horizons, the latest installment for the Nintendo Switch system, has been played by people around the world.
"The freedom of play in Animal Crossing gave the game wider gender and age appeal than many other video game titles of its time," says Research Historian Racquel Gonzales. "The low stakes of Animal Crossing also allowed people to play at their own leisure without penalty. These elements may help explain why its latest installment proved such a huge hit during the COVID-19 pandemic, when everyone was searching for a little neighborly sociability."
Full article: "Animal Crossing"
Microsoft Flight Simulator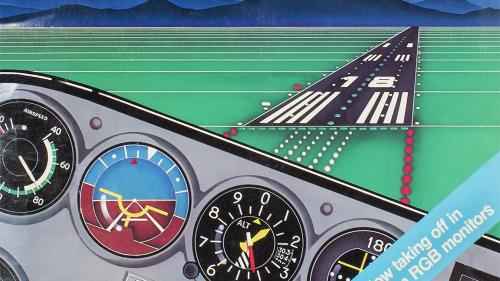 For nearly four decades, Microsoft Flight Simulator has provided millions of players endless hours of game play by providing highly realistic but intuitive recreations of real-life airplanes. Its simple premise and accessible content disguises the advanced programming that has made it so successful. Since its launch in 1982, the game has been regularly updated and remains the most popular, longest lasting, and most influential flying sim of all time.
"It's hard to overestimate what a groundbreaking program Microsoft Flight Simulator was when it debuted in 1983," says Jeremy Saucier, assistant vice president for interpretation and electronic games. "For the first time, amateur and professional aviators could navigate the skies—without ever leaving home. And the joy of flight is universal, which is perhaps why Microsoft Flight Simulator has continued to captivate gamers for decades."
Full article: "Microsoft Flight Simulator"
California-based developer Blizzard Entertainment took the real-time strategy genre to new heights in 1998 with the debut of StarCraft. The single-player mode of the immersive, science-fiction game proved popular, but the multiplayer mode, which included a ladder ranking system, turned it into the largest esports title of its day. StarCraft won multiple Game of the Year Awards, and generated its own lines of novels, graphic novels, licensed toys, clothing, and gaming accessors.
"StarCraft added a new twist to the strategy game formula while leading a revolution in multiplayer gaming," says Andrew Borman, digital games curator. "It's regarded as one of the best real-time strategy games of all time and significantly impacted many of the real-time strategy games that have followed in the past two decades."
Full article: "StarCraft"
Where in the World Is Carmen Sandiego? 
Released by Brøderbund in 1985, Where in the World Is Carmen Sandiego? spawned one of the best-selling "edutainment" franchises, combing education and entertainment. Designed for the first generation of graphic-enabled personal computers, the title made learning world geography fun for millions of students as they searched for the whereabouts of the mysterious Carmen Sandiego. The game, which launched several sequels, also inspired a hit show on American Public Broadcasting in the 1990s and an animated series on Netflix (2019-2021)—helping propel Carmen Sandiego and her world-traveling ways into the cultural zeitgeist.
Says Archivist Julia Novakovic, "Between the still-growing video game franchise (including a Google Earth tie-in) and the game's recent run as a show on Netflix, Carmen Sandiego is as recognizable a character as ever. Is she an evil villain or a misunderstood genius? You'll have to track her across the globe to find out!"
Full article: "Where in the World is Carmen Sandiego?"
[Based on a press release.]