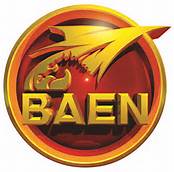 Karen Birkendahl Rylander, writing as K. B. Rylander, of San Antonio has won the 2015 Jim Baen Memorial Award competition with her short story "We Fly."
The annual Jim Baen Memorial Short Story Contest recognizes authors of stories about "space exploration and discovery, with an optimistic spin on those activities for the human race."
Grand Prize
"We Fly" by K.B. Rylander
First runner up
"A Metal Box Floating Between the Stars" by Jamie Lackey of Pittsburgh
Second runner up
"Boomerang Zone" by Robert Dawson from Nova Scotia
Judges for the award were the editors of Baen Books and special guest judge David Drake. Stories were judged anonymously.
The award will be presented May 25 at a ceremony at the annual International Space Development Conference in Toronto.
The winner's story will be professionally published in June on the Baen.com web site, where new fiction is featured each month.
"The National Space Society and Baen Books applaud the role that science fiction plays in advancing real science and have teamed up to sponsor this short fiction contest in memory of Jim Baen, Baen Books founder," said William Ledbetter, contest administrator. "It's a wonderful opportunity for the winner to meets scientists and space advocates from around the world."