The winner and runners-up for the 2018 Jim Baen Memorial Award competition have been announced.
GRAND PRIZE
"Homonculus" by Stephen Lawson
FIRST RUNNER-UP
"Dangerous Company" by C. Stuart Hardwick
SECOND RUNNER-UP
"Falling to the Moon" by Wendy Nikel
Stephen Lawson's win comes on the heels of taking the first runner-up spot in 2017.
The contest is focused on stories of human space exploration and discovery, with an optimistic spin. Judges for the award were the editors of Baen Books and special guest judge, author David Drake. Stories were judged anonymously.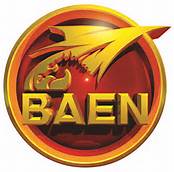 The Jim Baen Memorial Award will be presented May 26, 2018 in a ceremony at the annual International Space Development Conference held this year in Los Angeles, CA. The winner receives professional publication of their story in June 2018 at the Baen.com web site, where new fiction is featured each month.
"The National Space Society and Baen Books applaud the role that science fiction plays in advancing real science and have teamed up to sponsor this short fiction contest in memory of Baen Books founder, Jim Baen" said William Ledbetter, contest administrator. "It's a wonderful opportunity for the winner to meet scientists and space advocates from around the world."