Worldcon 75 is now taking nominations for the 2017 Hugo Awards. All members eligible to nominate may do so either by sending in a paper ballot, included with the convention's Progress Report 3 and also separately downloadable from the Worldcon 75 website, or voting online by individual links supplied to voters.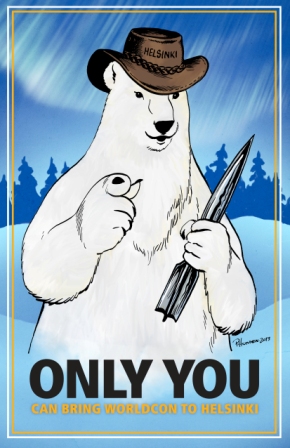 All nomination ballots must be postmarked by March 17, 2017 or submitted by 11:59 p.m. Pacific Daylight Time on March 17.
Eligible to vote are all those who have purchased membership in Worldcon 75, MidAmericon II or Worldcon 76 in San José by January 31, 2017. Both attending and supporting members have the right to vote for the Hugo Awards and in Worldcon Site Selection for 2019.
Hugo voters are encouraged to nominate up to five works/individuals in each category that they believe are worthy of the award. The most popular nominees will go forward to the Final Ballot.
According to Karl-Johan Norén, online voting —
…uses a new system with personalized links, which should not be shared. Once you have logged in, you can make as many changes as you like up to your nomination ballot until the deadline. Your current ballot will be emailed to you an hour after you stop making changes to it.
The final ballot will be announced in early April, and the awards will be presented August 11 at Worldcon 75 in Helsinki, Finland. Only Worldcon 75 members will be able to vote on the final ballot and choose the winners.
As in previous years, voters may nominate up to five possible finalists in each category. However, the World Science Fiction Society's Business Meetings in 2015 and 2016 made some changes to the way nominations will be tallied this year to produce the final ballot. These include:
Final ballots in each category will now have six rather than five finalists (but the maximum number of nominations that a voter can make in each category remains five);
A new system for counting nominations, which will reduce the extent to which a small bloc of voters can dominate individual categories;
No more than two works by the same creator(s), and no more than two stories from the same series, can appear on the ballot for any one category;
The requirement that all finalists in a category must receive more than 5% of nominations has been removed.
Worldcon 75 also is using its right under the rules to run a one-time Hugo category by giving a trial run to the proposed Best Series category, which received its first passage at the 2016 Worldcon Business Meeting and will become permanent if the 2017 Business Meeting ratifies it.
The Hugo base this year will be designed by a Finnish artist, to be selected by the Worldcon 75 committee.
The Hugos are the most prestigious award in the science fiction genre, honoring literature and media as well as fan activities. The awards were first presented in 1953.
More information about the Hugo Awards, including details about how to submit a nominating ballot, is available at http://www.worldcon.fi/wsfs/hugo/