David Henrickson from Sterling, VA, was named the 2023 Grand Prize Writer Winner and Dao Vi from Sylmar, CA who was born in Ho Chi Minh City, Vietnam was named the 2023 Illustrator Grand Prize Winner at the 39th Annual L. Ron Hubbard Achievement Awards Gala for Writers and Illustrators of the Future Contests on April 28. The event was held at the Taglyan Cultural Complex in Hollywood, CA.

David Henrickson said: "I never imagined I would be here. I've loved Science Fiction all of my life. When I was nine years old I was first inspired by the genre of science fiction after reading Andre Norton's Star Guard. When somebody asks what I do and who I am, I give them an easy answer, 'I am an Application Architect,' that's what I do, but that's not who I am. Five years before I retired I started writing. I told myself if I could write 100,000 lines of code, I can write a novel. Hopefully one day we will all be able to pay this forward. Thank you!"

Dao Vi said: "Wow! I didn't believe I was going to win. I am humbled and honored to be surrounded by so many talented writers and illustrators. It's been a huge blessing. I want to thank Samuel Parr for his wildly provocative story, 'The Last History,' which I illustrated. This award is for you too. Life is what happens when you are having fun. I'm excited to see where this leads for all of us. Thank you very much!"

During the course of the awards show a Time Capsule from 25 years ago in 1998, was opened by Writers of the Future Judges Kevin J. Anderson and Tim Powers which contained predictions on the Quality of Education in 25 years from famous Science Fiction writers. As it turned out, one prediction from Tim Powers was quite accurate. On October 2, 1998, Tim Powers wrote: "Voice recognition and transcription programs will have made literacy (all of spelling and most of grammar) obsolete; morality will be discarded as archaic."

Winners from this year's competitions hailed from all over the United States, as well as from Canada, China, Costa Rica, Jamaica, Romania, South Korea, United Kingdom and Vietnam.

Joni Labaqui, Director of the Contests for Author Services, Inc. who oversaw the presentations of the Grand Prize Awards, said, "This year the theme for our awards show will be Fantasy and Illusion with a motif including a fiery dragon, and Asian pagodas and temples."

Emily Goodwin, Vice President of Public Affairs for Author Services, Inc., served as Event Producer and presented a Lifetime Achievement Award to Dr. Robert J. Sawyer, who penned sff classics like The Terminal Experiment and Flashforward, who has also served as a Writers of the Future judge since 2005.

During his acceptance speech, Dr. Robert J. Sawyer said, "Thank you all so very much! Although I entered this contest when I was starting out, I've only ever been on the stage here at the L. Ron Hubbard Presents Writers and Illustrators of the Future Gala as a presenter, never an award recipient. I am thrilled to have finally made it! I thank John Goodwin, Emily Goodwin, Joni Labaqui, and everyone else at Author Services, Inc. from the bottom of my heart—which is beating awfully fast right now!"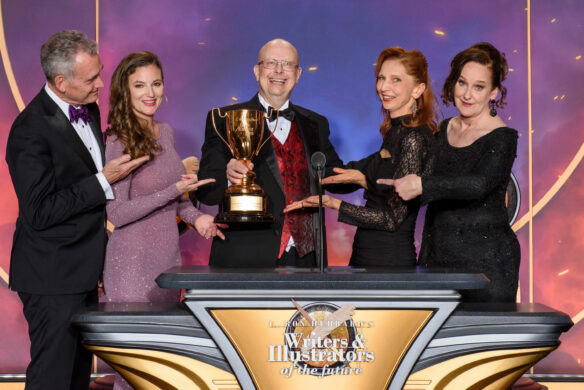 An In Memoriam Tribute part of the awards show honored the late multiple New York Times bestselling author, Eric Flint, a Writers of the Future Winner for Volume 9 in 1993, writer of over 40 novels, Founder and Editor of Jim Baen's Universe, and contest judge.

John Goodwin, President of Galaxy Press, unveiled Volume 39 of L. Ron Hubbard Presents Writers of the Future, with cover artwork illustrated by Writers of the Future Illustrator Judge, Tom Wood, entitled, "Wyvern Crucible," which was set to a cover story written by Writers of the Future Writer Judge, Kevin J. Anderson entitled, "Fire in the Hole." And simultaneously an audio book of Volume 39 of L. Ron Hubbard Presents Writers of the Future, recorded by Jim, Tamra and Taylor Meskimen, was unveiled.
This year's event, an Invitation Only function, was streamed live. Goodwin added: "According to United Public Radio Network, this year's awards show was seen by 340,000 viewers on Roku and was heard by over 1.1 million listeners on the live broadcast."

Keynote Speaker Dan Farr, Founder and CEO of the FanX Salt Lake Comic Convention, said:  "It is indeed my honor to be speaking to you tonight about something that is near and dear to me.  Pop culture and pop culture conventions.  The modern concept of a fan convention dates back to the late 1930s with various gatherings of a few dozen science fiction fans in Philadelphia and New York. Hardcore science fiction readers met at these underground affairs, mainly to discuss science fiction, which at that time consisted of pulps.
 
"In the 60s fans and culture started to explode, when mainstream TV series and movies such as Star Trek, The Twilight Zone, Lost in Space, The Day the Earth Stood Still, and Forbidden Planet, came onto the convention scene.  And with the film industry popularizing characters such as Batman, Spider Man, The X-Men, the Green Lantern, and about a dozen other superheroes, the convention landscape exploded by leaps and bounds through the 70s, 80s and 90s.  By the mid-2000s, upwards of 300,000 people would flock to what had truly turned into pop culture conventions that embrace far more than the original buying and selling of comics.
 
"Fashion, costumes, characters, dance, film, cyberculture, music, art, literature, television, and radio – none of it would exist without the writer or the artist creating that script, that picture, that song, that universe.  Writing and art has always been and will always be a healing influence.  As writers and artists, you carry a large responsibility for the future.  Because it is you who carry that powerful torch to unite, while others are trying to tear it down.  Do not ever give up on your dreams.  As L. Ron Hubbard, the founder of the contests stated:  'The greatest joy there is in life, is creating.  Splurge on it!'  Writers and Illustrators, congratulations on your accomplishments and…keep creating!"
 
Writer's Contest Coordinating Judge, Jodi Lynn Nye and Emmy Award-winning actress, Nancy Cartwright, announced writer David Henrickson as the 2023 the Golden Pen Award winner presenting him a trophy and check for $5,000, for his story, "White Elephant."

Coordinating Illustrator Contest Judge Echo Chernik and Keynote Speaker Dan Farr announced illustrator Dao Vi as the 2023 Golden Brush Award winner presenting him a trophy and a check for $5,000.  Dao Vi illustrated writer Samuel Parr's story, "The Last History."

The 12 quarterly winners and one published finalist of the 2023 writer's contests who were presented with trophies and cash prizes included:  Samuel Parr of Market Harborough, United Kingdom; Spencer Sekulin of Newmarket, Ontario, Canada; L.H. Davis of Malabar, FL; Devon Bohm of West Hartford, CT; Arthur H. Manners of Cambridge, England; David Hankins of Bettendork, IA; David Henrickson of Sterling, VA; J.R. Johnson of Ottawa, Canada; Elaine Midoch of Pembroke Pines, FL; Marianne Xenos of Amherst, MA; Jason Palmatier of State College, PA;  and T.J. Knight of Glen Spey, NY.  Britany Rainsdon of Blackford, IN a 2022 Quarterly Writer winner was also honored.
 
The 12 Quarterly Winners of the 2023 Illustrator's Contests who were presented with trophies and cash prizes included:  Alexandra Albu (AKA Cyberaeon) of Iasi, Romania; Clarence Bateman of Bronx, NY; Dao Vi of Sylmar, CA, born in Ho Chi Minh City, Vietnam; Sarah Morrison of Malden, MA; Ximing Luo of Ellicott City, MD born in Hangzhou, China; Alaya Knowlton of Sarasota, FL; Kristin Hadaway of Abington, MD; José Sánchez of San José, Costa Rica; Helen Yi of Sarasota, FL and Seoul, South Korea; Chris Binns of Hillsboro, OR;  April Solomon of Laguna Beach, CA and Chris Arias of Cartago, Costa Rica.
  
Contest Writer Judges in attendance included: Kevin J. Anderson, Nina Kiriki Hoffman, Nancy Kress, Rebecca Moesta, Larry Niven, Jody Lynn Nye, Dr. Nnedi Okorafor, Timothy Thomas "Tim" Powers, Dr. Robert J. Sawyer, Dean Wesley Smith and S.M. Stirling.

Other Distinguished Writer Judges who were not able to be in attendance include:  Dr. Doug Beason, Dr. Gregory Benford, Orson Scott Card, Brian Herbert, Katherine Kurtz, Todd McCaffrey, Kristine Kathryn Rusch, Brandon Sanderson, Robert Silverberg and Dr. Sean Williams.
 
Contest Illustrator Judges in attendance included: Echo Chernik, Lazarus Chernik, Larry Elmore, Dr. Laura Freas Beraha, Brian C. Hailes, Brittany "Bea" Jackson, Val Lakey Lindahn, Sergey Poyarkov, Rob Prior, Dan dos Santos and Tom Wood.
 
Other Distinguished Illustrator Judges who were not able to be in attendance include:  Vincent Di Fate, Diane Dillon, Stephan Martiniere, Mike Perkins, Irvin Rodriguez, Shaun Tan and Stephen Youll.
A photo gallery from the award ceremony is here: Writers & Illustrators of the Future Workshop Week 2023 – Day 7.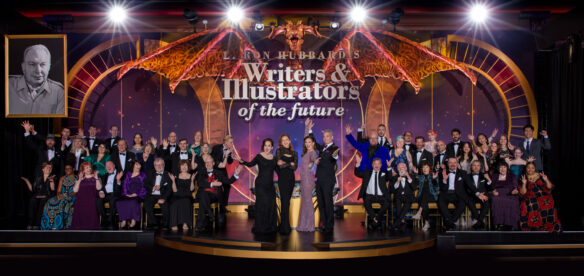 [Based on a press release.]