Apex Magzine today announced plans for a January 2021 relaunch. Editor Jason Sizemore, who put it on hiatus in April 2019, says when the three-time Hugo nominee comes back it will shift to a bi-monthly publication schedule. There are plans for a subscription drive, a July 2020 Kickstarter, and additional fundraising efforts in advance of the relaunch. Apex Magazine also plans to increase pay rates for fiction and non-fiction, creating another SWFA pro-level fiction market.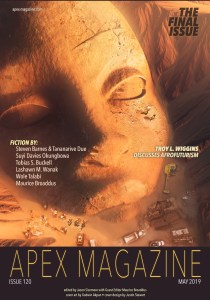 Apex Magazine will publish six issues each year. Every issue of the magazine will include 25-30k words, approximately six fiction stories, two non-fiction pieces, two author interviews, and a cover artist feature. Additional details surrounding future submission periods will be forthcoming.
Fundraising plans, to include a subscription drive and a summer Kickstarter, will allow for a revamped website design and an increase in pay rates across the board. Fiction rates will increase to $.08/word and non-fiction rates will increase to $100/essay. There are also plans for a revamped website to create a more cohesive online experience for readers and listeners of the Apex Podcast.
Sizemore says, "An award-winning genre short fiction market with more than a decade of publishing history under its belt, Apex Magazine is poised to make a comeback bigger and better than ever come January 2021."
More news about the Kickstarter, and submission details, are promised in the coming weeks.
[Based on a press release.]