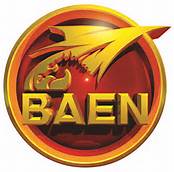 Baen Books has struck an agreement with Pinbeam Books to offer 15 ebooks and ebook story collections by Liaden Universe® creators Sharon Lee and Steve Miller on the Baen Ebooks web site. Pinbeam Books is a Maine-based publisher offering many works by Lee and Miller.
"We are very happy to be offering these excellent tales by Sharon and Steve," says Toni Weisskopf, Publisher of Baen Books. "They are among our best-selling and most beloved Baen authors, and we want to make available to their readers as much Lee and Miller content as we possibly can."
The Pinbeam ebooks will be promoted in monthly bundles. Included in the first thematic bundle are:
Barnburner, a cozy mystery set in Maine, the first of two novels concerning reporter and accidental sleuth Jennifer Pierce. The Wimsy mysteries are the grandparents of Sharon Lee's Carousel trilogy, out from Baen.
Chariot to the Stars. Chariot to the Stars features some of Steve Milliers's early work, reprinted from Amazing Science Fiction and elsewhere.
Quiet Magic, a collection of fantasy stories. From Steve Miller comes "And Hawks for Heralds," original to this book. Sharon Lee contributes "Master of the Winds," first published in Dragon Magazine. Contemporary fantasy "Candlelight," is the entry from the Lee and Miller team; it was previously published in Pulphouse.
Sleeping with the Enemy: Adventures in the Liaden Universe® Number 22 is Pinbeam Book's newest chapbook. It contains two stories: "Chimera," which was first published on Baen.com, and "Friend of a Friend," which is original to this collection. Both stories take place on Surebleak, Clan Korval's new planetary home.
Variations Three features three of Sharon's early stories. "Coffeecat" first appeared in Owlflight. "The AfterImage," an inside look at the beauty pageants of the future, and "Passionato," in which artists are valuable collectibles, are original to this collection.
The first group of Pinbeam Books ebooks can be found by going to Baenebooks.com and searching for Pinbeam Books.