The Ray Bradbury estate auction has gone live on the Nate D. Sanders Fine Autographs & Memorabilia site – see the full catalog here. It includes paintings by Charles Addams and Hannes Bok that hung on Bradbury's walls and items from his collections of Disney animation cels, comic strips and original illustration art. The auction continues until September 25
The minimum bid on the Charles Addams signed painting is $32,500:
"Addams Family" cartoonist and creator Charles Addams original 1946 painting personally owned by Ray Bradbury. True to Addams' whimsical and macabre tone, painting depicts a landscape scene at twilight with a Gothic mansion overlooking a shore, and with ghoulish creatures and spirits ascending towards the house. Signed, "Chas Adams" at upper right. Mixed media on illustration board was selected to be the cover image for Bradbury's book, "From the Dust Returned", which was released in 2001. Painting measures 17" x 12" and is matted and framed to an overall size of 24" x 19".
They're asking at least $6,000 for the iconic Dean Ellis painting commissioned for the cover of The Illustrated Man published by Bantam Books in 1969.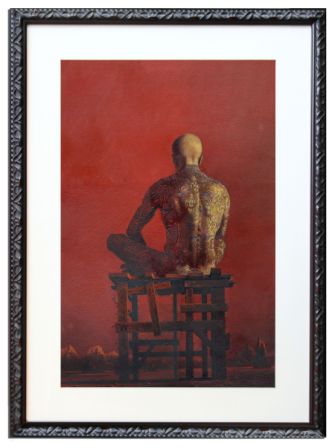 The Retro Hugo Award that Bradbury's Fahrenheit 451 won at the 2004 Worldcon could be yours for $5,000 (if nobody bids higher). That might be a reasonable asking price — Harry Warner Jr.'s Hugo went for $2,000 at auction in 2012. The association of this Hugo with a more famous winner ought to drive up the value.
Hugo Award presented to Ray Bradbury at Noreascon 4, the 62nd World Science Fiction Convention in 2004. Trophy honors the great author as part of the Retrospective Awards in the category of Best Novel for "Fahrenheit 451". Iconic sci-fi trophy features a sleek figural metal sculpture of a rocket pointing skyward, mounted to a wooden base with the information plaque affixed to one of the three sides. The other two sides are studded with rings of 13 stars. To the underside, the name of the trophy's designer, Patrick J. O'Connor is engraved. Measures 17" in total height; base sides each measure 7".
(In contrast the minimum bid for his Saturn Award is $500 – hear, hear!)
The hundreds of items of art going under the hammer include works by Joseph Mungiani, Hannes Bok,Milton Caniff, Al Capp, Ron Cobb — and Joseph Lane's portrait of Bradbury from the Hollywood Brown Derby.
Plus all the minutiae accumulated throughout his life — handwritten poems and doodles, Bradbury's annotated copy of the 1977 Academy Award script, and checks he signed in 1960. There are two unopened bottles of French wine from the same vineyard, vintage 1945 and 1946. Furniture, lamps, silverware. Even his personally-owned Wonderful Ice Cream Suit, autographed by the cast. (I ran of photo of his receiving that just a couple weeks ago.)
One final hidden gem is this Medusa Mask:
Ray Bradbury personally owned Medusa mask. Rubber cowl features a hideously delightful green textured face with pointy teeth and a wide-eyed, open-mouthed expression. Snakes emanate from the head in conformity with the myth. Possibly a movie prop from the 1981 film "Clash of the Titans". Measures 11" x 13" x 9". Near fine. With a COA from the Ray Bradbury estate.
It was indeed made by Ray Harryhausen (though the catalog doesn't say so), and once sat on top of the refrigerator in Bradbury's Palm Springs home according to John King Tarpinian.