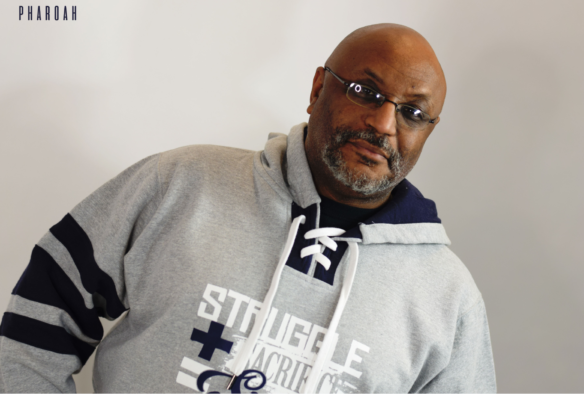 Maurice Broaddus is the Genre winner of the 2020 Eugene and Marilyn Glick Indiana Authors Awards, which recognize works with Indiana connections in eight categories published in the previous two years (2018 and 2019).
GENRE Pimp My Airship, by Maurice Broaddus. Indianapolis is recast as a steampunk, sci-fi landscape in Broaddus' work where themes of power, racism and mass incarceration of people of color are explored. The fast-paced adventure through an alternative Indy follows an unlikely trio of Black compatriots into a battle for control of the nation and the soul of their people. Born in London, England, Broaddus has lived most of his life in Indianapolis. Describing himself an "accidental teacher" (at the Oaks Academy Middle School in Indianapolis), an "accidental librarian" (the school library manager as part of the Indianapolis Public Library Shared System) and a purposeful community organizer (resident Afrofuturist at the Kheprw Institute), Broaddus has seen his work appear in a variety of publications, including Lightspeed Magazine, Weird Tales, Asimov's and Uncanny Magazine. He is the author, collaborator and editor of numerous novels and novellas, including the urban fantasy trilogy The Knights of Breton Court, the middlegrade detective novel series The Usual Suspects, Buffalo Soldier, Bleed with Me and Devil's Marionette. AMC Networks recently announced plans to adapt his novel Sorcerers for broadcast.
Book award winners receive a $5,000 prize, a physical award featuring Indiana limestone and the opportunity to make a $500 gift to an Indiana public library of their choice. The Literary Champion receives $2,500.
[Thanks to Dann for the story.]