[Thanks to Science Fiction World, China's most influential sci-fi magazine, for providing this post. I feel the competition is newsworthy and the beautiful art is something you'll want to see. However, running the item is not intended as an endorsement of the Chengdu Worldcon bid.]
What does Chengdu look like 100 years later? Sci-fi works are mind-blowing!
The 5th China (Chengdu) International Science Fiction Conference kicked off on November 22, in which the list of winners for "Chengdu After 100 Years" Global Science Fiction Works Collection sponsored by Chengdu Association for Science and Technology was officially published and a grand award ceremony was held. These eye-opening sci-fi works greatly intrigue our expectations for Chengdu 100 years later.
"Chengdu After 100 Years" offers a stage for people to picture the future Chengdu city. It collected science fiction works from across the world, and set awards of four groups: Sci-Fi Literature, Sci-Fi Video, Sci-Fi Fine Arts (Adult) and Sci-Fi Fine Arts (Children), having drawn universal attention from sci-fi fans worldwide. During the last three months, a total of 431 literary works, 418 fine art works and 21 videos were received from the US, Italy, Japan, South Korea and other countries and regions. Among them, Images: City of Taste or Taste of City by Yang Wanqing won the First Prize of Sci-Fi Literature, Chengdu after 100 Years by Qiu Yuan won the First Prize of Sci-Fi Fine Arts (adult) and Life in the Air in Chengdu after 100 years by Ji Shuyu won the First Prize of Sci-Fi Fine Arts (children). The First Prize of Sci-Fi Video remained vacant.
According to He Xi, Director of the Review Committee of "Chengdu After 100 Years" Global Science Fiction Works Collection, this one-of-a-kind event in China fully reflected Chengdu's imaginative and innovative spirit and demonstrated the city charm of Chengdu as China's "capital of science fiction". Centering on the theme of science fiction, this global cultural dissemination activity would not only benefit the international publicity of Chengdu's city image, but also promote Chengdu's construction into "three cities and three capitals" (famous city of culture & creativity, tourism, and competition, and capital of delicacy, music, and convention and exhibition), thus significantly pushing the gathering of global science fiction resources to Chengdu. According to the organizing committee, the above-mentioned award-winning works will be stored for at least 100 years after being digitized. Chengdu people 100 years later will also learn today's Chengdu people's imagination of the future through these outstanding works.
Part of award-winning fine art works (adult group)
Chengdu after 100 Years
Qiu Yuan, Akita University of Art
Author's conception: 100 years later, in Chengdu, the setting sun kindles the sky and a girl is strolling on the street. High buildings tower around in the distance where the light rail runs away. A sea of shining lights shows a bustling world…
Central Core of Chengdu after 100 Years
Li Jun, Beijing Zenjoy Technology Co., Ltd.
Author's conception: 100 years later, AI completely replaces human intelligence, and it seems to have evolved Chengdu into a giant and intelligent creature. Urban transportation, public security, pollution, defense, and even human's job are all coordinated by a central core. Life in such a city is like a game. A human being just needs to receive one or two tasks per day, and the rest of the time is completely free to arrange by self.
? Chengdu, the city of the future?
Zhu Wenlong, Beijing Wenlu Culture Media Co., Ltd.
Author's conception: In order to preserve the 3,000 years of cultural history of Chengdu, the king in Bashu cultural mythology has been transformed into a "cuckoo", the sunbird totem. Folk artists doing magical face-changing and fire spitting are also included in the picture, implying that the cultural inheritance will be immortal and exist in Chengdu 100 years later. Landmarks such as Yuanyang Taikoo Li Street, Radio & TV Tower and De Men Ren Li still stand in the technology-dominated Chengdu 100 years later, and the national treasure panda is still the symbol of the city. Super green antimagnetic buses, light energy-driven delivery robots, light speed trains and AI pandas offering consulting service everywhere bring us to the street scene of Chengdu 100 years later.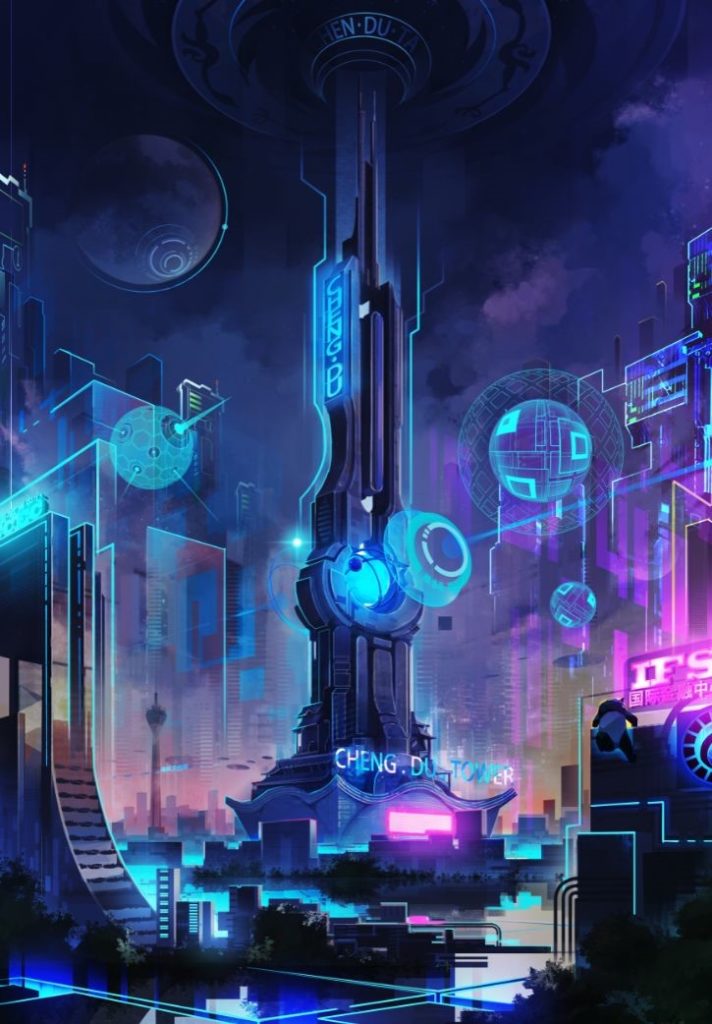 Chengdu Tower
Huang Qin, Sichuan Conservatory of Music
Author's conception: I'm always thinking-what is the world like when the popular cyberpunk culture shows up with Chengdu landmark buildings? In the future 100 years later, clean energy will provide inexhaustible electricity, and beautiful starry sky at night is also visible in Chengdu. The cutting-edge holographic and AI application incisively showcases the aesthetics of modern science and technology against the night scene, and the lofty Chengdu Tower demonstrates the super advanced material science of Chengdu 100 years later. Though boasting so leading technology, Chengdu people remain true to their original heart, and landmark buildings built by the predecessors are kept intact and even further evolved and created.
Chengdu, City of Purity – Light of Globe
Zhang Xudong, Sichuan Robin Times Film & TV Media Co., Ltd.
Author's conception: 100 years later, Chengdu sees epoch-making breakthrough in the field of sci-tech and ecological environment, where AI and nanotechnology get widely used. White nanomaterials are extensively applied to building surfaces to absorb solar energy and also purify the air for their better photosynthesis with plants. Vehicles are all powered by magnetic levitation and electricity, free of gasoline pollution. Chengdu becomes a truly oxygen-rich and pure city. In regard to AI application, small panda carriers serve for transportation, improving the express industry and facilitating the human life. At the same time, AI robots are in widespread use, pushing Chengdu into an era of science fiction. Light of Globe, a high-tech tower developed by artificial intelligence in the Southwest China, constantly updates various core technologies and is the core to control artificial intelligence as well. People in the future are looking forward to sending AI machines into space to continue exploring the universe.
City of Hot Pot
Pan Zhonghao, Beijing Zenjoy Technology Co., Ltd.
Author's conception: When it comes to Chengdu, you can't help but think of Sichuan hot pot. 100 years later, eating hot pot is still a part of people's life. Chengdu will have developed into a hot pot city… A giant two-layer hot pot circled with a dragon becomes the new landmark of Chengdu. The smoky city is full of waterways that transport hot pot water, and people will take cruise ship to enjoy hot pot in various restaurants… 100 years later, Chengdu is full of cheerful air…
An Ideal City of Ease
Luo Ya, Sunny Day Studio
Author's conception: 100 years later, Chengdu boasts time-honored and enduring historical heritages (hot pot, Sichuan opera, Taoist culture, Taikoo Li, statue of Chairman Mao, TV Tower, landmark buildings, etc.). We never stop the pace to explore the world and update cognition (the picture shows high-dimensional space-timers, shuttles, high-speed traffic, new forms of energy transmission, etc.). Pandas stand for people living in Chengdu, fun, playful, with trueness. Technology and wisdom are achieved through games. The true meaning of the universe is constantly explored by Chengdu people.
Chengdu in New Century
Yang Shu, Freelancer
Author's conception: With the rise of cutting-edge technology in 100 years, those future scenes in fantasy movies which seem distant have become reality. Chengdu influenced by Chinese culture has a free-spirited personality. Boating on the Nanhe River and feeling the lively night market on the banks of the river, you know that even in the distant future, the inner of Chengdu will remain unchanged.
City of Pandas: A Future with Cate
Yang Hui, Freelancer
Author's conception: After 100 years, it might be possible to see pandas everywhere! At that time, the tradition of lining up for food is still maintained in the leisure city of Chengdu, and it is no wonder even if two or three alien tourists appear in the queue!
---
List of Winners for "Chengdu After 100 Years"
I. Sci-Fi Literature Works
First Prize
Images: City of Taste or Taste of City– by Yang Wanqing
Second Prize
Hibiscus Flowers Blossom – by Jia Yu
The Other – by Wang Yuan
Future, Has Already Been Here – by Liu Wei
Third Prize
Fire Ghost and Fireworks – by Li Huayi
Significant End of Chengdu in 2119 – by Song Ruiyang
Atlas Shrugs – by Jia Tianyuan
Message After 100 Years – by He Jixuan (Zhong Tuiyi)
Panda with Human Face – by Jiang Tian
II. Fine Arts (Adult Group) Works
First Prize
Chengdu after 100 Years – by Qiu Yuan (pen name: Qiu Yuan)
Second Prize
Chengdu Tower – by Huang Qin
Chengdu in New Century – by Yang Shu
Chengdu, the city of the future – by Zhu Wenlong
Third Prize
Central Core of Chengdu after 100 Years – by Li Jun
City of Hot Pot – by Pan Zhonghao
Chengdu, City of Purity – Light of Globe – by Zhang Xudong
An Ideal City of Ease – by Luo Ya
City of Pandas: A Future with Cate – by Yang Hui
III. Fine Arts (Children Group) Works
First Prize
Life in the Air in Chengdu after 100 Years – by Ji Shuyu
Second Prize
View of Anshun Bridge after 100 Years – by He Jiheng
No. 2119 Shuhan Road – by Xing Bojun
Intelligent Healthcare, Health Chengdu – by Cai Yifei
Third Prize
Chengdu after 100 Years – by Zhou Sichen
A Dream of 100 Years ? Chengdu in My Heart – by Xiao Yaqi
Chengdu Space Station – Zhan Bochao
Chengdu with Air Rails Decorated with Hibiscus after 100 Years – by Li Zihan
Chengdu, City of Hibiscus in 100 Years – by Mou Boyasi
IV. Video Works
Second Prize
Rebirth – by Li Yong
Sunny in Chengdu – by Zhang Zirui
Chengdu Visual – by Luo Yingqi
Third Prize
Perception of Everything – by Li Xiudan
Panda and Mole 2119 – by Li Yi
Travel – Wu Jiaxun
Boundless Green – by Tan Yu
Chengdu, Sichuan Opera, Cyberpunk – by Cao Qinyu
Special Prize
30,000-li Bashu – by Quan Hui (South Korea)
Finally, I Meet You Here – by Kazuhiro Yada (Japan)
[Editor's note: The original text does not include a First Prize for Video Works.]