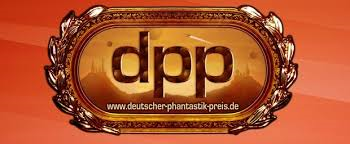 The Deutscher Phantastik Preis 2018 shortlist has been posted.
The award honors speculative fiction published for the first time in German language during the previous year.
The winners will be picked by a public vote. Voting on the shortlist continues until June 15.
The German SFF event Phantastika 2018 has been cancelled, and taken with it this year's Deutscher Phantastik Preis ceremony. Event organizer Mike Hillenbrand told an interviewer the award will still be presented at a time to be determined.
Deutscher Phantastik Preis Shortlist
Bester deutscher Roman / Best German Novel
Animant Crumbs Staubchronik — Lin Rina — Drachenmond Verlag
Das Geheimnis der Sternentränen — Anke Höhl-Kayser — Bookspot Verlag
Das Herz der Quelle – Sternensturm — Alana Falk — Arena Verlag
Das Koboltikum — Christian von Aster — Edition Roter Drache
Die Krone der Sterne — Kai Meyer — FISCHER Tor
Die Legende von Enyador — Mira Valentin — Selfpublisher
Bestes deutschsprachiges Romandebüt / Best debut novel in German
A Fairy Tale – Die Suche nach dem blauen Herz — Anja Stephan — Selfpublisher
Archibald Leach und die Monstrositäten des Marquis de Mortemarte — Markus Cremer — Art Skript Phantastik Verlag
Das Raunen der Flammen — Helena Gäßler — Drachenmond Verlag
Der siebte Sohn — Julia Maar — Selfpublisher
Izara – Das ewige Feuer — Julia Dippel — Planet!
Bester internationaler Roman / Best international novel
Das Herz der verlorenen Dinge [The Heart of What was Lost] — Tad Williams — Klett-Cotta
Das Lied der Krähen [Six of Crows]– Leigh Bardugo — Knaur
Nevernight – Die Prüfung [From the Dust Returned] — Jay Kristoff — FISCHER Tor
Scythe – Die Hüter des Todes — Neal Shusterman — FISCHER Sauerländer
Vier Farben der Magie [A Darker Shade of Magic] — V. E. Schwab — FISCHER Tor
Beste deutschsprachige Kurzgeschichte / Best German short story
Alissa im Drunterland — Fabienne Siegmund — Papierverzierer Verlag
Der geheimnisvolle Gefangene — Gerd Scherm — Reiten wir! – Phantastikautoren für Karl May — Edition Roter Drache
Happy Halloween — Sarah Drews — Halloween – Jetzt schlägt's 13 — Kelebek Verlag
Schattenruf – Erzählung — Klara Bellis — Selfpublisher
Traum und Wahrheit — Jacqueline Mayerhofer — Absinth – Geschichten im Rausch der Grünen Fee — Art Skript Phantastik Verlag
Beste Original-Anthologie/Kurzgeschichten-Sammlung / Best anthology/story collection
Absinth – Geschichten im Rausch der Grünen Fee — Grit Richter — Art Skript Phantastik Verlag
Es war einmal … … ganz anders — Sylvia Rieß & Janna Ruth — Machandel Verlag
Halloween – Jetzt schlägt's 13 — Kelebek Verlag — Kelebek Verlag
Reiten wir! – Phantastikautoren für Karl May — Alex Jahnke — Edition Roter Drache
The U-Files – Die Einhorn Akten — Sandra Florean — Talawah Verlag
Bestes deutschsprachiges Hörspiel/Hörbuch / Best German Language Radio Play / Audiobook
Der Mitreiser und die Überfliegerin — Mira Valentin — Julian Horeyseck — Audible Studios
Der Totengräbersohn 1 — Sam Feuerbach — Robert Frank — Audible Studios
Die Krone der Sterne — Kai Meyer — Philipp Schepmann — Argon Verlag
Drachenreiter – Die Vulkan-Mission — Cornelia Funke — David Fowler — Atmende Bücher
GötterFunke – Liebe mich nicht — Marah Woolf — Jodie Ahlborn, & Patrick Bach — Oetinger Media
Beste deutschsprachige Serie / Best German Language Series
Die Phileasson-Saga — Bernhard Hennen & Robert Corvus — Heyne Verlag
Spiegelmagie — Chris Svartbeck — Selfpublisher
Frost & Payne-Reihe — Luzia Pfyl — Greenlight Press
Nebular — Thomas Rabenstein — SciFi-World Medien Verlag
PERRY RHODAN — Pabel-Moewig Verlag
Bester deutschsprachiger Grafiker /Best German-speaking Graphic Artist
Die Bibliothekare – Die maskierte Stadt — Guter Punkt — Bastei Lübbe
Die Braut des blauen Raben — Coverandbooks / Rica Aitzetmueller — Zeilengold Verlag
FAAR – Das versinkende Königreich – Herr der Wälder — Atelier Tag 1 — Amrûn Verlag
Keine Helden – Piraten des Mahlstroms — Christian Günther — Amrûn Verlag
Prinzessin Insomnia & der alptraumfarbene Nachtmahr — Walter Moers, Oliver Schmitt & Lydia Rode — Albrecht Knaus Verlag
The U-Files – Die Einhorn Akten — Marie Graßhoff — Talawah Verlag
Bestes deutschsprachiges Sekundärwerk / Best German Language Secondary Work (i.e., Related Work)
Geek!-Magazin — Panini Verlags GmbH
Handbücher des Drachen: Rollenspiel-Essays — Markus Plötz — Ulisses Medien und Spiel Distribution GmbH
Nachdenken über 'Game of Thrones': George R.R. Martins 'A Song of Ice and Fire' — Jan Söffner — Verlag Wilhelm Fink
Nautilus – Abenteuer & Phantastik — Abenteuer Medien
phantastisch! neues aus anderen welten — Atlantis Verlag
Bester deutschsprachiger Comic / Best German Language Comic
Der Andergaster (Das Schwarze Auge) — Reinhard Kotz — Ulisses Medien und Spiel Distribution GmbH
Die Abenteuer von Autistic Hero-Girl — Daniela Schreiter — Panini Books
Die Stadt der Träumenden Bücher – Buchhaim | Florian Biege | Aalbrecht Knaus Verlag
Echo des Wahnsinns: Geschichten aus dem H.P. Lovecraft Universum — Sphinx Spieleverlag
Mark Brandis – Weltraumpartisanen: Bd. 2: Verrat auf der Venus — Michael Vogt & Nikolai von Michalewsky — Panini
[Via Europa SF, and following their international novel title identifications.]