(1) PLUG PULLED ON GAMING CON. The Dark Carnival Games convention in Denver was shut down by the hotel this weekend. Violence between some people on the premises seems to have been the cause – for example, see this video of a fight that purportedly occurred there.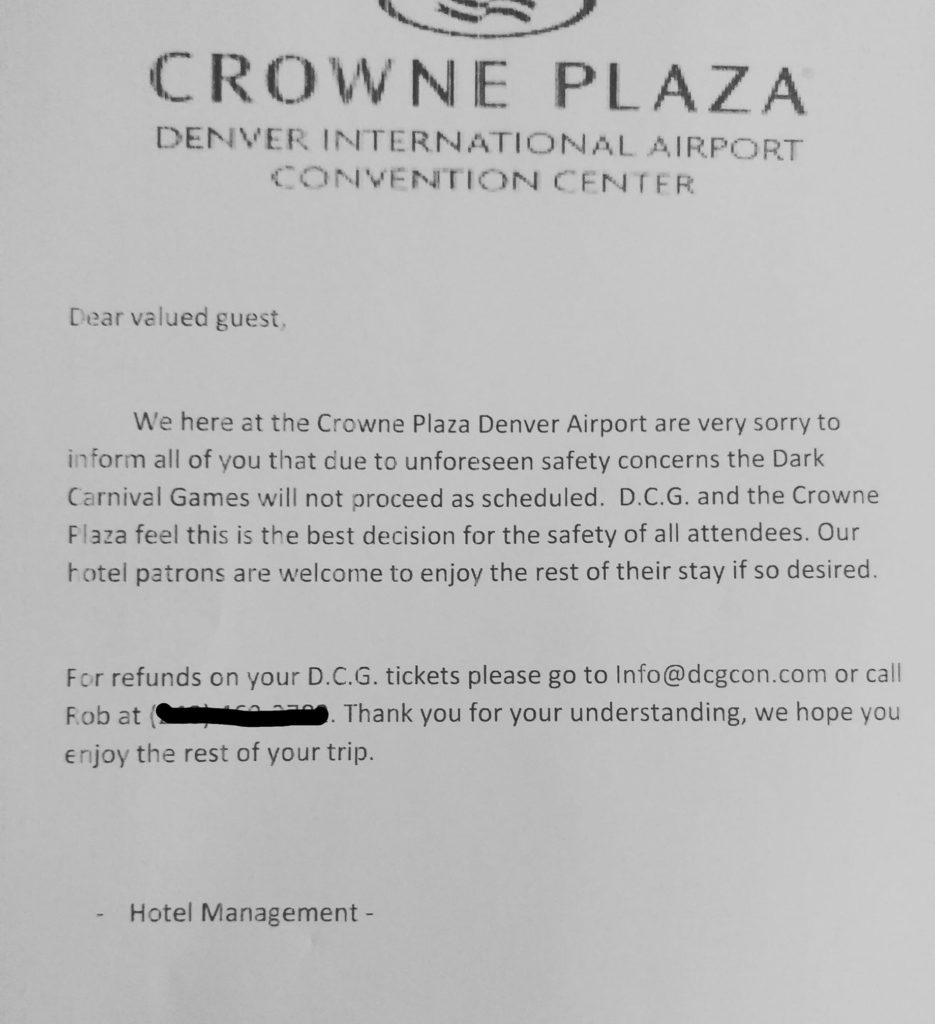 Trae Dorn explains one of the con's unusual characteristics in his post at Nerd & Tie.
Dark Carnival Games Con (or "Dark Carnival Game Con" according to some of the other official materials) isn't exactly your typical gaming convention. It's a game convention for Juggalos hosted by the Insane Clown Posse themselves.
In fact, after the shutdown, Insane Clown Posse issued a statement on Facebook:
…Juggalos…we love you. We appreciate you. And we acknowledge all your wonderful work and creativity in making DCG a Dark Carnival blessed and beautiful space that was truly For Juggalos, By Juggalos. However, due to circumstances that are beyond our control, the DCG Con Conventiion Hall has been shut down, to the tears and heartbreak of our wonderful 100% Juggalo-run staff and amazing attendees who put their hearts and souls into making this space for our beloved Juggalo Family. This was COMPLETELY out of our hands, ninjas. We here at Psychopathic Records apologize and we are with you, we will be here in the hotel, and we love you more than you will ever know….
(2) ARE CODES OF CONDUCT WORKING? Alisa Krasnostein has made available the results of her "Audit of Australian Science Fiction convention Codes of Conduct". Her survey received 81 responses. Analysis and graphs at the link.
Executive Summary

After personally hearing recounts of a few very troubling incidents, I decided to conduct a survey of attendees at Australian SF conventions to assess the prevalence of harassment still being experienced there….

…Drilling down into the details of how these codes of conduct are being enforced, and how complaints are being addressed, raised some real issues for concern.

The successful enforcement of a code of conduct relies on a reporting process that is well publicised, accessible, supportive, safe and trusted.

Only 85% of the respondents were aware of the code of conduct. 70% knew whom to approach for assistance as per the code of conduct. All three of the main SF conventions inform attendees to report any incidents of harassment to the convention committee. Swancon includes WASFF board members as a point of contact. Only one of the conventions tells attendees how to identify these points of contact (by the colour of their con badge).

I find this to be grossly insufficient. It relies on convention attendees to know not only the names but also match them to the faces of organisers of the event they are attending, and to be able to locate them during a personally stressful or distressing time. Additionally, in my experience, both as a convention attendee and organiser, convention committee members are incredibly busy and not remotely accessible at the best of times. Let alone when you need a quiet and private moment to lodge an upsetting complaint….
(3) AS IF MILLONS OF VOICES SUDDENLY CRIED OUT. Inverse reports "That pesky Obi-Wan Kenobi movie might actually be happening" — "Obi-Wan 'Star Wars' Movie Rumored to Be in Secret Pre-Production".
Since August of 2017, persistent rumors have suggested that a standalone Star Wars movie about Obi-Wan Kenobi, and starring Ewan McGregor is definitely going to happen. However, since then, there has been no official confirmation from Lucasfilm about this project. But, on Thursday, the day of the early Los Angeles premiere of Solo: A Star Wars Story, a new rumor surfaced that the Obi-Wan movie is already in secret pre-production.

…[A]ccording to an anonymous source who spoke to Fantha Tracks on Thursday, "The project is sufficiently along that an art department is now in full pre-production mode at Pinewood Studios, England…A number of concept artists, prop modelers, and storyboard artists are working as a team across the two locations on the film…"
(4) EATING THE FANTASTIC. Scott Edelman says don't miss a chance to  chow down on chive dumplings with Mary SanGiovanni in Episode 66 of his Eating the Fantastic podcast. Scott adds, "Warning: The post — though not the episode itself — include video of me strumming 'Monster Mash' on the ukulele!" Hm, I better see if my liability insurance covers that….
Did you listen to the 24-hour Scares That Care Telethon, hosted by Brian Keene and his cohorts from The Horror Show with Brian Keene podcast, which ended at noon today after having raised $21,591 for that 501c3 charity devoted to helping those coping with childhood illness, burns and breast cancer? If not, don't worry. Because though its content was for the most part livestreamed only, never to be seen or heard again, I've got some of it for you right here.

Because once again, Eating the Fantastic invaded!

During last year's telethon, as captured in Episode 34, I brought BBQ and chatted with that best-selling zombie author himself, while this year I picked up takeout from Viet Thai Cafe for dinner with Mary SanGiovanni.
Mary's the author of The Hollower trilogy, the first volume of which was nominated for the Bram Stoker Award, plus the recent novels Chills and Savage Woods. Her collections include Under Cover of Night, A Darkling Plain, and Night Moves. She's also the host of the Cosmic Shenanigans podcast.

We discussed H. P. Lovecraft's racism and sexuality (or lack thereof), how having grown up in New Jersey might have given her the toughness she needed to survive her early short story rejections, why she ended up writing horror instead of science fiction even though her father read her Isaac Asimov and Frank Herbert when she was a kid, which novella she wrote that will never see the light of day, how watching The Exorcist III changed her life, why she's no longer afraid of vampires, the reason her motto if she founded a religious cult would be "doorways are meant to be opened," the first writer she met who treated her like an equal, the identify of "the George Carlin of Horror," and much, much more.
(5) PREFERRED BOOKSTORES. N. K. Jemisin contributed to Lonely Planet's list: "11 authors recommend US bookstores worth traveling for".
WORD Books in Greenpoint, Brooklyn

Recommended by NK Jemisin, author of The Stone Sky

WORD Books in Greenpoint is probably my current favorite. It's tiny and cramped, yet they consistently manage to have at least one book that I absolutely HAVE to buy, every time I go there. And the downstairs event space makes up for the tight fit upstairs; I had the launch party for The Fifth Season there and it was lovely. There was even enough room for a homemade volcano! And readings, and talks and more. It's on a gorgeous street with historic architecture and a little park, easily bike-able or train-able. All they lack is a bookstore cat. Why don't bookstores do those anymore? Oh, allergies. Well, it's perfect except for that.
(6) BUD PLANT OUT. One of the San Diego Comic-Con giants is going away: "Comic-Con Pioneer Vendor, Bud Plant, Calls it Quits After 48 Years".
"I'm proud that we had as many as 11 booths up until 2008, 10 of new products and one with out-of-print material," he said. "But since that disastrous year, when sales dropped by 40 percent, we've been downsizing in an effort to still make it work."

Francis "Bud" Plant, 66, of Grass Valley noted how he spent "seven full days on the road" and 13-hour days at the annual July show.

He said event organizers had always treated him well, but "attendees these days are, in general, not our customers or they are not looking for books."
(7) WHO'S WHO IN EOFANDOM. Fanac.org posted a scan of L.D. Broyles' "1961 Who's Who #1". Lots of fans you never heard of before, I betcha. However, I did pretty well on page 4 – recognized 5 out of 9 fans listed, including Greg Benford and Ruth Berman. You might be intrigued by Roger Ebert's entry, from before he made the big time —

(8) TODAY IN HISTORY
May 12, 1988 — Earth Girls Are Easy premiered on this day.
(9) COMICS SECTION.
(10) WE INTERRUPT THIS WAKE… After Syfy cancelled The Expanse The Verge's Andrew Liptak found a way to soften the blow: "The Expanse author James S.A. Corey is writing a new space opera trilogy".
Coming off of this morning's news that the Syfy channel was not going to renew The Expanse for a fourth season, there is some positive news for fans of the series: Orbit Books has announced that it has signed Expanse author James S.A. Corey for three books of a new space opera series.

Corey is actually two authors: Daniel Abraham and Ty Franck, who co-wrote The Expanse series, which is expected to run for nine novels, the last of which will hit bookstores in 2019. That series has become a popular hit with readers and was adapted as a television show on the Syfy channel that premiered in 2015 with Abraham and Franck as producers. The duo have written outside of the series before: they wrote a Star Wars novel about Han Solo in 2014, Honor Among Thieves. Abraham tells The Verge that "Orbit is where James S.A. Corey really began, and I'm delighted that we have another projected queued up with them once The Expanse is complete."
(11) DISNEY WORLD'S HOTTEST ATTRACTION – FOR ONE DAY. Syfy Wire has videos and stills — "WATCH: Maleficent the dragon bursts into flames during Disney World parade".
We all know that dragons are supposed to breathe fire, not catch fire. Well,  Maleficent never got that memo.

Friday afternoon, during the Festival of Fantasy parade at Walt Disney World's Magic Kingdom, an enormous animatronic float of Maleficent in dragon form caught fire. The fire occurred when the dragon arrived in Liberty Square, with about 15 minutes remaining in the parade. No one was injured, and the fire was extinguished quickly.
(12) A PENNY FOR YOUR VIKING THOUGHTS. Atlas Obscura delves into "The Mystery of Maine's Viking Penny".
On February 6, 1979, Kolbjørn Skaare, a Norwegian numismatist with a tall, wide forehead, walked into the Maine State Museum to see the coin. Just a few years earlier, he had published Coins and Coinage in Viking-Age Norway, a doctoral thesis that grew from the decade-plus he had spent as a keeper at the University of Oslo's Coin Cabinet. The first specialist to examine the coin in person, he had just a day with it before Bruce J. Bourque, the museum's lead archaeologist, had to address the national press.

Skaare saw "a dark-grey, fragmentary piece," he later wrote. It had not been found whole, and the coin had continued to shed tiny bits since it was first weighed. A little less than two-thirds of an inch in diameter, it had a cross on one side, with two horizontal lines, and on the other side "an animal-like figure in a rather barbarous design," with a curved throat and hair like a horse's mane. In his opinion, it was an authentic Norwegian penny from the second half of the 11th century.

The mystery centered on its journey from Norway to Maine. It was possible to imagine, for example, that it had traveled through the hands of traders, from farther up the Atlantic coast, where Norse explorer Leif Eriksson was known to have built a winter camp. If the coin had come to America in the more recent decades, the hoaxer—presumably Mellgren, Runge, or someone playing a trick on them—must have been able to obtain a medieval Norse coin.
(13) FAMILIAR FIGURE. Here's something else in silver that's come from the mint a little more recently…. The New Zealand Mint has just introduced its very first Star Trek pure silver miniature: "Captain Kirk Takes the Silver".
3D master sculptor Alejandro Pereira Ezcurra designed the Kirk miniature, which is available now in a limited worldwide production of only 1,000 casts. Produced from a minimum of 150g pure silver, it stands approx 10cm tall, is finished with an antique polish, and features a unique production number stamped into the base.
They want US$550 for the Captain. The New Zealand Mint is also offering some less expensive silver Trek collectibles. There's a series of coin notes with images of the Classic Trek crew. Who knew the day would come when money would be issued with Lt. Uhura on one side and Queen Elizabeth II on the other?
Made from 5g of pure silver, the note's reverse has images of Uhura and the U.S.S. Enterprise NCC-1701 and is coloured and engraved with Star Trek themes.

The obverse features the Ian Rank-Broadley effigy of Her Majesty Queen Elizabeth II and is legal tender in Niue.
(14) REPOPULATION TROPE. Wired headline: "How Hard Could It Be to Repopulate the Planet?" Editor Gordon Van Gelder addresses repopulating the Earth stories (including his collection Go Forth and Multiply), John W. Campbell, and much more in an episode of Wired's Geek's Guide to the Galaxy.
In the 1950s many science fiction writers explored the idea of a global disaster that leaves behind only a single man and woman, who would then have to carry on the human race. According to science fiction editor Gordon Van Gelder, a popular variant of this idea featured a twist ending in which the last man and woman turn out to be Adam and Eve.

"It was one of those stories that science fiction would lend itself to so readily, and newbies would be drawn to it, like ants going to a sugar cube," Van Gelder says in Episode 308 of the Geek's Guide to the Galaxy podcast.

The idea became so overused that magazines would specifically prohibit writers from submitting "Adam and Eve stories." And while such stories would remain the bane of science fiction editors for decades, the theme of repopulation also produced a number of interesting thought experiments, many of which Van Gelder collected in his recent book Go Forth and Multiply. He says that despite obvious concerns about inbreeding, the idea of one man and one woman repopulating the world isn't impossible.
(15) SWIMMING THE CHANNELS. SF Concatenation's Jonathan Cowie says, "Unless you have one of those new-fangled colour television things with auto-record, this Thursday 9 p.m. gives us Brit SF fans a tough choice." At that hour they have to pick between —
Channel 4 the new season of Humans:
Or BBC4 and the French SF series Missions:
(16) WHIRLYBIRD. BBC reports "NASA will send helicopter to Mars to test otherworldly flight".
The Mars Helicopter will be bundled with the US space agency's Mars rover when it launches in 2020.

Its design team spent more than four years shrinking a working helicopter to "the size of a softball" and cutting its weight to 1.8kg (4lbs).

It is specifically designed to fly in the atmosphere of Mars, which is 100 times thinner than Earth's.
(17) WHERE DINOS TROD. In case you hadn't heard, some people are idiots: "Utah tourists urged to stop throwing dinosaur tracks in lake".
Visitors to a US state park in Utah have been destroying 200 million-year-old dinosaur tracks by throwing them into the water, park officials say.

While this has been an ongoing problem for many years, officials say the damaging behaviour has increased dramatically in the last six months.

The dinosaur tracks are one of the biggest draws to Red Fleet State Park and many have been irrevocably damaged.

Visitors have been throwing the tracks around as if they were merely rocks.
(18) USING SPACE. The Washington Post's Michael Cavna, in "Here's why 2018 is a huge moment in the history of political cartoons", studies the work of such prize-winning political cartoonists as Ruben Bolling, Tom Tomorrow, and Jen Sorensen and finds they are more like multi-panel comics than they used to be.
Many veteran political cartoonists occasionally create longer-form comics, but traditionally that work hasn't garnered the mainstream awards. Now, formal recognition is catching up to both changing technology and new pools of talent.

"Without the space constraints print always had," Sutton notes of drawing in an online era, "the number of panels in a cartoon is no longer the pressing issue it once was" — so more cartoonists can diversify their formats.
(19) VIDEO OF THE DAY. "Destino:  Walt Disney & Salvador Dali (1945-2003)" is a short animated film on YouTube begun by Salvador Dali in 1945 and abandoned and ultimately completed by Disney in 2003.
[Thanks to Chip Hitchcock, John King Tarpinian, JJ, Errolwi, Michael J. Walsh. Cat Eldridge, Martin Morse Wooster, Mike Kennedy, Carl Slaughter, Scott Edelman, and Andrew Porter for some of these stories. Title credit goes to File 770 contributing editors of the day Andrew and Lee.]