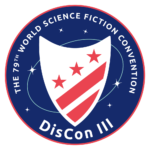 DisCon III emailed members on December 25 about three more positive test results among people who attended last week's Worldcon, as their COVID response team continues to track contacts after the convention. Overall, twenty-six people have reported positive test results, one of which was a false positive.
Here are links to the earlier reports:
DisCon III's Covid team will phase out reporting shortly:
As we move further in time from DisCon III, it becomes increasingly difficult to be certain that any given COVID case was contracted at the convention instead of during post-convention activities. Tomorrow will be our last daily email. We will send another update one week later, but we will generally limit our reporting to tests conducted before 12/26 whose results were delayed in arriving, or to members who were symptomatic before 12/26 but had difficulty obtaining tests.
---
December 26th Update
Case W
Received positive PCR test results on Sunday, 26th December, from a test conducted on Wednesday, 22nd December
Has congestion and coughing which began worsening on Tuesday, 21st December
Stayed at the Days Inn
Was at DisCon III Wednesday through Saturday
Visited the dealer's room and art show
Was at both the Masquerade and the Hugo Awards
Attended program items including:

What Makes a Classic a Classic?
Changing Genes, Can We Should We?
But I Don't Want To Be A Hero
The Work of Nancy Kress
The Fallout of Being the Chosen One
Nancy Kress in Conversation
Science Talk 4: Climate Change
The Future of Work: Post Pandemic Edition
Science Talk 12: The James Webb Space Telescope
The Softer Side of Science Fiction
The Never-Ending Story: Series Fiction
Gary K. Wolfe Interviews Nancy Kress
They Flubbed the Landing: Disappointing Finales
Is The Genre Too Big for Meaningful Hugos?
The Magnificent Novella
2020 Ruined My Novel!
Science Talk 10: Telescopes and Radio Waves
Why Won't You Stay Dead?

Unmasked to eat lunch in the hall on December 16th, in the Blue Room Prefunction on December 17th, and in the Ambassador Ballroom on December 18th, generally around 12:30 pm
Ate dinner at Gormand Grill on December 15th (6:30 pm), Rajaji December 16th (6:30 pm), Mayhuel December 17th (5 pm), and Naanwise December 18th (6:30 pm)
Case X
Received positive results with a home antigen test kit on Friday, December 24, after testing negative on Wednesday, December 22
Stayed at the Churchill as part of a group of four; all other group members have tested negative
Attended DisCon III all five days
Ate in the Ambassador Room
Visited the dealer's room
Attended Opening Ceremonies and the Masquerade
Participated in Pick, Pass, Play Filk on Friday night and in the Open Mic Poetry Reading
Cases Y and Z – Russ Kinnard and Deb Kinnard, named with permission
Tested positive on an antigen test on Sunday, December 26th, after testing negative on a PCR test conducted on Wednesday, December 22nd
Symptomatic since Tuesday, December 21st
Stayed on-site
Visited the dealer's room repeatedly
Attended Opening Ceremonies, the Hugo Awards (Russ only), Wednesday night Open Filk, and several panels in the Calvert Room
Attended the Heinlein Society party Thursday night and Jon Brazee's signing
Ate dinner at Robert's Restaurant, Open City, Afghan Grill, the bistro that serves crepes, and MacIntyre's
What to do if you test positive for COVID-19?
Tell the convention at

[email protected]

. We will keep your name private but may share anonymized information about your activities for contract-tracing purposes.
If your positive test result was from an at-home antigen test, try to obtain a PCR test for confirmation.
Think about where you were and if you had your mask off.
Inform anyone you know personally and were in close contact with about your test result
Close contact is defined as someone who was within 6 feet for a total of 15 minutes or more within 2 days prior to illness onset, regardless of whether the contact was wearing a mask.
The CDC recommends a 10-day isolation period. Day zero is the first day you develop symptoms or test positive.