Delaware's Mispillion River Brewing came out with five Harry Potter beers last month. They served them at the "Fantastic Beers and Where to Find Them" event held the day Fantastic Beasts opened in theaters. The four named for the houses of Hogwarts were served in matching souvenir glasses.
The Milford brewery (255 Mullet Run) will pair the beers with four commemorative glasses, each dedicated to a house of Hogwarts School of Witchcraft and Wizardry — Gryffindor (9% ABV Double IPA) , Slytherin (dry hopped sour), Hufflepuff (6% ABV Kolsch) and Ravenclaw (5.2% ABV Porter). Deathly Hallows, the brewery's small batch Belgian Tripel, will make its annual return as well.
The fifth Harry Potter-themed beer, The Deathly Hallows, translates into a brew with the following flavors:
The Elder Wand, the Ressurection Stone, and the Cloak of Invisibility composed the mythical Deathly Hallows.  Our version is a Belgian Trippel brewed with candi sugar.  Bright yellow, the Deathly Hallows features spicy notes from the yeast.
Mispillion River Brewing does a lot of pop culture-themed beers, anything to draw attention to the product. With a new Star Wars movie coming out in December, it's not hard to guess the inspiration behind their December 17 promotion.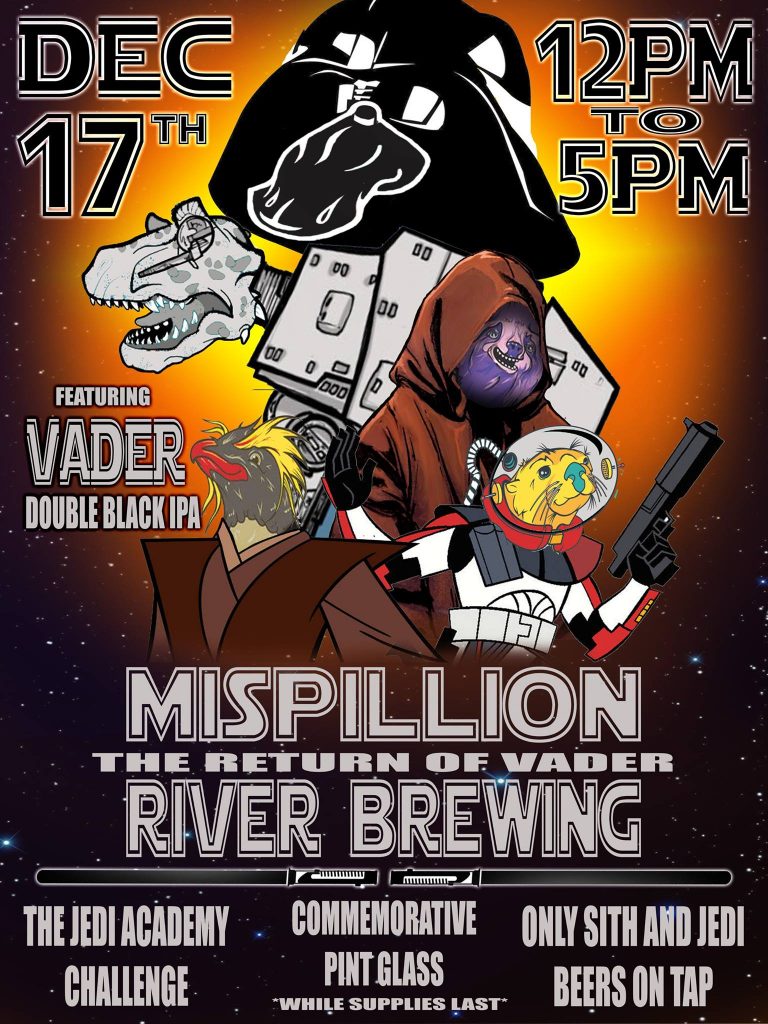 The commemorative Vader pint glass —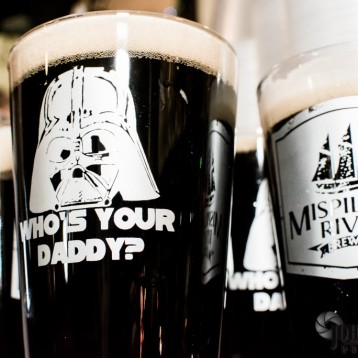 They also have a channel on YouTube where you can see such videos as Star Wars Brewer.
Here are some of their other creations with genre appeal.
Threat Level Purple is an 11% ABV Imperial IPA (or, as they say, it has "an 11% fallout") which you can take to your shelter when The Big One hits.  This high-octane brew will keep you fortified during long periods of global devastation.  And when you emerge, assuming there's any civilization left, you can recycle the can!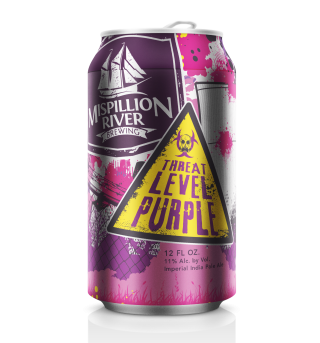 Holy Crap! comes in a can with a psychedelically-colored dinosaur on the front.
Holy Crap! evolved by accident, when our brewer blended two different styles of beer. After months of digging for the recipe, we learned: you can't suppress a brewer's gust instinct. This 8.5% ABV Imperial Red Ale leads with a strong malt body and finishes with the dry bitterness of a 65-million year extinction. Hold on to your butts!!!
Space Otter features a furry astronaut.
When designing a beer specifically for your benevolent leader, one must address the existential question, "But what is his spirit animal"? With those words, the Space Otter was launched. This 5% ABV pale ale is brewed with Citra and Azacca hops and is out of this world.
[Thanks to Martin Morse Wooster for the story.]