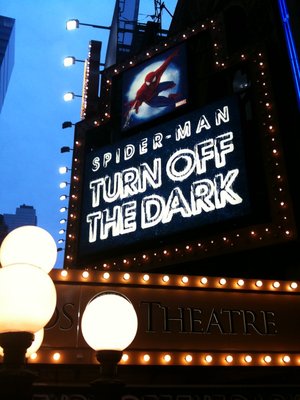 On June 16, for one performance only, bring your dad to Spider-Man on Broadway and he'll get in free with the purchase of a full-price orchestra or flying circle ticket for yourself.
James H. Burns sent along a copy of the offer with this endorsement:
This strikes me as a pretty nifty chance for those who have been on the fence about going to see Spider-Man: Turn Off The Dark.

By the way, the musical was greatly improved by all the changes devised (nearly two years ago!)…

I wasn't able to get the original sad version out of my head, but friends I took–all old-time, diehard Marvelites–actually had a ball.

The play still makes a muck of Uncle Ben's demise, and I can't abide those Julie Taymor "puppet-people" for many of Spidey's rogues gallery.

But there are now many legitimately thrilling moments; several times when you feel you're actually seeing those characters you care about on the stage, and are even moved; and by limiting and refining the aerial sequences. Sequences that are actually breathtaking.