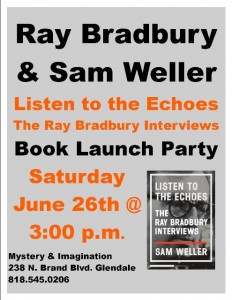 Listen to the Echoes: The Ray Bradbury Interviews is coming in June, a book described as "A definitive collection of interviews with one of America's most famous writers, covering his life, faith, friends, politics, and visions of the future."
Ray Bradbury and his interviewer, Sam Weller, are expected to attend a launch party at Mystery and Imagination Bookstore in Glendale, CA on Saturday, June 26 at 3 p.m.
Weller frequently writes about Bradbury:
Weller met Bradbury while doing a profile story for the Chicago Tribune, and the two struck up a close professional relationship. Weller continued to do magazine and radio pieces on Bradbury, and soon became interested in writing the author's biography.

"I asked him simply one day, 'Why is there no biography on you?'" Weller said. "And he said, 'I think biography means you're dead. I don't want anyone to write on me until my life's over.'"
Weller convinced him otherwise and the result was The Bradbury Chronicles: The Life of Ray Bradbury which came out in 2005, made the Los Angeles Times bestsellers list, and became a finalist for the Bram Stoker Award.
[Thanks to John King Tarpinian for the flyer.]