Heritage Auction's next Hollywood Auction on December 18 will feature Margaret Hamilton's "Wicked Witch of the West" screen-worn flying hat from The Wizard of Oz. Among the other goodies you can bid on are —
Elizabeth Taylor "Cleopatra" lavender gown and headdress from Cleopatra (1963).
Marlon Brando "Fletcher Christian" Royal Navy officer uniform from Mutiny on the Bounty (1962).
Original Lucasfilm-sanctioned "Darth Vader" promotional costume for Star Wars: The Empire Strikes back and Return of the Jedi. 
Frank Darabont personal 3-sheet poster from Planet of the Apes signed by Charlton Heston, Roddy McDowall and James Whitmore.
Ultra-heavy "Thor" Mjölnir hammer used by all the Avengers in the "worthy test" sequence in Avengers: Age of Ultron. 
Moe Howard's (70+) page handwritten manuscript for his autobiography Moe Howard and the Three Stooges.
Robert Keeshan's iconic "Captain Kangaroo" jacket from Captain Kangaroo. 
Lou Ferrigno "The Hulk" screen worn costume on custom display from The Incredible Hulk. 
Kevin Costner "Mariner" costume ensemble from Waterworld. 
Director Barry Sonnenfeld's annotated shooting script from The Addams Family.
Plus the Michael Keaton original "Batman" cowl and display from Batman Returns.
Also the helmet worn by actor Michael Ansara in the "Soldier" episode of Outer Limits. (Which John King Tarpinian assures me was also worn by Robin Williams in an episode of Mork and Mindy.)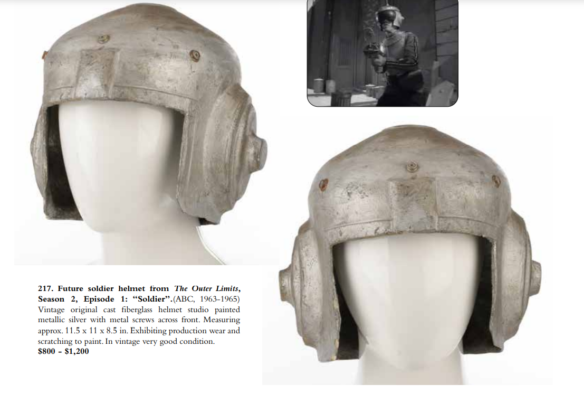 Or maybe you'd like to exchange a pile of dollars for these cubits from Battlestar Galactica.
And I'm sure we all remember Apocalypse Kong – don't we?
Finally, for your listening pleasure, a recording of a Star Trek score — but which episode? Perhaps "Where No Man Has Gone Before," the third episode which aired two days after the date on the box.
[Thanks to John King Tarpinian for the story.]