(1) CAPTAIN JACK SIGHTINGS. You'll be seeing Captain Jack again soon — the question is, how often? Radio Times asks "Is John Barrowman's Captain Jack in Doctor Who series 13?"
It's official – Captain Jack is back for the Doctor Who Christmas special, with John Barrowman's immortal Time Agent set to join the TARDIS team in Revolution of the Daleks.

Of course, this isn't as big a shock as it might have been. Jack Harkness already popped up once after a decade away from Doctor Who in series 12's Fugitive of the Judoon, and fans had long suspected this could be followed by a larger onscreen return. After all, he hasn't even met Jodie Whittaker's Doctor yet!

But now that his festive presence has been confirmed, we have to wonder… is this just the start of Jack's new era in the TARDIS? Does John Barrowman already have a key cut for Roath Lock Studios in Cardiff? Is Jack's coat currently being dusted off for another adventure?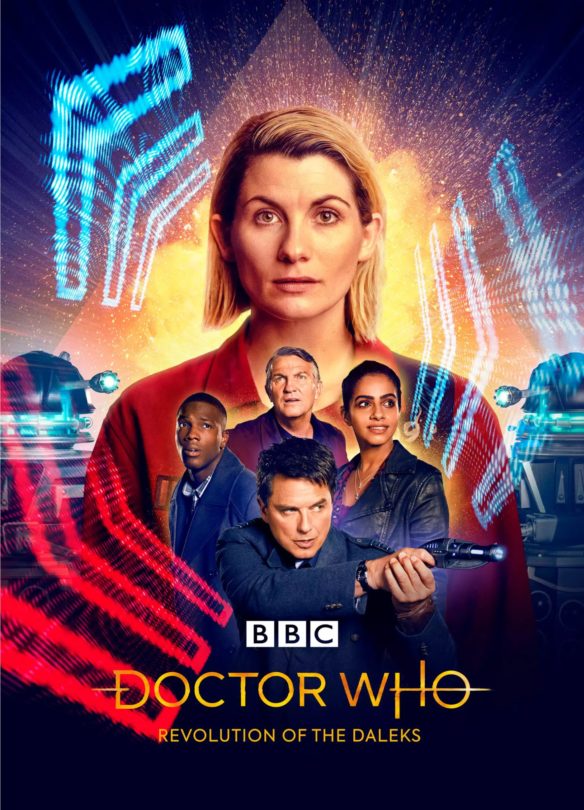 (2) RESISTANCE IS FUTILE. "Penguin Random House to Buy Simon & Schuster" reports Shelf Awareness.
Bertelsmann, owner of Penguin Random House, is buying Simon & Schuster from ViacomCBS and will make it part of PRH, the company announced. The deal should close in the second half of next year, subject to the usual closing procedures as well as regulatory approval. The deal is reportedly for more than $2 billion. PRH is the largest trade book publisher in the world, and both it and S&S have substantial distribution operations.

ViacomCBS had put S&S up for sale in March, saying the publisher was "not a core asset." At the time, ViacomCBS was reportedly asking at least $1.2 billion for S&S. Bertelsmann publicly expressed interest in September; News Corp., owner of HarperCollins, was also interested in the company.

In a memo to staff, PRH CEO Markus Dohle said in part, "I have long admired the team at Simon & Schuster and the books they publish, and I am incredibly excited to welcome our new colleagues to Penguin Random House. Simon & Schuster's distinguished legacy of publishing notable authors, perennial bestsellers, and culture-shaping blockbusters is a natural complement to our publishing programs and catalogs around the world."

Referring to the merger of Penguin and Random House and other PRH acquisitions, he said, "As we have demonstrated, we can successfully unite company cultures and prestigious publishing teams while preserving each imprint's identity and independence. Simon & Schuster aligns completely with the creative and entrepreneurial culture that we nurture by providing editorial autonomy to our publishers, funding their pursuit of new stories, ideas, and voices, and maximizing reach for our authors…."
(3) 100 MORE TBR. The New York Times' "100 Notable Books of 2020" has plenty of good reading even if there are just a few titles that register as genre — and of those, none I've heard of. Mind you, I'm generally not impressed to see the dismissive phrase, "Well, I never heard of it," and I'm counting on you to remain equally unmoved when I say it; I'm just reporting. Besides, some of you probably have heard of them and can say something on their behalf.
(4) 2021 NEBULA CONFERENCE. SFWA announced that 2021 Nebula Conference Online Registration is now open. The virtual event will take place June 4-6. Registration is $125.
The SFWA Airship Nebula will be returning in June 2021… Captaining the ship this year, SFWA is also very pleased to announce that L.D. Lewis is joining the Nebula Conference team.

Lewis is an award-winning SF/F writer and editor, and serves as a founding creator, Art Director, and Project Manager for the World Fantasy Award-winning and Hugo Award-nominated FIYAH Literary Magazine. She primarily writes stories of ordinary Black women and femmes with extraordinary powers in equally extraordinary worlds.

Coming off the success of helming FIYAHCON last month, L.D. will be acting as the project manager for all of the exciting year-round events associated with the Nebula Conference. We hope you join us in welcoming L.D. aboard.

With smaller events leading up to our main conference, the team is working on elevating our content and offerings again this year, and celebrating the best that science fiction and fantasy have to offer with our annual Nebula Awards ceremony.

So, please join us for another weekend full of professional development, workshops, and opportunities to network in one of the coolest virtual spaces there is. There will be more dance parties, karaoke, and social meet-ups around special interests. We'll also be bringing back our conference-specific mentorship program and office hours.
(5) ABOUT THE SFF COMMUNITY. Cat Rambo considers how to advance the democratization of sff, particularly the programming of conventions, in "Moving Beyond Diversity: A Conversation We Need To Have In SFF" at Strange Horizons.
…Diversity is about getting the most differently informed points of view on a panel because that is a valuable thing. Because it means we all get a chance to learn new and interesting aspects to a topic.  And sometimes it is about making sure that the voices that have not been able to contribute in the past for one reason or another get a chance to take part in the conversation by reaching out to them.

We need to rethink the ways we create [convention] programming. Consider this art form, the quilt. A practical item made beautiful, and often a way to use up excess fabric or recycled rags. One variant is the "crazy quilt," which uses up odds and ends in irregularly shaped patches, sometimes with embroidered details. Crazy quilts can be beautiful, but not by nature. When they are it is the result of serendipitous accident or the creation of someone experienced and talented at putting those scraps together. Programming should not be a crazy quilt made up of the varied scraps of material different participants pull out of their pockets.

Quilts with deliberately created patterns can be extraordinarily beautiful, and this is where our programming metaphor comes in. The Multiverse [Con in Atlanta] was such a quilt, pulling from those eight tracks and interspersing them in a rhythm that made the convention's quilt far greater than the sum of its yardage. Partially because they realized the world is not binary—a thing that's hard to do sometimes in America in a political scene which doesn't acknowledge that people can agree on one thing and not another.

The democratisation of conventions created by the move online has been heartening, because conventions have previously been limited to the people of means and those who the first group was willing to club together and help. The Hugos are voted on by people who have the money to afford the membership fee; the Nebulas, while voted on by F&SF writers, are still limited to those writers with the money for a membership fee. (One reason why I worked to find ways to reduce or ameliorate that fee when holding SFWA office.) One of the things that has come out of 2020, in fact, has been this democratisation, which has made the conventions available to people who historically and geographically were barred from them due to factors over which they had no control….
(6) CHANGING OF THE GUARD AT F&SF. On The Coode Street Podcast Jonathan and Gary K. Wolf devote Episode 538 to a parlay with the incoming and outgoing editors of F&SF, Sheree Renée Thomas and Charles Coleman Finlay.
…Charles Coleman Finlay, who for more than five years has carried on the grand tradition of editing The Magazine of Fantasy and Science Fiction, and Sheree Renée Thomas, who picks up the mantle as new editor beginning with the March/April 2021 issue. We talk about the magazine's distinguished history, the challenges of maintaining an iconic magazine in a radically changing short fiction field, and their own experiences as SF readers, writers, and editors.
(7) BE A MEDIEVAL SURVIVALIST. In "A Survival Guide to Medieval Fairy Tales" at Medievalists.net, Marta Cobb looks at great medieval romances such as Sir Orfeo and Sir Gawain And The Green Knight to discover the moral lessons these romances convey, particularly in dealing with the supernatural.
Rule 1: Know the signs

The border between the supernatural world and our own can be extremely permeable. Sometimes it's easy to tell when the supernatural has intruded upon more normal life, such as when the Green Knight barges into a holiday feast (it is not that the Green Knight wears green clothing but that his skin and hair and even his horse are completely green). Sometimes, however, the signs are more subtle, such as a deer that leads a knight away from his friends and into the unknown or a boat that sails away in the absence of sailors. In the case of Sir Lanval, it can be a mysterious woman in an opulent tent….
(8) KOBAYASHI OBIT. Japanese author Yasumi Kobayashi (1962-2020) died November 23 at the age of 58. His short story "The Man Who Watched the Sea" won the Hayakawa Award for best short story in 1998.Two more were nominated for the Seiun Award for best short story in 2003 and 2004. He was nominated as "Best Foreign Author" in the Chinese-language Galaxy Awards in 2009.
(9) MEDIA ANNIVERSARY.
November 25, 1998 — Babylon 5 ended its five year run with the "Sleeping in the Light" finale. In the year 2281, twenty years since Sheridan died on Z'ha'dum and twenty years since the Interstellar Alliance was formed, Sheridan realises his time is running out and calls his old friends for one last get-together before embarking on one final journey. In the process, he learns that his fate and that of Babylon 5 remain interconnected. Trivia note: The worker who throws the final switch to shut down the station is played by Straczynski. 
(10) TODAY'S BIRTHDAYS.
[Compiled by Cat Eldridge and John Hertz.]
Born November 25, 1904 – Amelia Reynolds Long.  Pioneer female SF author; one novel, a score of short stories for us.  "Reverse Phylogeny" is in Conklin's fine SF Adventures in Dimension.  Also detective fiction, poetry.  Here is a tribute site.  (Died 1978) [JH]
Born November 25, 1920 — Ricardo Montalbán. Khan Noonien Singh and the first Mr. Rourke. Armando and Grandpa Valentin Avellan as well. I'm picking those as four most memorable roles he's played and they just happen to all be genre in nature. Oh, and is Khan Noonien Singh the only occurrence of a non-crew character carrying over from the original series into the films? I suspect not but I can't think of anyone other. If there is, I'm sure one of you will tell me. (Died 2009.) (CE) 
Born November 25, 1926 — Poul Anderson. My favorite ones by him? Orion Shall Rise for the mix of personal scale story with his usual grand political stories, and all of the Flandry and van Rijn stories. I also enjoy his Time Patrol stories as well, and the two Operation Luna tales are quite fun. He was quite honored with seven Hugo Awards and three Nebula Awards. I'm currently reading the first two volumes of his NESFA short fiction series which I will review here soon. (Died 2001.) (CE)
Born November 25, 1926 — Jeffrey Hunter. Best known for his role as the first Captain Christopher Pike in the original pilot episode of Star Trek and the later use of that material in "The Menagerie" episode.  Other genre work included Dimension 5, A Witch Without A Broom, Strange Portrait (never released, no print is known to exists), Alfred Hitchcock Hour, Journey into Fear and The Green Hornet. (Died 1969.) (CE) 
Born November 25, 1941 – Sandra Miesel, 79.  Two novels, half a dozen shorter stories; anthologies; Myth, Symbol, and Religion in "The Lord of the Rings"; Against Time's Arrow (Poul Anderson); more than a hundred essays, forewords and afterwords, letters, reviews; collection of fanwriting, Sweetmeats (Jerry Kaufman, ed.); much other work outside our field.  Guest of Honor at Rivercon III.  [JH]
Born November 25, 1953 – Michael "Orange Mike" Lowrey, 67.  Why orange?  So he dresses – inside and out: he has sixty pairs of orange underwear.  Fanzine, Vojo de Vivo; he is also an Esperantist.  Fan Guest of Honor at ICON 25.  Elected the 2020 TAFF (Trans-Atlantic Fan Fund) delegate.  Often seen here.  In case you wonder, he doesn't wear orange on St. Patrick's Day – but only then.  [JH]
Born November 25, 1953 — Mark Frost, 67. He's best known as a writer for Hill Street Blues (I know it's not genre but superb nonetheless) and as the co-creator with David Lynch of Twin Peaks in which he's been involved with in other roles as well. He had a hand in writing both of the not well regarded Fantastic Four films. He was also one of the Executive Producers of the very short lived All Souls series. (CE) 
Born November 25, 1963 – Tony Daniel, 57.  A dozen novels, forty shorter stories, a dozen poems.  "The Infuence of 'The Song of the South' on Lucius Shepard" in NY Review of SF.  Interviewed in Lightspeed.  "Life on the Moon" was a Readers' Choice in Asimov's.  [JH]
Born November 25, 1972 – D.A. Adams, 48.  Five books about the Brotherhood of Dwarves; others outside our field.  Likes C.S. Lewis and Toni Morrison.  Has read The Glass Bead Game and Absalom, Absalom!  [JH]
Born November 25, 1974 — Sarah Monette, 46. Under the pen name of Katherine Addison, she published The Goblin Emperor which garnered the Locus Award for Best Fantasy Novel and was nominated for the Nebula, Hugo and World Fantasy Awards. She won the Spectrum Award in 2003 for her short story "Three Letters from the Queen of Elfland".  Her first two novels Mélusine and The Virtu are quite wonderful and I highly recommend her Iskryne series that she co-wrote with Elizabeth Bear. (CE) 
Born November 25, 1980 – Licia Troisi, 40.  Astrophysicist; she is currently the best-selling Italian fantasy author.  Fifteen novels.  "If you don't read, you cannot write.  Read everything, not only your favorite genre."  [JH]
Born November 25, 1986 — Katie Cassidy, 34. Best remembered as Laurel Lance / Black Canary in the Arrowverse, primarily on Arrow but also Flash and Legends of Tomorrow. She was also Ruby on Supernatural, Patricia "Trish" Washington on Harper's Island and Kris Fowles on A Nightmare on Elm Street. (CE) 
(11) COMICS SECTION.
(12) RACE AND SF. The Fifth Annual City Tech Science Fiction Symposium on the topic of Race and SF was held on November 19 via Zoom. (See the full program here.) You can watch the videos of each session, access links to expanded presentations, and hear SF writers reading their stories in this roundup of the event — "Videos from The Fifth Annual City Tech Science Fiction Symposium on Race and Science Fiction" at the New York City College of Technology, CUNY website.
(13) DESTROY TO CREATE. This post contains the whole recipe for reproducing classic silent film actor Buster Keaton's trademark hat — "'How To Make a Porkpie Hat' by Eleanor Keaton" – published nine years ago, but it's news to me!
…My favorite memory of Buster making his hat is when we were in Germany in 1962 to promote the screenings of The General. He needed a new hat. Buster went to a little hat shop next to our hotel in Frankfurt and pointed out the hat he wanted to the little elderly man who ran the shop. Buster pantomimed everything, as he did not speak German and the shopkeeper did not speak English. Buster tried on the fedora and liked it. He then pantomimed scissors, and the shopkeeper handed Buster a pair of shears. Buster proceeded to tear the entire hat lining out, fold down the crown and cut the brim. The old man looked like he was about to have a stroke because Buster had not yet paid for the hat. When Buster finished and placed the hat on his head to test it, the old man recognized who Buster was and what was taking place in his hat shop.
(14) STUNNING PRICE. "Pokémon: First edition cards net $360,000; Team Rocket pack found in Colorado" – SYFY Wire makes it sound like to catch 'em all you have to spend it all:
Never underestimate the popularity of Pocket Monsters. A box of unopened, first edition base set Pokémon trading cards recently sold for a whopping $360,000 at Heritage Auctions' Comics & Comic Art Auction. The item, which is over 20-years-old, was purchased by Thomas Fish, president of Blowoutcards.com. "I am thrilled to purchase this pedigree box," Fish said in a statement.

His winning bid shattered the previous world record, also held by Heritage Auctions, which sold a similar set last September for $198,000. Demand for the still-shrink wrapped box was reportedly so heated, that online offers broke the record before bidding even officially began.
(15) VIDEO OF THE DAY. In "Honest Trailers: The New Mutants" on YouTube, the Screen Junkies say that the final X-Men movie "looks like a long pilot episode for a series the CW passed on" and where the producers saved money by not having a dialect coach and by having the mutants rarely use their powers."
[Thanks to JJ, Cat Eldridge, Bill, John Hertz, Mike Kennedy, Michael Toman, Martin Morse Wooster, John King Tarpinian, John A Arkansawyer, and Andrew Porter for some of these stories. Title credit goes to File 770 contributing editor of the day Daniel Dern.]