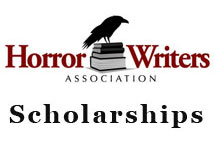 The Horror Writers Association is accepting applications for its Scholarship From Hell until March 15.
The winner of the scholarship will receive a trip to StokerCon 2017 aboard the Queen Mary in Long Beach, California, and  participate in the intensive, hands-on workshop environment of "Horror University."
Horror University has more than 20 different sessions and other options this year, conducted by these notable authors and editors:
Gretchen McNeil: Character-Driven Plotting and the 3-Act Horror Novel
Jonathan Maberry: Act Like a Writer
Jack Ketchum: Writing from Experience, Writing from the Wound
Linda Addison: Scary Forms: The World of Structured Poetry for All Writers
Nicole Cushing: How to Give a Great interview
Joe Nassise: Story Engines
John Skipp: How to Write Like a Scenarist (And Adapting to Stage, Screen and Comics)
Josh Finney / Kat Rocha: Writing for Comics and Graphic Novels
James Chambers: Picturing Fear: Writing Horror Comics and Graphic Novels
Tim Waggoner: The Ultimate Guide to Writing Horror
Ace Antonio Hall: Lord of the Flies: Fitness for Writers
Patrick Freivald: Saying More with Less
Sèphera Girón: Tarot Cards and Writing 101
Hank Schwaeble: Saying More With Less
Jason V. Brock: Take Your Writing to Another Level
Johnny Worthen: Mistakes Were Made
Michael Arnzen: Making Readers Squirm
Tom Leveen: How to Write Awesome Dialog
Kate Jonez: Editing Intensive
Membership in HWA or StokerCon is not necessary in order to apply. Enter using the form here.
The scholarship winner will be announced March 30.
Everyone else who is interested can purchase admissions to the individual sessions can be here.