By Greg Hullender: Every November, NaNoWriMo challenges would-be writers to produce an entire 50,000-word novel from scratch in 30 days. It sounds almost impossible, but it can be done, it can be lots of fun, and you can learn a lot in the process.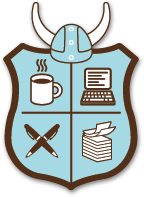 You're not supposed to start from something you've already partially completed, but the entire thing is on the honor system, so it's really up to you.
You submit a daily update on your word count so far, and they predict whether you'll make it or not. More important, they tell you how many words you need to write today to be on track. This turns out to be very motivating.
To give you more motivation, they encourage you to share your experience with friends, neighbors, co-workers, and relatives. They have a number of widgets you can post on Facebook or Twitter to share your word-count info and progress estimates. The idea is that you'll make yourself work harder rather than be humiliated in front of all those people.
Participants help each other out by answering questions in numerous forums. SF authors seem to ask a lot of questions about relativity and celestial mechanics. E.g. "Can my planet orbit two stars in a figure 8?" (No.)
Forum participation is a good way to find a few "writing buddies." Your friends and family will get bored with you talking about NaNoWriMo pretty fast, but your writing buddies will be happy to cheer you on every day for the whole month. Some may even become friends for real.
They have a lot of materials for people to study prior to beginning NaNoWriMo, but there's no requirement to use any of it. http://nanowrimo.org/nano-prep
Some areas even have real-world NaNoWriMo events, where you can chat in person with others about how it's going. Some events include quiet time when everyone is supposed to be writing.
Different things will work for different people, of course, but a few things worked well for me when I did this in 2012:
I devoted an hour or two every evening to writing, and I didn't let anything preempt that time.
I started with a really rough outline of what would happen. I never prepared a proper outline, but I started off knowing how it would end. That doesn't mean that's how it actually did end, but at every point, I thought I knew how it would end.
Every few days, I'd spend 15 minutes or so making a rough outline of the next few chapters or scenes. The rest of the time I was filling those in.
I (almost) never went back to revise. The story had to move forward.
I didn't allow myself to browse the forums until after I'd already made that day's quota of words.
In the end, I think most people have fun and learn a lot about writing, even if they don't get a publishable work out of it. It's very cool to be able to tell people "I've written an SF novel. I never published it, but I did write one from beginning to end."
The sense of satisfaction when you hit that 50,000-word number is hard to describe. Almost as good as when you write "The End" a day or two later.
[Greg Hullender is the co-creator of the SF recommendation site, Rocket Stack Rank.]