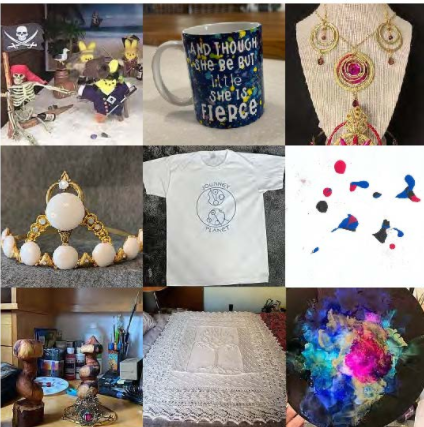 By James Bacon: It's been a challenging time, but fans have risen to the challenge in ingenious, interesting and beautiful ways, creating, making, painting and arting.
It's been a productive time, and with issue 62 of Journey Planet we look at some of the incredible work and fun times fans have had.
The issue can be found here.
We celebrate some of the wonderful things people have been up to which include:
fitting out a camper van
building a Lego steam train
making galifraen tiles
crochet octopus helmet cover
pens and inks
Knitting
Peeps theatre
wooden mushrooms
a TARDIS door
We also have a wonderful look at the art of Meg Frank, Sara Felix and Iain Clark who share their work, Tiaras, Block Printing and painting.
With contributions from Vanessa Applegate, Constanze Hoffman, Emma King, Alissa McKersie, Edie Stern, Christy Kearny, Liz Loikkanen, and James Shields, we also touch upon what and how fandom has managed, with a consideration of the Virtual year of cons from Marcin Klack and how inertia will be overcome as fandom strives to regather in our enditorial.
A feast for the eyes, the "Crafting in Covid" issue is co-edited by Sara Felix, Christopher J. Garcia and James Bacon. We hope you enjoy it.
Future issues being worked on range from SF, Comics and the American War in Vietnam, Warrior Comic a 40th celebration, and V for Vendetta amongst a number of subjects.
Contributions, comments, feedback and letters of comment always welcome to [email protected]