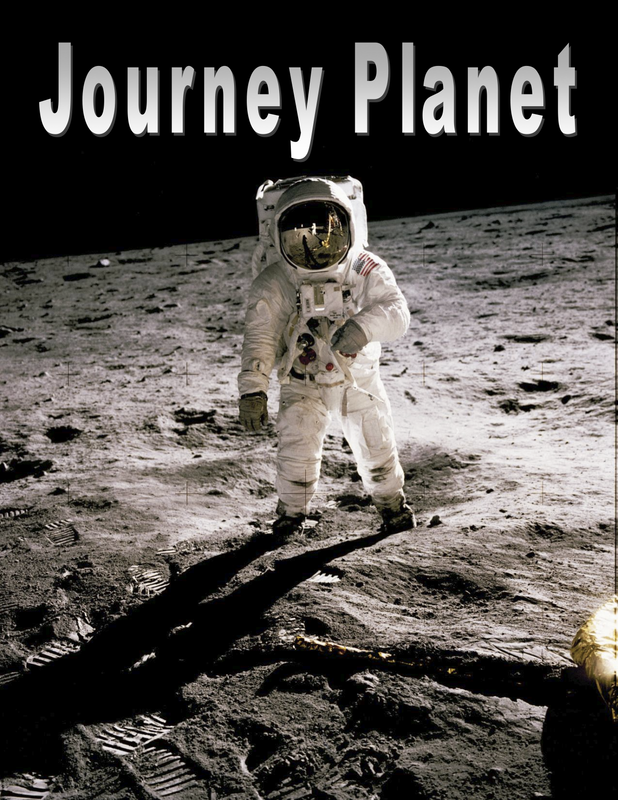 Journey Planet 46 marks the 50th anniversary of the Moon Landing. Editors, Chris Garcia and James Bacon welcomed Steven H Silver as guest editor on this special issue. Download the 144-page fanzine here.  
With contributions from Regina Kanyu Wang, Allen M. Steele, Gregory Benford, John Scalzi, Patty Wells and Jack Clemons, there is a wide variety of subjects covered -all connected with the Moon Landing.
Articles include:
"Walter, Frank, Jules, My Grandfather and Me" by David M. Stein
"Apollo 11 and the Volvo" by Jack Clemons, Images courtesy Jack Clemons
"Moon Shots—Words and Pictures" by John Scalzi
"The Hasselblad and the Space Program" by Richard Man
"The First Time All Over Again" by Alma Alexander
"Waiting for Someone From China… or Maybe California" by Allen M. Steele
"Apollo 11 Reminiscences" by Bryan A. Palaszewski
The Apollo Art of David Hardy
"Church and Space" by Nancy Jane Moore
"Coolock is Full of Spacers" by Pádraig Ó Méalóid
"Passing the Torch" by Brenda W. Clough
"Knowing Buzz" by Gregory Benford
The issue includes art and cartoons by Ed Hengeveld, Kurt Erichsen, Tim Gagnon, and Teddy Harvia.
Work on the fanzine began last year, and it is notable that co-editor James Bacon, after making much mention of his pleasure at meeting Nasa Astronauts, said "I will hope that Norah Patten, Ireland's astronaut scientist, achieves her dreams, and gains entry into the elusive and exclusive club of people who have travelled into space, and I wish that she gets to watch the silent stars go by" — perhaps he will say that in person at Dublin 2019.
P.S. John Scalzi's blog post "Taking Pictures of the Moon" tells what his contribution is about:
Whenever I take pictures of the moon, I get asked how I did it and what equipment I use. So I wrote a piece about that in the current issue of the fanzine Journey Planet…