Geoffrey A. Landis, science fiction author and NASA scientist, is the 2014 winner of the Robert A. Heinlein Award. The award is given for outstanding published works in science fiction and technical writings that inspire the human exploration of space. It will be presented May 23 at opening ceremonies of Balticon 48.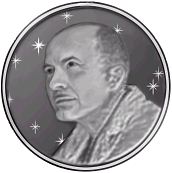 The Heinlein Award selection committee consists of science fiction writers and was founded by Dr. Yoji Kondo, a long-time friend of Robert and Virginia Heinlein. The current Chairman of the Committee is Michael F. Flynn.
The award recognizes Landis' body of work — 5 books, 83 short stories and 76 poems in the SF field, and over 353 science fact publications.
The Heinlein Award is a sterling silver medallion bearing the image of Robert A. Heinlein, as depicted by artist Arlin Robins.
Virginia Heinlein authorized multiple awards in memory of her husband, including the Heinlein Prize, which is fully funded by Virginia Heinlein's estate, and a National Space Society award for volunteer projects.