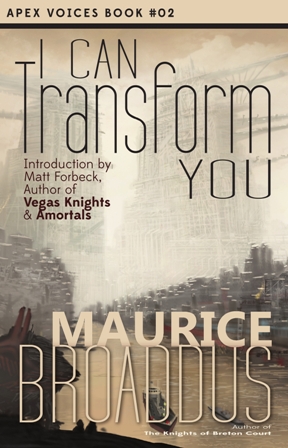 [From the press release.] Maurice Broaddus' sf/noir novella I Can Transform You from Apex Publications is the second release in the Apex Voices line.
From the dust of The Trying Times TM, corp-nations have risen up in place of failed governments, and twilight haze dropped down in place of the sky. The economy fell, and the Earth itself shot heavenward, transforming the very face of the planet into an alien landscape with towers punching past the new sky into one of many unknowns. Soon after, the jumper started raining from among the blue lanterns that took the place of sun and stars.

Mac Peterson left the employ of LG Security Forces and now cobbles together a life in the shadows of the great towers, filling policing needs for people too unimportant for the professional corp-national security to care about. His ex-wife, Kiersten, stayed behind on the Security Forces, working undercover. When she turns up dead alongside one of the tower jumpers, Mac pairs up with Ade Walters, a cyborg officer, to uncover who would try to hide Kiersten's death among the suicides. Searching for the murderer of one of their own, Mac and Ade discover plans to transform the Earth and its inhabitants…plans that only started with the upheaval and The Trying Times TM.
Broaddus has written hundreds of short stories, essays, novellas, and articles. His dark fiction has been published in numerous magazines, anthologies, and web sites, including Asimov's SF, Cemetery Dance, Apex Magazine, Black Static, and Weird Tales Magazine. He is the co-editor of the Dark Faith anthology series (Apex Books) and the author of the urban fantasy trilogy, Knights of Breton Court (Angry Robot Books). He has been a teaching artist for over five years, teaching creative writing to students of all ages.