(1) TODAY'S TITLE EXPLAINED. Jim Henley sends everyone his best, and sent today's Pixel Scroll title, too.
Happy New Year! I did a wee bit of filking inspired by the Bored Apes/Angry Apes/Whatever 8-Bit Apes NFT thefts and frauds, and while an excerpt might be too long for a Pixel Scroll title, it might not be. I leave that call up to you!
(2) MAYBE THIS TIME, MAYBE NEXT TIME. John Scalzi did an interesting thread about his philosophy of publicizing and blurbing other writers' books. Thread starts here.
(3) ORLANDO NASFIC BIDCOM. The Orlando in 2023 NASFiC bid unveiled the names of its current committee members on Facebook.
After a few emails, phone calls, and one BBQ dinner, we're happy to announce the initial group that will be propelling Orlando to host the NASFiC! In alphabetical order:

Adam Beaton, Chris Barkley, Colette Fozard (advisor), Don Eastlake, Gary Blog, Jill Eastlake, Juan Sanmiguel, Judy Bemis (advisor), Mike Willmouth (advisor), Pam Burr, Rivka Gates, Sam Lubell
(4) BID FOR IRISH CORFLU. Tommy Ferguson is bidding for Corflu 40 to be held in Belfast, Northern Ireland, March 31, 2023. The bid flyer for "Corflu Craic" is here.
(5) POTTERY. LA Times' Christi Carras demands "Let Helena Bonham Carter host, you cowards!" in her article about the Harry Potter reunion special.
… While reminiscing about their time together on "Harry Potter," Bonham Carter surprises Radcliffe with an autographed note he penned for her back in the day — and instructs him to share with the class.

Radcliffe manages to get through about half the message before realizing he's been set up, blushing and laughing as Bonham Carter urges him to keep reading.

"And what does it say?" she prods. "Hee-hee-hee-hee!"

"We can share this now," Radcliffe relents. "I said, 'I do love you, and I just wish I'd been born 10 years earlier. I might have been in with a chance.'"

"I shall always treasure that," Bonham Carter says. "That is in my toilet, Dan."

A moment of silence for the unhinged "Harry Potter" reunion special that could have been if they tapped Bonham Carter to host the whole thing….
(6) TODAY'S DAY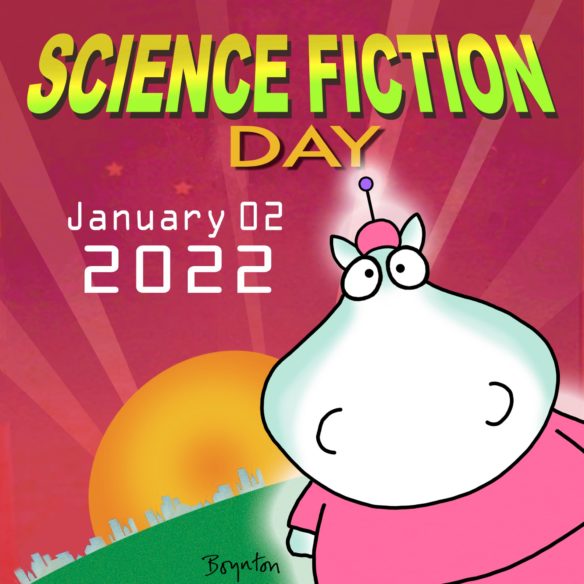 January 2 — National Science Fiction Day
… Although it's not an official holiday of any sort (meaning that it is not recognized or declared by any government), National Science Fiction Day is given some degree of credence through its recognition by organizations such as the Hallmark Channel as well as the Scholastic Corporation. National Science Fiction Day has expanded not only across the United States, but has also made its way across different parts of the world.

Now it's time to learn about and prepare to celebrate National Science Fiction Day!

The History of National Science Fiction Day

National Science Fiction Day is celebrated on this date very early in the year for a good reason. January 2 was the date that was chosen in order to correspond with the official birth date of famed science fiction writer Isaac Asimov, who is thought to have been born January 2nd, 1920. Mr. Asimov is responsible for some incredible works of science fiction literature during his lifetime, such as "Nightfall" and the "Foundation Trilogy".
(7) MEMORY LANE.
1952 — [Item by Cat Eldridge.] 2000 Plus, not to be confused withNPR's science fiction series, 2000X, which was the first SF radio program predating the much better known Dimension X series by one month, ended its run on January 2, 1952 having started up on March 15, 1950. It ran on the Mutual Broadcasting System. It was a Dryer Weenolsen production who directed the cast of Lon Clark, Joseph Julian, Henry Norell, Bill Keene, Bryna Raeburn and Amzie Strickland. It ran for thirty-two half-hour episodes of which fifteen are known to survive. "Men from Mars", the third episode, can heard here.
(8) TODAY'S BIRTHDAYS.
[Compiled by Cat Eldridge.]
Born January 2, 1920 — Isaac Asimov. I can hardly summarize everything he's done here, so I'll just pick my very short list of favorite works by him which would include the Galactic Empire series, the Foundation Trilogy which a Hugo at a Tricon, The Gods Themselves which won a Hugo at TorCon II and his I, Robot collection. (Died 1992.)
Born January 2, 1948 — Deborah Watling. Best known for her role as Victoria Waterfield, a companion of the Second Doctor. She was also in Downtime, playing the same character, a one-off sequel to a sequel to the Second Doctor stories, "The Abominable Snowmen" and "The Web of Fear". No Doctors were to be seen or harmed. If you've seen the English language dubbed version of Viaje al centro de la Tierra (Where Time Began, based off Verne's Journey to the Center of The Earth), she's doing the lines of Ivonne Sentis as Glauben. (Died 2017.)
Born January 2, 1971 — Renée Elise Goldsberry, 51. Best known as appearing on Altered Carbon as Quellcrist Falconer. She also performed the Johnny Cash song "Ain't No Grave" for the end credits in the final episode of that series. Genre-wise, she's had one-offs on Enterprise, Life on Mars, Evil andvoice work on DreamWorks Dragons: Rescue Riders, an all too cute series. She was Selena Izard in The House with a Clock in Its Walls. And she appeared on Broadway in The Lion King as Nala.
Born January 2, 1979 — Tobias S. Buckell, 43. I read and enjoyed a lot his Xenowealth series which he managed to wrap up rather nicely. The collection he edited, The Stories We Tell: Bermuda Anthology of Science Fiction, Fantasy and Horror, is well worth reading, as is his own Tides from a New World collection. And his Tangled Lands collection which won the World Fantasy Award is amazing reading as well.
Born January 2, 1983 — Kate Bosworth, 39. She's Barbara Barga in the SS-GB series done off the superb Len Deighton novel which is definitely genre. She's both a producer and a performer on the I-Land series where she's KC, a decidedly not nice person. For a much more positive character, she portrayed Lois Lane in Superman Returns.
(9) COMICS SECTION.
Grant Snider is back with another Incidental Comics.
R.E. Parrish reveals the secret history of Dune.
Tom Gauld's Guardian cartoon is a challenge to writers.
(10) MEDIA TIE-INS. WNYC's On the Media podcast discusses "Everything You Never Knew About Movie Novelizations".
Write a great book and you're a genius. Turn a book into a great film and you're a visionary. Turn a great film into a book…that's another story.

Novelizations of films are regular best-sellers with cult followings — some are even more beloved than the films that spawned them — but respected they are not. Instead, they're assumed to be the literary equivalent of merchandise: a way for the movie studios to make a few extra bucks, and a job for writers who aren't good enough to do anything else. But the people who write them beg to differ.

Back in 2016, former OTM producer Jesse Brenneman went inside the world of novelizations; featuring authors Max Allan Collins, Alan Dean Foster, Elizabeth Hand, and Lee Goldberg.
(11) STEAMPUNK MASKS. "Metallic Masks by Dmitriy Bragin" a English Russia.
Steampunk masks from Dmitry Bragin. The author uses various textures and mechanical parts, for example, tiny gears, as well as patterns that look like organic roots. While wearing such a mask, one looks like a hybrid of a car and a man….
(12) SO LAST YEAR. Screen Rant says these were "The Best Sci-Fi Movies Of 2021". I'm a big fan of their #2 pick, Free Guy.
… On the surface, it would seem 2021 continued long-established genre trends, with sci-fi thrillers such as Mark Raso's Awake and Everardo Gout's The Forever Purge painting portraits of a bleak and savage near-future. Some new titles this year, such as The Suicide Squad and Boss Level, go even further, reveling in the almost limitless and often absurd bounds of the science fiction film arena. Other new signposts for the genre, such as the Hugh Jackman-led Reminiscence or I'm Your Man, spin tales of obsession and enforced inertia akin to Solaris, although even these stories hail from dystopian futures where technology still reveals humanity's darker side….

2. Free Guy

Free Guy is a breath of fresh air that sheds the bounds of typical dystopian storytelling in favor of high-concept, high-octane fun that hinges on the classic sci-fi idea of multiple realities. Stripping away Free Guy's layers of gaming Easter eggs, dazzling visuals, and Deadpool-Esque Ryan Reynolds jokes do little to detract from the sheer enjoyability of the coming of age story at the movie's core. Whereas movies like The Matrix and The Truman Show offer bleak versions of a reality oft-unseen by their protagonists, Free Guy emulates its main characters by quickly becoming a self-aware send-up of other self-important science fiction entries. Disney's Free Guy may well be an unabashed crowdpleaser of a film, but it also translates as a very polished slice of sci-fi fun that becomes more nuanced with each subsequent viewing.
(13) PATTON PRESCIENT. "Patton Oswalt Reacts to Video Showing Him Predict 'Book of Boba Fett' Scene" at Complex.
In a 2013 episode of Parks and Recreation, Patton Oswalt delivered a speech about Boba Fett that appears to bear a striking resemblance to the new Star Wars Disney+ show The Book of Boba Fett….

After it was pointed out to Oswalt on Twitter, he reacted with enthusiasm.

"To say I'm touched is putting it lightly," he wrote. "And yeah, Book of Boba Fett ROCKS. YOU'RE WELCOME."
[Thanks to JJ, John King Tarpinian, Andrew Porter, Robin A. Reid, Chris Barkley, David Doering, Michael Toman, Cat Eldridge, Mike Kennedy, and Martin Morse Wooster for some of these stories. Title credit belongs to File 770 contributing editor of the day Jim Henley.]