(1) WHO HOLDS THE RECORD? Scott Edelman notes that Lightspeed has published a new short story of his titled "A Man Walks Into a Bar: In Which More Than Four Decades After My Father's Reluctant Night of Darts on West 54th Street I Finally Understand What Needs to Be Done". And Edelman says, "I wondered how that compared to with other titles in our field, and dug out a science fiction book of list from 40 years ago which included a list of the longest titles" — The SF Book of Lists by Maxim Jakubowski and Malcolm Edwards, published in 1983.
It shows Michael Bishop's "On the Street of the Serpents or, The Assassination of Chairman Mao, as Effected by the Author in Seville, Spain, in the Spring of 1992, a Year of No Certain Historicity" as #1, with 31 words.

My story is also 31 words … but his is 169 characters to my 161.

When I sold the story to Lightspeed, I asked on social media for input on long titles since the time that list was assembled, and no one came up with anything longer.
Edelman appeals to File 770 readers, "With your vast intellects… do you know of any?"
The gallery below contains the three-page list – click for larger images.
(2) A STEP BACK. Publishing Perspectives reports industry decline in "AAP: US Book Publishing Revenues Down 9.3 Percent in October"
…In the October 2022 StatShot report, total revenues across all categories were listed as being down 9.3 percent over October 2021. As has happened throughout 2022, of course, observers look at year-over-year comparisons carefully, mindful that 2021 was the second year of the coronavirus COVID-19 pandemic's effects on the marketplace, both in the States and abroad….
(3) IRRESISTABLE TARGET. [Item by Jennifer Hawthorne.] Slate's book critic Laura Miller did something rather unfair(-ish) and did a review of the first chapter of a fantasy book that Ross Douthat, conservative NY Times columnist, is writing. I thought it contained some interesting points about how NOT to start a fantasy novel. "Ross Douthat's fantasy novel: first chapter of The Falcon's Children, reviewed."
New York Times opinion columnist Ross Douthat recently revealed that he has written the first volume in a trilogy of fantasy novels. Titled The Falcon's Children, it has not been a hit with the "reasonable list of reputable publishing houses" Douthat says he's submitted it to. In an end-of-year what-the-hell mood, the author posted the prologue and first chapter to his otherwise dormant Substack. "Why," New York magazine's Choire Sicha asked on Twitter, "are publishers not desperate for Ross Douthat's fantasy novel? History tells us this the one thing you actually do want a tortured moralizing Christian to write!" In keeping with Douthat's good-faith request for feedback, here's a good-faith critique that might help answer Sicha's question…..
(4) FAAN VOTING BEGINS. Nic Farey today distributed The Incompleat Register 2022, the voters' guide and pro forma ballot for the 2023 FAAn awards. Voting is open and continues until midnight (Pacific time) Friday March 10, 2023. The award recognizes work in fanzines.
The awards will be announced at Corflu Craic in Belfast, Northern Ireland on April 2 2023.
Voting is open to anyone with an interest in fanzines, membership in Corflu is not required.
(5) GEARHEADS. "For 'Guillermo del Toro's Pinocchio,' a Star Built From Tiny Gears and 3-D Printing" – the New York Times finds out how it's done.
…He likened the mechanics inside puppet heads to components of a Swiss watch. "Those heads are not much bigger than a ping-pong ball or a walnut," he said, explaining that the animator moves the gears by putting a tiny tool into the character's ear or the top of its head. "The gears are linked to the puppet's silicone skin, enabling the animator to create the nuances you see on a big cinema screen," he said.

The introduction of geared heads was part of a series of overlapping waves of innovation in stop-motion that brought visuals to the screen that had never been possible. Nick Park and the artists at the British Aardman Animations sculpted new subtleties into clay animation in "Creature Comforts" (1989) and "The Wrong Trousers" (1993). Meanwhile, Disney's "The Nightmare Before Christmas" (1993) showcased the new technology of facial replacement. A library of three-dimensional expressions was sculpted and molded for each character; an animator snapped out one section of the face and replaced it with a slightly different one between exposures. Then the Portland, Ore.-based Laika Studios pushed this technique further, using 3-D printing to create faces, beginning with "Coraline" (2009).

For "Pinocchio," which debuted on Netflix a few months after Disney released Robert Zemeckis's partly animated version of the story, most of the puppets were built at ShadowMachine in Portland, where most of the film was shot. Candlewick, the human boy Pinocchio befriends in the film, "has threads set into the corners of his mouth which are attached to a double-barreled gear system," explained Georgina Hayns, an alumna of Mackinnon and Saunders who was director of character fabrication at ShadowMachine. "If you turn the gear inside the ear clockwise, it pulls the upper thread and creates a smile. If you turn it anticlockwise, it pulls a lower thread which produces a frown. It really is amazing."…
(6) ONE SIX. "A Jan. 6 Comic Book Asks the Terrifying Question: What if the Coup Had Worked?" – Vice interviews the creators.
…The first wave of the mob breaks into the Capitol and ascends the stairs from the first floor to the second. Capitol Police Officer Eugene Goodman backs up to the top of the steps to try and divert the marauders. Goodman tries to get the crowd to go left. Instead they go right, overrunning him, and happen upon Vice President Mike Pence, who's just off the Senate Floor. It's a disaster.

This a nearly-real scene from new, four-part comic series "1/6" from Harvard law professor Alan Jenkins and author and activist Gan Golan. It's a speculative telling of the January 6 insurrection and coup attempt in an oppressive and authoritarian world where the mob, and Donald Trump, succeeded. (You'll be able to find it on Amazon, in comic shops and in book stores starting on Jan. 8.) …
(7) TODAY'S BIRTHDAYS.
[Compiled by Cat Eldridge.]
Born January 6, 1905 — Eric Frank Russell. He won the first Hugo Award given for Best Short Story at Clevention in 1955 with "Allamagoosa", published in the May 1955 issue of Astounding Science Fiction. Sinister Barrier, his first novel, appeared in Unknown in 1939, the first novel to appear there. What's your favorite work by him? (Died 1978.)
Born January 6, 1954 — Anthony Minghella. He adapted his Jim Henson's The Storyteller scripts into story form which were published in his Jim Henson's The Storyteller collection. They're quite excellent actually. Genre adjacent, well not really, but he did write an episodes of the excellent Inspector Morse series, "Driven To Distraction". (Died 2008.)
Born January 6, 1955 — Rowan Atkinson, 68. An unlikely Birthday perhaps except for that he was the lead in Doctor Who and The Curse of Fatal Death which I know did not give him the dubious distinction of the shortest lived Doctor as that goes to another actor although who I've not a clue. Other genre appearances were scant I think (clause inserted for the nitpickers here) though he did play Nigel Small-Fawcett in Never Say Never Again and Mr. Stringer in The Witches which I really like even if the author hates.
Born January 6, 1959 — Ahrvid Engholm, 64. Swedish conrunning and fanzine fan who worked on many Nasacons as well as on Swecons. Founder of the long running Baltcon. He has many fanzines including Vheckans Avfentyr, Fanytt, Multum Est and others. He was a member of Lund Fantasy Fan Society in the University of Lund.
Born January 6, 1960 — Andrea Thompson, 63. Her noted genre work was as the telepath Talia Winters on Babylon 5. Her first genre role was in Nightmare Weekend which I'll say was definitely a schlock film. Next up was playing a monster in the short-lived Monsters anthology series. She had a one-off on Quantum Leap before landing the Talia Winters gig. Then came Captain Simian & The Space Monkeys. Really. Truly I'm not kidding. Her last genre role to date appears to be in the Heroes: Destiny web series.
Born January 6, 1969 — Aron Eisenberg. Nog on Deep Space 9. Way after DS9, he'd show up in Renegades, a might-be Trek series loaded with Trek alumni including Nichelle Nichols, Robert Beltran, Koenig and Terry Farrell. It lasted two episodes. Lifelong suffer of kidney disease, he died from it at just age fifty. (Died 2019.)
Born January 6, 1976 — Guy Adams, 47. If you've listened to a Big Finish audio-work, it's likely that you are familiar with his writing as he's done scripts for their Doctor, UNIT and Torchwood series among his many endeavors there. Not surprisingly, he's also written novels on Doctor Who, Torchwood, Sherlock Holmes and so forth. I've read some of his Torchwood novels — they're good popcorn literature.
(8) SHE-HULK. Marvel announces the next arc in author Rainbow Rowell's run on She-Hulk will take things to the next level for the character's 175th issue issue in April.
In the pages of her latest solo series, Jennifer Walters has reopened her law practice, took on some of her most intense cases yet, defeated a duo of new villains, and even found time for a new romance! But this April in SHE-HULK #12, She-Hulk's promising new super hero journey will be threatened by a dangerous new archnemesis known as THE SCOUNDREL! Just in time for her 175th solo issue, She-Hulk will meet her match in a wild showdown that will have all her fans talking!

"Every issue that I get to write She-Hulk is a delight — but I'm especially honored to escort her to her 175th issue," Rowell said. "One of things we've focused on is building up Jen's narrative support structure… Giving her friends, colleagues, a love interest and her very own antagonists. The Scoundrel is an adversary tailor-made for Jennifer Walters. A lot of things come easily for Jen. Nothing about the Scoundrel is easy."
Check out Jen Bartel's cover below.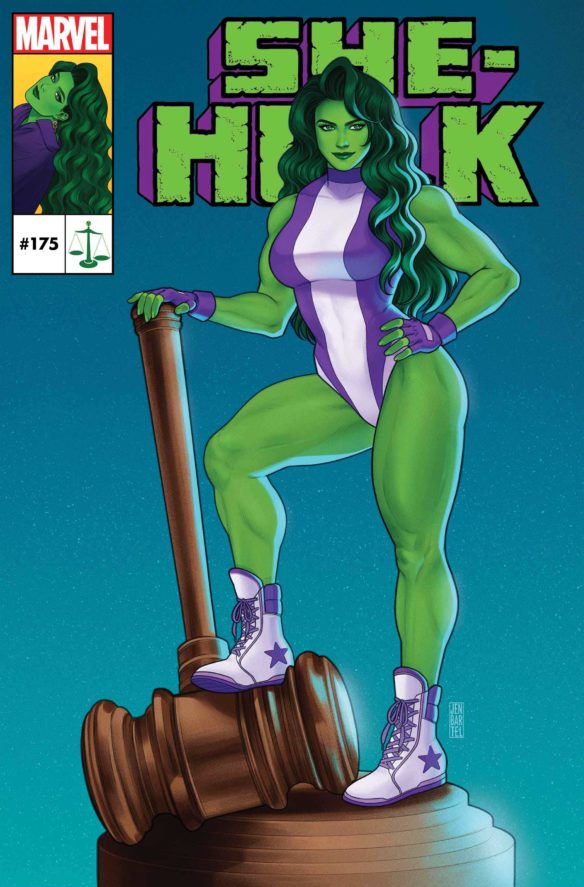 (9) MALIGN HARDWARE. "'M3gan' Review: Wherever I Go, She Goes" from the New York Times.
…In a headier movie, there might be some misdirection. But M3gan (performed by Amie Donald) is clearly pure evil from the start. She's a great heavy: stylish, archly wry, intensely watchful. Her wanton violence never gets graphic enough to lose a PG-13 rating. In early January, when prestige holiday fare tends to give way to trashier pleasures, a good monster and a sense of humor can be enough. This movie has both, and it makes up for a slow start, some absurd dialogue ("You didn't code in parental controls?") and a by-the-book conclusion….
(10) UK TOP BOX OFFICE TOP TEN FILMS OF 2022. [Item by SF Concatenation's Jonathan Cowie.] SF2 Concatenation has just tweeted an advance post ahead of its Spring seasonal edition of its regular meta-analysis of 52 weekly top ten British Isles box office rankings: "Top Science Fiction Films – 2022".
This is a box office analysis and so reflects the broader public interest in SF film and not that of SF fans. Scroll down the page on the latter link to see other (non-top ten) SF films of the year. Links to trailers are included.
(11) CROCNADO. "British Comedy 'Peter Pan Goes Wrong' Plans Spring Broadway Bow" reports the New York Times. "The farce, by the team behind 'The Play That Goes Wrong,' is about a bumbling theater company attempting to stage the popular children's play."
…The play's creators are Henry Lewis, Jonathan Sayer and Henry Shields, who also wrote "The Play That Goes Wrong"; the three will again star in their production. "Peter Pan Goes Wrong" features the same slapstick sensibility as the earlier play, but has a bit more character development, and an even crazier set.

"The fictional theater company is taking on a much more ambitious production, with flying, crocodiles and a revolving stage, and they put on the play with the same disastrous results," Lewis said. "You get more behind the scenes into what's going on with the characters, as well as all the farce and the madcap comedy."…
[Thanks to Chris Barkley, Andrew Porter, Michael Toman, Michael J. Walsh, Nic Farey, SF Concatenation's Jonathan Cowie, Cat Eldridge, Mike Kennedy, and John King Tarpinian for some of these stories. Title credit belongs to File 770 contributing editor of the day Cat Eldridge.]