(1) THE GAME OF THE NAME. John D. Berry renders his verdict about their usefulness and design in "A tale of three nametags".
In the course of less than a month this summer, I attended three major events, each of which had a nametag that attendees were supposed to wear. The first, in Dublin, was this year's World Science Fiction Convention, which was being held in Ireland for the first time. The second, a week later in Belfast, was the Eurocon, or European Science Fiction Convention, which moves around among European countries and was hosted by the organizers of Titancon, an annual Belfast science fiction convention; holding it in Northern Ireland the week after the worldcon made it easy for people visiting from other countries to attend both conventions on their trip. The third event was ATypI 2019, the annual conference of the Association Typographique Internationale, in Tokyo – ATypI's second time in Asia, as it happens….
(2) WBAI STAFF STILL FIGHTING. The Brooklyn Eagle heard it from Jim Freund, host of a sff radio show at the station: "WBAI radio staffers, still barred from air, ramp up fight".
"It ain't over," radio host Jim Freund told the Brooklyn Eagle on Tuesday.

Freund, 65, hosts a science fiction and fantasy talk show called "Hour of the Wolf" on 99.5 WBAI FM — the decades-old, listener-sponsored radio station currently taking its parent nonprofit, the Pacifica Foundation, to court.

On Monday, Pacifica — which owns a slate of other independently operated radio stations — abruptly shut down local programming at WBAI and shuttered its Atlantic Avenue workspace, citing millions of dollars of debt and the desire to rebuild the station around national, syndicated content.

By Tuesday morning, the staff — which consists largely of unpaid volunteers — was granted a temporary restraining order by the Manhattan Supreme Court, barring Pacifica from terminating any WBAI employees or impeding on its local programming in any way until Oct. 18, when both parties must appear in court.

But as of Wednesday, producers said local programming was still being kept off the air.

"This isn't the first time something like this has happened," said Freund, who has hosted "Hour of the Wolf" on WBAI for nearly half a century. "In 1977, there was an incident so huge that Pacifica took us off the air for three months. There was static."…
(3) DON'T CALL HIM LATE FOR DINNER. Columbia News caught up with Jeremy Dauber, the Atran Professor of Yiddish Language, Literature and Culture, to chat about his first children's book Mayhem and Madness: Chronicles of a Teenaged Supervillain, what he read as a child and whom he would invite to a dinner party — "Releasing His Inner Teenager"
Q. You're organizing a dinner party. Which three scholars or academics, dead or alive, do you invite?

A. The first guest would have to be Tolkien, Oxford's Merton Professor of English Language and Literature. Then Gregory Benford, the noted science fiction writer and the University of California at Irvine's Professor Emeritus of Physics and Astronomy. There have always been rumors that Elena Ferrante is actually an Italian professor; if whoever it was accepted the invitation, we'd find out for sure!
(4) NEW SYSTEMS. Nature advance posts a look back nearly a quarter of a century to the detection of the "First exoplanet found around a Sun-like star".
Anyone over the age of 35 will remember growing up in a world in which only one planetary system was known — our own. We remember proudly reciting the names of the nine planets (eight before Pluto's discovery in 1930, and again today with its reclassification as a dwarf planet in 2006) and wondering what other planets might exist around the stars in the night sky. Contemplating life beyond the Solar System was relegated to science fiction. This all changed in 1995 when Mayor and Queloz1 reported the detection of the first exoplanet around a Sun-like star…
(5) FLOP OR 'FLIX? Is this the new market reality? "Studio Dilemma: Risk a Box Office Flop, or Sell to Netflix?" – seek the answer along withThe Hollywood Reporter.
…Call it Tom's Choice. Like all the major studios, Sony Pictures is questing for new franchises — and after years of development, it might have one with the He-Man movie Masters of the Universe.

But while the picture is on the calendar for release in March 2021, sources tell The Hollywood Reporter that studio chairman Tom Rothman is exploring the prospect of getting risk-free cash for the pricey project by making it for Netflix instead. A studio source says talks are preliminary, but such a deal would make Sony the next studio after Paramount to start making movies belonging exclusively or almost exclusively to the streamer.

So there's the dilemma: seek a studio or financier to partner on the project, holding on to various rights and territories, or make the safe deal with Netflix (which would not seem quite so safe if the film were a huge hit and it already was sold).
(6) LESSING CENTENNIAL. Nature looks at Doris Lessing's science fiction in what would have been her 100th year. "Doris Lessing at 100: roving time and space"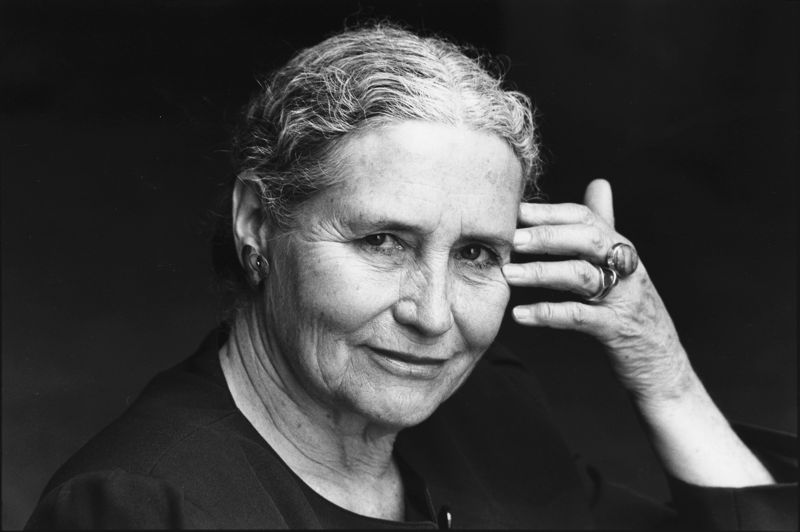 Her lifelong interest in science and societal upheaval is embodied in fascinating ways in Canopus in Argos, a series of five books published from 1979 to 1983. (She came up with the title a few weeks after seeing, and loving, George Lucas's film Star Wars, in 1978. The inspiration might have been the 'crawl text' at the film's start.)…

Novelist Anthony Burgess, author of the dystopian novel A Clockwork Orange (1962), complained of her "fanciful cosmic viewpoint". Although science-fiction doyenne Ursula K. Le Guin praised some character sketches in Shikasta as "immortal diamond", she found the whole at times "little more than a pulp-Galactic Empire with the Goodies fighting the Baddies". Undeterred, Lessing worked her way through the series, declaring bloodymindedly that "space fiction, with science fiction, makes up the most original branch of literature now". She had friends among sci­fi authors, including Brian Aldiss, and happily attended meetings of the International Conference on the Fantastic in the Arts. She championed the genre as influential in mainstream literature, whose pundits nevertheless "are much to blame for patronising or ignoring it".
(7) THE FACTS OF SFF LIFE. Andrew Liptak, in "Two New Books Examine the Lost History of Speculative Fiction", gives readers of the B&N Sci-Fi & Fantasy Blog persuasive reasons to read two works of genre history.
Science fiction, fantasy, and horror are genres with a long history behind them, and historians and writers have spilled plenty of ink covering the authors, events, franchises, and works that form their bedrock. Recently, two books have hit stores that are well worth picking up if you're a fan of genre history: Monster, She Wrote: The Women Who Pioneered Horror & Speculative Fiction, by Lisa Kröger and Melanie R. Anderson, and Lost Transmissions: The Secret History of Science Fiction and Fantasy, by Desirina Boskovich. Both offer excellent examinations of the genres while shedding a bit of light on parts of their history that aren't often illuminated.
(8) THE MAGIC NUMBER. Nick Kolakowski picks "5 Classics of Cyberpunk Noir" at CrimeReads.
From its inception, cyberpunk has shared quite a bit of DNA with crime fiction. Your archetypical (some might say stereotypical) cyberpunk anti-hero, hacking into the mainframe of a highly militarized mega-corporation, could easily trade some tips about life on the street with a grizzled safecracker from a Richard Stark novel or Michael Mann film. Both cyberpunk and crime fiction often focus on those who live on the edge of society, trying to scratch out a living while wrestling with some degree of existential ennui.
(9) TODAY IN HISTORY.
October 10, 2008 — City of Ember enjoyed its theatrical release. The film starred Saoirse Ronan and Toby Jones, currently The Librarian in The Dark Crystal: Age of Resistance. It's based on the series by Jeanne DuPrau. Rotten Tomatoes gave it rating of 53%.
(10) TODAY'S BIRTHDAYS.
[Compiled by Cat Eldridge.]
Born October 10, 1924 — Edward Wood Jr. Though known for Plan 9 from Outer Space, he did a lot of bad genre films including Night of the Monster and Bride of The Ghouls. (Died 1978.)
Born October 10, 1927 — Dana Elcar. Most of you will remember him as Peter Thornton on MacGyver, but he has a long genre history including Russ in Condorman which was inspired by Robert Sheckley's The Game of X. He also played Sheriff George Paterson in Dark Shadows, and showed up in 2010 as Dimitri Moisevitch. (Died 2005.)
Born October 10, 1929 — Robin Hardy. Wicker Man is the film he's known for though he followed that up with The Wicker Tree, an adaptation of his Cowboys for Christ novel. Anyone seen it? (Died 2016.)
Born October 10, 1931 — Victor Pemberton. Writer of the script for the the "Fury from the Deep", a Second Doctor story in which he created the Doctor's sonic screwdriver. He had appeared as an actor in the series, in a non-speaking role as a scientist in "The Moonbase" story. In 1976, he wrote the BBC audio drama Doctor Who and the Pescatons which I remember hearing. Quite good it was. (Died 2007.)
Born October 10, 1931 — Jack Jardine. A long-time L.A. fan who was present at many West Coast cons and who shared the dais on panels with some of the major names in SF. He attended his last convention, in a wheelchair, assisted by his daughter Sabra, after a debilitating stroke at the age of 70. His health continued to get worse until he died from heart failure. File 770 has more here. (Died 2009.)
Born October 10, 1941 — Peter Coyote, 78. He actually did two genre films in 1982 with the first being Timerider: The Adventure of Lyle Swann in which he appeared as Porter Reese and  the second being E.T. the Extra-Terrestrial which he's Keys, the Agent hunting E.T. down. Sphere in which he's Captain Harold C. Barnes is his next SF outing followed by The 4400 and FlashForward series being his next major genre involvements.
Born October 10, 1947 — Laura Brodian Freas Beraha, 72. While married to Kelly Freas, she wrote Frank Kelly Freas: As He Sees It with him along with quite a few essays such as " On the Painting of Beautiful Women or Ayesha, She Who Must Be Obeyed" and " Some of My Best Critics are Friends – or Vice Versa". She's credited solely for the cover art for the 1993 Easton Press interior art for The Left Hand of Darkness according to ISFDB. 
Born October 10, 1966 — Bai Ling, 53. She's Miss West in Wild West West and the Mysterious Woman in Sky Captain and the World of Tomorrow, she has a major role as  Guanyin in The Monkey King which aired on Syfy.
(11) COMICS SECTION.
(12) PRANK. The Hollywood Reporter has the story: "'Joker': Student Banned From AMC Theaters for 'No Singles Policy' Prank".
Given the mild cultural panic surrounding the Oct. 4 release of Todd Phillips' Joker, it's fair to speculate that theater security and guest services departments have had a rough couple weeks and were on edge going into last weekend. A student at Cal State Long Beach decided to test their patience anyhow, and got hit with a lifetime ban for his efforts.

On the night of Oct. 3, Twitter user @jinpayn — who declined to share his first name with The Hollywood Reporter but whose last name is Payne — posted a photo of a flyer taped to a ticket kiosk outside the AMC Orange 30 cinema in Orange, California, that read, "Please note: We are enforcing a strict NO SINGLES POLICY for tonight's showings of JOKER due to safety precautions. We will not be admitting anyone without an additional partner." "Great, I can't see @jokermovie because I'm here alone. Wtf @amctheaters?" he tweeted.
(13) COSPLAY FINALIST OUSTED FROM COMPETTION. "Comic Con bans cosplay champion's 'blackface' entry" and the organizers say they are reviewing all their terms and conditions to prevent this from happening again.
French cosplay champion Alice Livanart has been removed from the EuroCosplay finals by organisers after she was accused of "blackface."

The EuroCosplay Championships, to be held at MCM Comic Con in London later this month, pit together the winners of individual competitions in 25 European countries.

Alice Livanart won the France Cosplay Cup in September 2019 with her cosplay of League of Legends character Pyke.

However, she has now been banned from the European finals after allegations on social media that her costume was insensitive.
(14) ACCIO, TREASURE! BBC reveals which "Harry Potter first edition sells for £46,000 at auction".
A rare copy of the first Harry Potter book has sold for £46,000 at auction after it was kept in a briefcase for safekeeping for more than 20 years.

The Harry Potter and the Philosopher's Stone hardback edition was given to a Lancashire family who planned to keep it as an heirloom.

They decided to sell it after hearing about another book fetching £28,500.

The 1997 edition is the "Holy Grail" for collectors, a spokesman for the auction house said.

…Only 500 copies were published in the book's first print run, with 300 of those sent to libraries.
(15) GRAPHIC EXAMPLES. You've heard of the comics censorship that happened in the Fifties, and after you read the examples CrimeReads offers in "A History of EC Comics in 7 Tales of Murder & Horror" you'll know what it was about.
"Split Personality"—The Vault of Horror 29

Ed King is one of EC's long line a smooth-talking, pencil-mustached con men. He sees dollar signs after learning of rich twin-sister agoraphobes. Both sisters fall for the oily eel, but if he marries only one of them, he'll only get half their fortune. So the snake decides to play his own twin. It only makes sense, right? Eventually the dames catch on, and with EC's classic I've-gone-mad signifiers (Little Orphan Annie eyes, frozen grins, sweat beads), the sisters split Ed down the middle so they can each enjoy half. As our host, the Vault-Keeper says, Ed made "a BIGAMISTake!" (Note: Another tale, "How Green Was My Alley" is the same story, but with the addition of bowling/golf, and the two-timer getting his head/eye used as balls.)
(16) UNEXPECTEDLY PLANNING AHEAD. "Israel cave bones: Early humans 'conserved food to eat later'".
Scientists in Israel say they have found evidence that early humans deliberately stored bones from animals to eat the fatty marrow later.

It is the earliest evidence that humans living between 200,000 and 420,000 years ago had the foresight to anticipate future needs, they say.

Early humans had not previously been thought capable of such dietary planning.

Researchers analysed bone specimens at Qesem cave near Tel Aviv.

They identified cut marks on most of the bone surfaces – consistent with preservation and delayed consumption.
(17) DOING WHAT A NINJA'S GOTTA DO. BBC tells why "Japan ninja student gets top marks for writing essay in invisible ink".
A Japanese student of ninja history who handed in a blank paper was given top marks – after her professor realised the essay was written in invisible ink.

Eimi Haga followed the ninja technique of "aburidashi", spending hours soaking and crushing soybeans to make the ink.

The words appeared when her professor heated the paper over his gas stove.

"It is something I learned through a book when I was little," Ms Haga told the BBC. "I just hoped that no-one would come up with the same idea."

…"When the professor said in class that he would give a high mark for creativity, I decided that I would make my essay stand out from others," she said.
[Thanks to Cat Eldridge, Mike Kennedy, JJ, John King Tarpinian, SF Concatenation's Jonathan Cowie, Martin Morse Wooster, Chip Hitchcock, Michael Toman, and Andrew Porter for some of these stories. Title credit goes to File 770 contributing editor of the day Daniel Dern.]