(1) SFF FIGURES PART OF TAROT ART EXHIBIT. The KEEP Contemporary in Santa Fe, NM is hosting "Readings", a group exhibition of four artists "whose work has been inspired by the guiding wisdom, karmic narrative and spiritual symbolism of Tarot cards."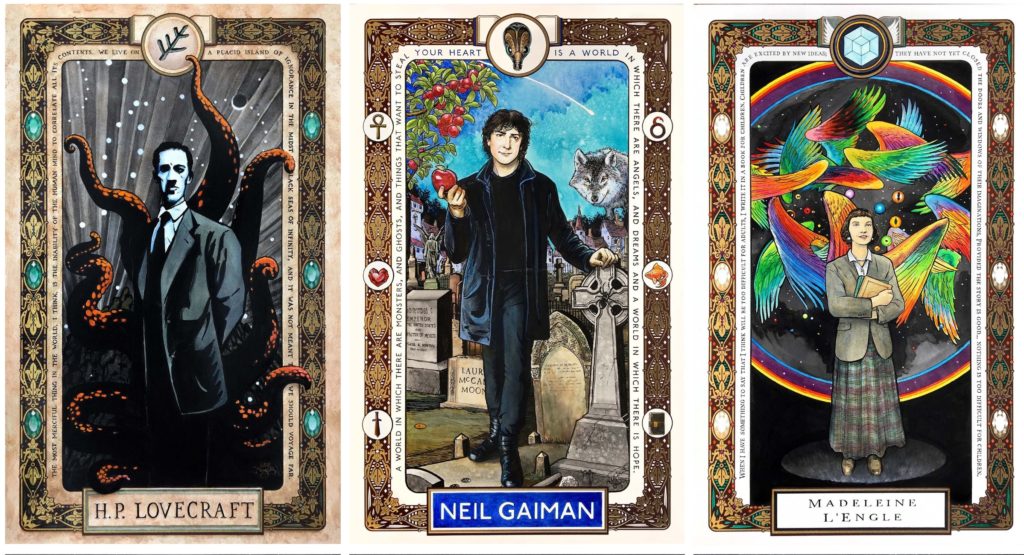 Featured artists include guest curator and illustrator Elizabeth Leggett along with other notable illustrators and painters including Lee Moyer, Sienna Luna and Reiko Murakami Rice. Exhibiting artists blend themes from Tarot with ideas from short stories, speculative fiction and fantasy writing in their own unique interpretation of the show's theme.
John Scalzi purchased the card art about him:
(2) SFWA OFFICER TURNOVER. Science Fiction and Fantasy Writers of America has chosen James Beamon to take the place of a departing Director-at-Large. President Mary Robinette Kowal shared the news in "A Change in the Director-at-Large at SFWA".
On October 2, Andy Duncan officially announced his resignation as Director-at-Large. He had told me some weeks earlier, but I asked him to stay on while we deliberated on a new officer. Andy has been invaluable to the board of SFWA. He has been a voice of reason and a well-spring of knowledge about the field of SFF.

I recruited him when I was on the elections committee and am very sorry to see him go. At the same time, I am deeply respectful of the need to take a break. I'm just grateful that he's still willing to let me ask him questions.

Fortunately, SFWA had a robust field of people interested in running for office. The board unanimously voted to add James Beamon, who was one of the runners-up, to the board. James has agreed to serve the remainder of Andy's term. James is both an indie novel author and writes short stories that have appeared in places such as Fantasy & Science Fiction Magazine, Apex, and Lightspeed.
(3) LIBRARY STRIKES BACK. Publishers Weekly reports a "Major Public Library System Will Boycott Macmillan E-books". The King County (WA) Library System, which is the nation's top digital-circulating library, will stop buying new release Macmillan e-books once the publishers' two-month embargo begins next month.
…In her note, [Librarian] Rosenblum acknowledged differing opinions among public library staff around the country on whether to boycott Macmillan e-books, and said King County's decision was ultimately driven by two reasons: one "pragmatic" and the other "principled."

As for the pragmatic side, Rosenblum explained that King County has pledged to readers to limit the wait time for any title to around 3 months. "Not allowing us to purchase multiple copies of an e-book for two months artificially lengthens the queue, triggering more of the same title to be purchased than would have occurred if we had been allowed to buy for the first two months," she explains. "With an ever-increasing demand to buy a wide variety of digital titles, we do not think this is the best use of public funds."

Rosenblum says the library will continue to buy print copies of Macmillan new releases (something Macmillan CEO John Sargent suggested libraries do in his memo announcing the new embargo policy) as well as new audiobooks (which are not embargoed), and perhaps even additional copies of e-books the library already owns, as needed. "My mantra has been if it is not embargoed, buy it," Rosenblum said, when asked for comment by PW. "Our focus is not to punish Macmillan [when the publisher] provides us with timely access to [digital] materials," she explained, "it is to address their embargo of new digital materials."

The "principled" argument, Rosenblum says, is to send a message to other publishers that public libraries cannot accept limits on basic access. To do so, she writes, would "profoundly" change the public library….
(4) FUNNY HORROR NOVEL NEWS. Dark Moon Digest editor Max Booth III, in "Supernatural Crime Fiction—Is It Allowed To Be Funny?" on CrimeReads, lists ten funny horror novels and collections he likes, including works by Joe Lansdale (and his daughter), Elmore Leonard, and Sarah Gailey.
Sarah Gailey, Magic for Liars (2019)

Much to the disappointment of every other person with a Twitter account besides myself, I've never been a fan of the Harry Potter series. Any story utilizing the "chosen one" trope quickly puts me to sleep. There are better ways to plot a novel than relying on boring ol' destiny. But, with that said, I've always been fascinated with the world-building in those books, and wondered how it would play out in more…realistic settings. Surely a high school for wizards would be occupied by a much larger majority of dickheads. The kinda dipshits who would use graffiti magic to permanently etch phrases like "SAMANTHA IS A SLUT" across lockers. But also: how would this world look under a noir lens? Something that sort of mashes together Harry Potter and Rian Johnson's Brick? Thankfully, Sarah Gailey was kind enough to answer these questions of mine with her wonderful debut novel, Magic for Liars. Close your eyes and picture Chuck Palahiuk's Philip Marlowe taking on a murder case inside Hogwarts. If you aren't already trembling with excitement, you might be a lost cause.
(5) FOURTH AND FINAL. The Man In The High Castle returns for Season 4 on 11/15.
The final season of The Man in the High Castle will be rocked by war and revolution. The Resistance becomes a full-blown rebellion, driven by Juliana Crain's (Alexa Davalos) visions of a better world. A new Black insurgent movement emerges to fight the forces of Nazism and imperialism. As empires teeter, Chief Inspector Takeshi Kido (Joel De La Fuente) will find himself torn between his duty to his country and the bonds of family. Meanwhile, Reichsmarschall John Smith (Rufus Sewell) will be drawn towards the portal the Nazis have built to another universe, and the tantalizing possibility of stepping through a gateway to the path not taken.
(6) TODAY IN HISTORY.
October 17, 1937 — Huey, Dewey, and Louie first appeared in a comic strip.
October 17, 1937 — The Shadow radio program aired "Murder By The Dead." Orson Welles starred as Lamont Cranston and of course The Shadow. Welles stayed with the show for just a year. Agnes Moorehead was also in the cast as Margo Lane. You can hear it here.
October 17, 1987 — The Ferengi were "born" on this date when Star Trek: The Next Generation's "The Last Outpost" aired in syndication. This was Shimerman's first appearance as a Ferengi though he had appeared on the series previously.
(7) TODAY'S BIRTHDAYS.
[Compiled by Cat Eldridge.]
Born October 17, 1886 — Spring Byington. I like reaching back into the early years of cinema. Her appearance in Werewolf of London as Miss Ettie Coombes in 1935 is of that era. She would also appear in Batman as J. Pauline Spaghetti in "The Catwoman Goeth" and "The Sandman Cometh" episodes. (Died 1971.)
Born October 17, 1913 — Robert Lowery. Batman in 1949's Batman and Robin. You can see the first part here. And he popped up in an episode of the Adventures of Superman. (Died 1971.)
Born October 17, 1914 — Jerry Siegel. His most famous creation was Superman, which he created in collaboration with his friend Joe Shuster. He was inducted (along with the previously deceased Shuster) into the comic book industry's Will Eisner Comic Book Hall of Fame in 1992 and the Jack Kirby Hall of Fame in 1993. (Died 1996.)
Born October 17, 1921 — Tom Poston. One of his acting first roles was The Alkarian (uncredited at the time ) in "The Mystery of Alkar" episode of Tom Corbett, Space Cadet in 1950. He much later had the recurring role of Mr. Bickley in Mork & Mindy. (Died 2007.)
Born October 17, 1926 — Julie Adams. Her most famous role no doubt is being in the arms of The Creature from Black Lagoon. She also been on Alfred Hitchcock Presents three times, The Girl from U.N.C.L.E. The Night Gallery, Kolchak: The Night Stalker, The Incredible Hulk and Lost all once. (Died 2019.)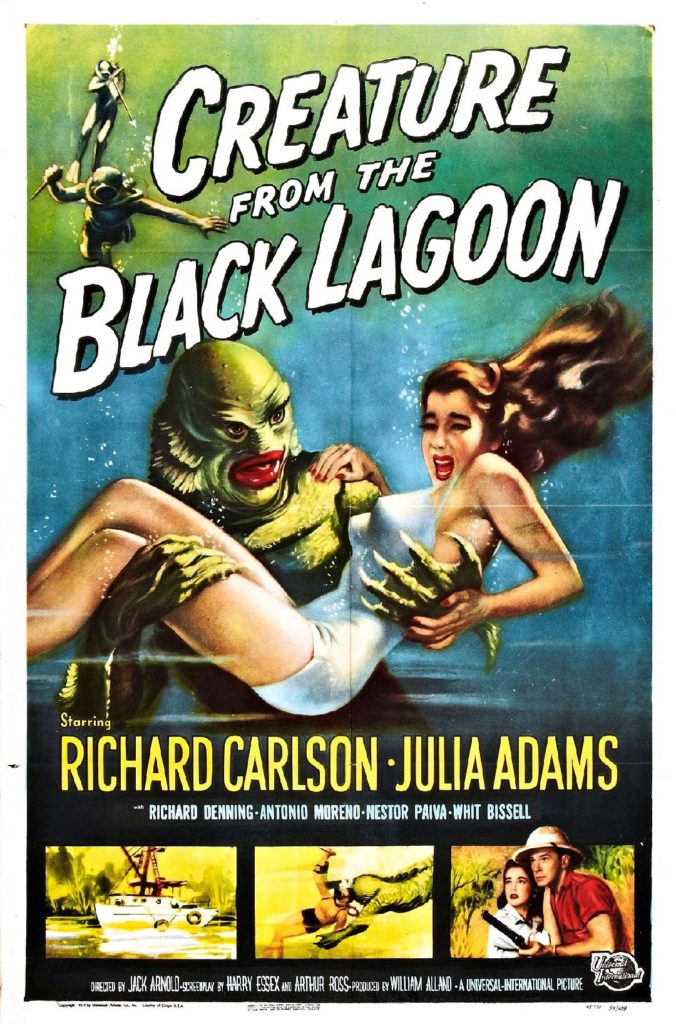 Born October 17, 1934 — Alan Garner, 85. His best book? That'd be Boneland whichtechnically is the sequel to The Weirdstone of Brisingamen and The Moon of Gomrath but really isn't. Oh, and The Owl Service is amazing!
Born October 17, 1946 — Bruce McAllister, 73. He's a superb short story writer as you can see in The Girl Who Loved Animals and Other Stories that Golden Gryphon published originally and which Cemetery Dance has now in an ePub edition along with his two novels. His Dream Baby novel is an interesting if brutal take on the Vietnam War.
Born October 17, 1948 — Margot Kidder. Lois Lane in the Superman film franchise that starred Christopher Reeve. Her first genre role however was Marcia Curtis in The Reincarnation of Peter Proud. I think her take as Kathy Lutz in The Amityville Horror is a much meatier acting role than her Superman role is. Speaking of horror, she'll show up in Halloween II as Barbara Collier. She did some of the usual genre one-offs in TV (Tales from the Crypt, The Hunger and The Outer Limits to name but three) but her major role was voicing Rebecca Madison, the villain, in the animated Phantom 2040 series. (Died 2018.)
Born October 17, 1948 — Robert Jordan. He is best known for the Wheel of Time series, which comprises fifteen books including a prequel novel. I must confess that so far I've resisted the urge to read this series, so put forth an argument as to why I should do so, please. It's certainly considered a major work of fantasy. (Died 2007.)
Born October 17, 1949 — Barclay Shaw,70. He has been nominated five times for the Hugo Award for Best Professional Artist. He has painted more than 500 book and magazine covers, and his work includes more than 20 cover paintings for The Magazine of Fantasy and Science Fiction. The artist credits Ellison for giving him his start in the business when he invited him to paint cover illustrations for 16 paperback editions of his books
Born October 17, 1968 — Mark Gatiss, 51. English actor, screenwriter, director, producer and novelist. Writer for Doctor Who; with Steven Moffat, whom Gatiss worked with on Doctor Who and Jekyll, he also co-created and co-produced Sherlock. As an actor, I'll noted he does Vogon voices in The Hitchhiker's Guide to the Galaxy, and is Mycroft Holmes in Sherlock.
(8) EATING THE FANTASTIC. Scott Edelman hopes listeners are ready to head to Dublin for brunch with Maura McHugh in Episode 107 of the Eating the Fantastic podcast.
Maura McHugh and I first met during the 2007 Yokohama Worldcon, where I was introduced to her by former guest of the podcast Ellen Datlow as one of the students she'd met at Clarion West, which Maura had attended after receiving the Gordon R. Dickson Scholarship. Her fiction and poetry have appeared in Jabberwocky, Doorways, Paradox, Goblin Fruit, and other magazines. She also writes comics, the most recent of which was The Dead Run, a five-issue Judge Anderson: PSI Division story for Judge Dredd Megazine. In 2015, she won Best Irish Writer of comic books in The Arcade Awards. She also published a book on Twin Peaks: Fire Walk With Me through the Midnight Movie Monograph series from Electric Dreamhouse Press and PS Publishing. Her most recent short story collection The Boughs Withered (When I Told Them My Dreams) launched at the Dublin Worldcon.

Maura and I discussed how the Clarion Science Fiction and Fantasy Writers' Workshop sometimes makes people realize they shouldn't be writers (and why that can sometimes be a good thing), how having lived in both Ireland and the U.S. affected her life and her writing, whether her attraction to dark fiction was ever a choice, what it was like getting to create comics in the Judge Dredd universe, how she decides whether ideas that pop into her head get transformed into comics or prose, her recent art project inspired by the works of Simone de Beauvoir, why she doesn't speak much about works in progress on social media, what she learned pulling together the selections for her first short story collection, why Twin Peaks fascinated her so much she wrote a book about the show — and much more.
(9) AN UNXPECTED PARTY. The New York Times observes, "Peter Jackson Has a Lot of Power in New Zealand. Some Say Too Much."
Peter Jackson, the film director behind the "Lord of the Rings" series, is a towering figure in his native New Zealand, admired as both a down-to-earth titan of the box office and a one-man income generator for the country's moviemaking and tourism industries.

But Mr. Jackson now finds himself at the center of a debate over how he has exerted that influence. This week, he helped catapult to victory a mayoral candidate who shared his opposition to a proposed development project near his studios, an unheard-of local political intervention in a country where money, fame and power are most often wielded lightly.

Mr. Jackson had been embroiled for months in a fight with Justin Lester, the first-term mayor of Wellington, the capital of New Zealand, over plans to build houses on a rugged peninsula in the city's harbor. His opponent, Andy Foster, who had polled only in the single digits in previous mayor's races, beat Mr. Lester by 503 votes on Saturday after receiving Mr. Jackson's political and financial backing.
(10) NOT READY FOR PRIME TIME. "Google and BBC scrap VR projects".
The BBC has disbanded the team it created to make virtual reality (VR) content, saying its funding has ended.

It comes as Google halts sales of its Daydream View headsets, admitting it does not see a future for smartphone-based VR.

There have been questions over the long-term future for the technology which has failed to become a mass market product.

One analyst said it could be several years before VR lived up to its hype….

…According to research firm IHS Markit, there will be 51 million consumer headsets in use around the world by 2023.

"Compared to mobile devices, this represents a niche audience so it is understandable the BBC is reconsidering its VR content strategy," said analyst Piers Harding-Rolls.
(11) HALLOWEEN LIGHTS. Los Angeles' Museum of Neon Art's periodic Neon Cruise event on October 26 will be dubbed the Haunted by Neon Cruise.
Crawl aboard our double-decker "hearse" for a haunted ride as we explore the darker side of LA history…

Costumes are encouraged, so dress in your Halloween finest for a wickedly good time!
That will be in addition to the usual features —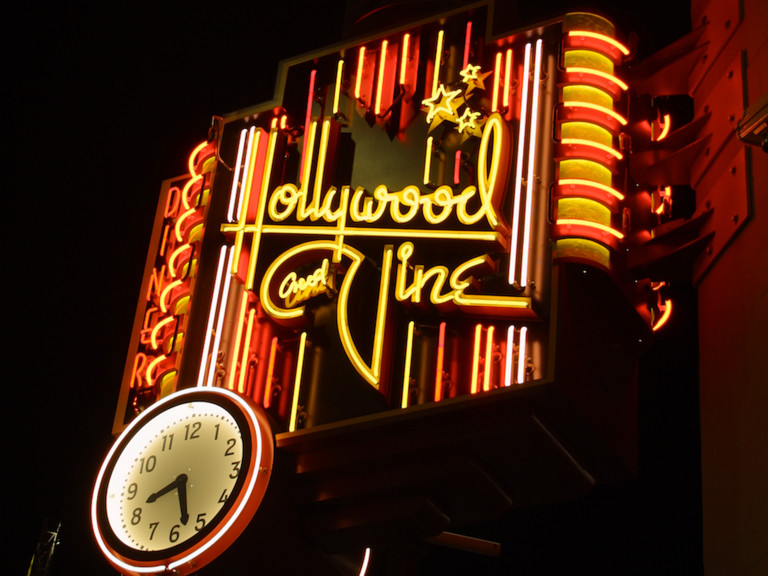 Saturday Nights! JOIN US for a nighttime bus tour of neon signs, movie marquees and permanent installations of contemporary neon art through Downtown and Hollywood.

Developed by MONA beginning in 1985, this narrated tour points out neon's aesthetic dimensions, placing them firmly within the context of 20th century Los Angeles cultural history. From the classic movie marquees of downtown Los Angeles' theater district to the glittering lights of Hollywood and the glowing pagodas of Chinatown, you will see outstanding examples of contemporary neon art as well as innovative electrical advertising on this award-winning tour.

Jump on board the top deck of a convertible British bus and let your knowledgeable guide delight you with history and anecdotes about the urban electric jungle of L.A. Now in its 17th consecutive year, the Neon Cruise begins in the Historic Corridor of Downtown.
(12) A MILESTONE EVENT. NPR says "NASA's First All-Female Spacewalk Set For Friday".
The first all-female spacewalk in NASA's 61-year history is finally happening and will even take place a few days ahead of schedule.

Astronauts Christina Koch and Jessica Meir, who were initially supposed to venture beyond the International Space Station on Oct. 21, are now slated to make their historic excursion this Friday. NASA announced the scheduling and other changes this week in light of issues with the space station's battery charge-discharge unit, which Koch and Meir will replace. The International Space Station's Twitter account tweeted Tuesday evening that the spacewalk will take place "no earlier than Friday," updating NASA's earlier announcement that it would happen either Thursday or Friday morning.

"We do anticipate that will stick," NASA spokesperson Stephanie Schierholz told NPR in an email.

Friday's spacewalk is set to begin at 7:50 a.m. EDT and last about 5 1/2 hours, according to NASA. The two astronauts will replace the faulty power regulator, which has been in operation since 2000 and failed to activate after new lithium-ion batteries were installed on the space station last week. NASA said the unit failure did not pose risks to any of the station's operations, crew members, laboratory experiments or overall power supply. Still, the faulty unit prevents the new lithium-ion batteries from providing additional power to the station.
(13) VIDEO OF THE DAY. in "Bless You!" on Vimeo, Paulina Ziolkowska explains the consequences of sneezing.
[Thanks to JJ, Mike Kennedy, Chip Hitchcock, Cat Eldridge, Martin Morse Wooster, John King Tarpinian, Scott Edelman, Michael Toman, and Andrew Porter for some of these stories. Title credit goes to File 770 contributing editor of the day Ingvar.]