(1) 1990 SOUVENIR BOOK. To help promote the planned Reunicon 2020 to commemorate the 30th anniversary of ConFiction 1990, Kees Van Toorn and friends have uploaded the Souvenir Book of ConFiction 1990 on their website in flipbook format.
(2) GAME OF THE NAME. If you have the Scrivener writing app, something you can get it to do for you is make up character names (see "How to Use Scrivener's Name Generator" at Fairies, Zombies and Agent Queries.) Here's Exhibit A:
(3) ANOTHER BITE OF THE APPLE. Magical mysteries unfold in Ghostwriter, coming November 1 to the Apple TV app with an Apple TV+ subscription.
According to TVLine, the upcoming reboot will center around four friends who discover a ghost in their neighborhood's bookstore. This ghost seems to be decidedly less helpful than the Ghostwriter of the '90s; instead of helping the friends solve mysteries, he "releases" fictional characters from books into the real world. TVLine adds that each episode will highlight a particular book or novel.
(4) KAFKAESQUE CRIME. CrimeRead's Peter Steiner calls him — "Franz Kafka: Misunderstood Crime Author". Tagline: "How The Trial upended what we know about crime fiction."
…Kafka's language does not arouse suspicion, but it should. He describes the goings on with great precision, objectively noting peculiar elements, odd turns of events, strange settings and physical characteristics as a scientist might describe what he sees through a microscope, giving nothing special place, offering no opinion or emotional reaction, as though everything that takes place is equally worthy of notation. Random, apparently peripheral elements get the same attention as the most dramatic happenings. The supervising inspector arranges objects around a candle that sits on a night table he is using as a desk. He places his index fingers side by side as though comparing their length. Three men Josef K. does not seem to know examine a framed picture on a wall. But these are not clues, for K. or for us. They are disconnected observations that lead nowhere, that add up to nothing.

The disconnect between Kafka's language and what is being described is what unsettles. Shocking, bizarre, and funny moments are described in the most mundane and unemotional language. Kafka has no reaction to anything himself and gives no clues how we should react. His almost pedantic detail and dry tone cast things in an oddly familiar light.
(5) LE GUIN AND MUSIC. [Item by Rob Thornton.] At the Electric Literature website, writer and editor Tobias Carroll wonders "Why Has Ursula K. Le Guin Inspired So Many Musicians?" He discusses how musicians are not only mentioning her works in song titles and lyrics, they are also grappling with the themes from Le Guin's stories in their works. Bands such as Baltimore dream-pop duo Beach House, heavy metal bands Keep of Kalessin and Ragana, and San Francisco darkwave act Cold Beat are mentioned:
"[Cold Beat songwriter] spoke about the potential of science fiction to offer a glimpse of a better world. 'When we broaden our vocabulary and learn more, there's a lot out there to discover,' she said. 'I think it's inspiring, especially when we're getting down. It's really healthy to remember that there's a lot more out there.' It's the same kind of thought experiment that one might see in an Ursula K. Le Guin essay or story?—?albeit in the process of being transfigured into a catchy and propulsive song. And while Le Guin's own foray into music hasn't necessarily spawned a legion of sound-alikes, the fact that she felt compelled to create such a work suggests that she left room in her writings for music—a gateway that this group of musicians has passed through, creating memorable work as they go. "'
To prove Carroll's point, there are other bands who have somehow made Le Guin a part of their music, including Ekumen (a hardcore punk band from New Orleans), Spanish Kalte Sonne (a post-metal band from Spain with an album named Ekumen), Fogweaver (Earthsea-inspired dungeon synth act from Colorado), and Street Eaters (punk band from San Francisco) among others.
(6) A GOOD OMEN FOR BUYERS. AudioFile applauds Michael Sheen's narration of Philip Pullman's The Secret Commonwealth (Book of Dust, volume 2) here.
Michael Sheen throws himself wholeheartedly into narrating this sequel to LA BELLE SAUVAGE, and listeners will be rapt. Lyra is now 20, and she and her daemon, Pantalaimon, are uneasy with each other in ways they never have been before. This central conflict is the catalyst for a series of journeys and is just one of many, many threads that Pullman will presumably pick up again in the final volume in the Book of Dust trilogy. For the ever-expanding international cast of characters, Sheen conjures a multitude of accents and delivers rapid-fire conversations between them. He's in step with the text at every turn; when situations become fraught or dangerous, Sheen ramps up the tension exquisitely…
(7) LISTEN TO LONDO. AudioFile also tips a Babylon 5 actor's voicing of J. Michael Straczynski's Becoming Superman: My Journey From Poverty to Hollywood:
If you're going to reveal your life story, it's good to have a friend and fellow "Babylon 5" cast member perform it. Peter Jurasik, known to "Babylon 5" fans as the sleazy alien Londo Mollari, narrates the startling life of the series creator, J. Michael Straczynski, and his victories over a monstrous father, an abusive family, and, seemingly, an entire world out to destroy him. Jurasik soberly recounts his friend's life, a fascinating, almost unbelievable, tale of courage and determination.
(8) BIRTH OF LASFS. More delving into the past of LA fandom at Rob Hansen's fanhistory website THEN: "Vernon Harry and the Birth of LASFS" (originally, LASFL).
The birth of the Los Angeles chapter of the Science Fiction League was announced in the pages of the February 1935 issue of WONDER STORIES, thus:
(9) FLYING OUT OF MY… Here's a problem most of us don't have — "Google faces winged-monkey privacy protest".
Google has angered a privacy expert by repeatedly identifying him as a "dwarf character actor" famous for playing a winged monkey in The Wizard of Oz.

Pat Walshe told BBC News he had had the issue resolved twice, only to discover last week it had happened again.

The issue involves his photo being run next to text from another source about a dead American who had the same name.

He now aims to make an official complaint to data privacy watchdogs. Google has once again fixed the flaw.
(10) METCALF OBIT. Longtime fan Norm Metcalf (1937-2019) died September 21, within a few months after he was hospitalized for injuries sustained in a fall.
Robert Lichtman remembers:
I knew him via the science fiction fan subculture, where he published a fanzine, New Frontiers, that saw four issues (1959-1964) with noteworthy contributors including Poul Anderson, Anthony Boucher, Stanton Coblentz, L. Sprague de Camp, August Derleth and Wilson Tucker. He was a longtime member of several amateur publishing associations — the Fantasy Amateur Press Association (FAPA) 1963-1969 and 1973 to the present, and the Spectator Amateur Press Society (SAPS) 1961-1967 and 1987 to the present — and published a variety of titles for their mailing distributions. He also researched and edited a reference, The Index of Science Fiction Magazines 1951-1965, which was published in 1968. Norm was a serious student of science fiction.
(11) TODAY IN HISTORY.
October 3, 1961 — A For Andromeda aired "The Message", the premier episode. Written by Fred Hoyle and John Elliot, this UK series was broadcast in seven episodes. As was the practice at the time, the BBC's copies of the serial were trashed after broadcast and most of the serial still remains missing.
October 3, 2000 — The Dark Angel series first aired. Starring Jessica Alba, it would run for two seasons. It was executive produced by James Cameron, Charles H. Eglee andRené Echevarria.
October 3, 2008 — Star Wars: The Clone Wars debuted on the Cartoon Network. created by George Lucas and produced by Lucasfilm Animation, the series is was renewed for a seventy season to air in 2020.
(12) TODAY'S BIRTHDAYS.
[Compiled by Cat Eldridge.]
Born October 3, 1874 — Charles Middleton. He is no doubt best remembered for his role as the Emperor Ming the Merciless in the three Flash Gordon serials made between 1936 and 1940 which may been the only genre production he appeared in. (Died 1949.)
Born October 3, 1927 — Don Bensen. Best-known for his novel And Having Writ… which is not in print in form digitally or in hard copy — damn it. Indeed, nothing by him is. Huh. (Died 1997.)
Born October 3, 1931 — Ray Nelson, 88. SF writer best known for his short story "Eight O'Clock in the Morning" which was the basis of John Carpenter's They Live. He later collaborated with Philip K. Dick on The Ganymede Takeover. In the 1940s Nelson appropriated the propeller beanie as a symbol of science fiction fandom. His fannish cartoons were recognized with the Rotsler Award in 2003. He was inducted to the First Fandom Hall of Fame this year.
Born October 3, 1935 — Madlyn Rhue. She on Trek's "Space Seed" as Lt. Marla McGivers, Khan Noonien Singh's (Ricardo Montalbán) love interest. Other genre appearances included being on the original Fantasy Island as Lillie Langtry in "Legends," and Maria in the "Firefall" episode of Kolchak: The Night Stalker. (Died 2003.)
Born October 3, 1944 — Katharine Kerr, 75. Ok I'm going to confess that I've not read her Deverry series so please tell me how they are. Usually I do read such Celtic tinged series so I don't know how I missed them.
Born October 3, 1964 — Clive Owen, 55. First role I saw him in was the title role of Stephen Crane in the Chancer series. Not genre, but fascinating none the less. He's been King Arthur in film of the same name where Keira Knightley was Guinevere. He's also was in Sin City as Dwight McCarthy, and in The Pink Panther (though weirdly uncredited) as Nigel Boswell/Agent 006. I'll also single him out for being Commander Arun Filitt in Valerian and the City of a Thousand Planets.
Born October 3, 1973 — Lena Headey, 46. Many of you will know her as Cersei Lannister on Game of Thrones, but I liked her sociopathic Madeline "Ma-Ma" Madrigal on Dredd better. She was also Angelika in The Brothers Grimm, a film I'm sure I've seen but remember nothing about.
(13) COMICS SECTION.
(14) EAT YOUR GREENS. Taste of Home promises "Nestle's New Grinch Cookie Dough Is Mean, Green and Perfect for the Holidays".
The Grinch is one of our all-time favorite Christmas movies, so this cookie dough is a holiday miracle. The dough bakes into scrumptious, bright green sugar cookies made for a tall glass of milk. In theme with the story we all know and love, the Grinch cookie dough features an adorable red candy heart that brings the Dr. Seuss character to life. It's the perfect thing to bake with the kiddos (or just yourself) this year.
(15) NO BUCKS, NO BUCK ROGERS. The Washington Post's Christian Davenport, reporting from Boca Chica Island, Texas, discusses the construction of Elon Musk's spaceport on the Texas coast and the irony of having one of the world's richest men building in one of the nation's poorest counties: "Elon Musk's improbable Mars quest runs through a border town concerned with more than getting to space".
…But now, across the water on South Padre Island, the county has spent about $31 million building new pavilions and an amphitheater that would host concerts and weddings and make a prime viewing area for rocket launches. Local officials hope for a future where residents and tourists line the beach, the way they have for years along Florida's Space Coast, cheering rockets as they tear through the sky.

"It's exciting," said Sofia Benavides, a county commissioner who represents Boca Chica. "I'm 69 years old and have never been to a rocket launch. For my children and grandchildren, it's great that this is happening in their backyard."

Not everyone is cheering, though.

A handful of residents who live next door to SpaceX's facilities recently received letters from SpaceX, which said the company's footprint in the area was going to be bigger and more disruptive than originally imagined. As a result, it was seeking to purchase their properties at three times the value determined by an appraiser hired by SpaceX. The deal was nonnegotiable, the letter said, and the company wanted an answer within two weeks, although some have received extensions.

Called Boca Chica Village, the area is made up of about 30 homes within walking distance of the Gulf of Mexico, occupied mostly seasonally. Many are boarded up. A few have weeds as high as the mailboxes….
(16) SNUBS. Travis M. Andrews' "The Missing Oscars" in the Washington Post is about actors he thinks should have won Oscars but didn't. About a third of the people he picked were in sf or fantasy films, including Harrison Ford in Blade Runner, Michael Keaton for Beetlejuice, and Laurence Fishburne in The Matrix. (Most of the actors he picked in sf and fantasy films were men.)
John Lithgow for
"The Adventures of Buckaroo Banzai Across the 8th Dimension" (1984)

Lithgow's primary strength as an actor is range. Look at his portrayal of long-standing, slow-burning dedication in "Love is Strange," or his take on an alien trying to understand humanity in "3rd Rock From the Sun," or as a hardline preacher who can't tolerate dancing in "Footloose." At times he's also, to use a colloquialism, realllllllly gone for it, like when he portrayed a man with multiple personalities in "Raising Cain." That role bordered on parody, but his most extravagant performance was parody, as Lord John Whorfin/Dr. Emilio Lizardo in Earl Mac Rauch's and W.D. Richter's sci-fi sendup. To play the mad intergalactic doctor, Lithgow lifted an Italian accent from an MGM tailor and changed his walk to that of an "old crab, because my alien metabolism is supposed to be messed up," he later explained. The bizarre result is a deeply committed performance that's wildly over-the-top and a singular, hilarious character.
(17) AI. Nature's review ofStuart Russell's latest book examines how artificial intelligence could spin out of control: "Raging robots, hapless humans: the AI dystopia." Full review article here (open access).
In Human Compatible, his new book on artificial intelligence (AI), Stuart Russell confronts full on what he calls "the problem of control". That is, the possibility that general-purpose AI will ultimately eclipse the intellectual capacities of its creators, to irreversible dystopian effect.

The control problem is not new. Novelist Samuel Butler's 1872 science-fiction classic Erewhon, for instance, features concerns about robotic superhuman intelligences that enslave their anthropoid architects, rendering them "affectionate machine-tickling aphids". But, by 1950, Norbert Wiener, the inventor of cybernetics, was writing (in The Human Use of Human Beings) that the danger to society "is not from the machine itself but from what man makes of it". Russell's book in effect hangs on this tension: whether the problem is controlling the creature, or the creator. In a sense, that has been at the core of AI from its inception…
(18) APOLLO'S CREED. [Item by Martin Morse Wooster.] In the September 28 Financial Times (behind a paywall), Arwa Haider profiles the London Video Game Orchestra, a 65-piece orchestra that will perform Assassin's Creed Symphony at the Eventim Apollo in London on October 5. Haider interviewed the founder of MGP Live, concert producer Massimo Goletta.
In an era when the entertainment industry is obsessed with 'immersive' events, video game concerts also present the possibility of grand spectacle on a globalized scale, such as MGP Live's tours of classic gaming soundtracks, Its current show Assassin's Creed Symphony, based on the historic action-adventure series (and co-developed with its creators, Ubisoft) premiered in Paris over the summer and elicited a six-minute standing ovation at the Palais des Congrès. It is now embarking on an autumn tour of the US and Europe, with a full international tour planned next year. The company works with local musicians, rather than transporting an 80-piece instrumental and choral line-up from country to country….

…Video game concerts may in fact offer a financially savvy form of 'future-proofing' for traditional orchestras. A recent GlobalData reported estimated that video games could be a $300bn industry by 2025.And with each passing year and the library of games growing, the bigger the repertoire MGP Live will have to draw on. The Assassin's Creed Symphony draws on a series that spans more than a decade, and blends what Goletta describes as 'the epic beauty and drama of the themes.' He enthuses, 'There are parallels with Beethoven and Bach, then elements of world music–along with the nostalgic effect."
The London Video Game Orchestra's website is here.
(19) DEADPOOL DEATH. Officials have determined "'Safety failures' led to death of Deadpool 2 stuntwoman" says BBC.
An investigation into a stuntwoman's death on the Vancouver set of Deadpool 2 has attributed her fatal motorcycle accident to a series of safety errors.

Government agency WorkSafeBC said the film's makers should have ensured Joi Harris was wearing a helmet.

It also said barriers should have been in place to stop her "leaving the set perimeter" on 14 August 2017.

20th Century Fox, which made the 2018 film, said it "respectfully disagree[d] with some of the report's findings".

"Safety is our top priority, and while we respectfully disagree with some of the report's findings, Fox thoroughly reviewed its stunt safety protocols immediately following the tragic accident and has revised and implemented enhanced safety procedures and enforcement," it said in a statement.

Professional road racer Harris was killed while doubling for actress Zazie Beetz in the comic book-inspired sequel.
(20) WOMAN WINS HORROR FILM AWARD. "Horror film wins first-time director Rose Glass £50,000 award"
A film-maker who set her first feature in the traditionally male-dominated horror genre has won a £50,000 prize.

Rose Glass, 30, was named the winner of the IWC Schaffhausen Filmmaker Bursary Award at a ceremony held on the eve of this year's London Film Festival.

Her film, Saint Maud, tells of a devout young nurse who becomes the full-time carer of a chronically ill dancer.

Danny Boyle, chair of the jury, called the film "a thrilling cinematic journey through madness, faith and death".

…The bursary, one of the largest arts prizes in the UK, allows film-makers at the start of their careers time to grow and develop.
(21) KEEP WATCHING THE SKIES. [Item by Chip Hitchcock.] "Canadian mint releases UFO-themed glow-in-the-dark coin". See picture — since when does Canada have rectangular coins? Or is this some new meaning o the word "coin" that I haven't previously been acquainted with?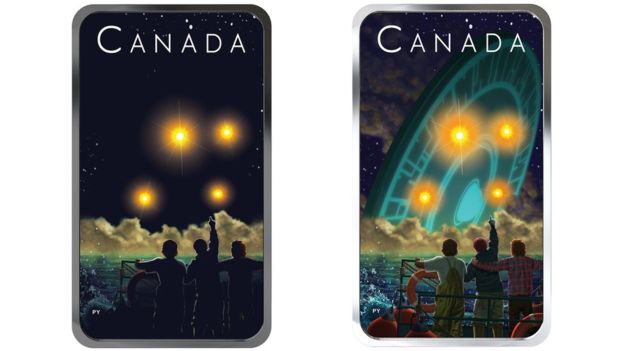 Over 50 years ago, on the night of 4 October, strange lights appeared over the sky of a small Canadian fishing village.

Witnesses watched as the lights flashed and then dived towards the dark waters off the coast of Nova Scotia.

Now, what some believe to have been a UFO sighting has been commemorated by the Royal Canadian Mint.

The mint has released a collector's coin that tells the story of a "unique and mysterious event".

The scene on the glow-in-the-dark coin depicts a specific moment described by various eyewitnesses.

After seeing four strange flashing lights in the offshore night sky, they spotted an object 60-feet in length flying low, which dropped down at a 45 degree angle.

The coin comes with a flashlight that when used brings out the lights of the UFO, the stars in the night sky, and a haze over the water reported by locals.
(22) HAUNTED FIXER UPPER. Girl on the Third Floor is due out October 25, streaming, or limited theatrical release.
At the heart of the film is Don Koch (CM Punk), a man who is failing as a husband. For years he has skated by on charm and charisma, until it nearly landed him in jail. He now views fixing up an old house as a chance to make up for past mistakes. Meanwhile, his wife, Liz Koch, is concerned about the renovation timeline as they have a baby on the way. With all this pressure it's no wonder Don responds to the flirtations of an attractive stranger. As Don tears the house apart, it begins to tear him apart as well, revealing the rot behind the drywall.
[Thanks to Cat Eldridge, Mike Kennedy, Rob Thornton, SF Concatenation's Jonathan Cowie, Martin Morse Wooster, JJ, John King Tarpinian, Chip Hitchcock, and Andrew Porter for some of these stories. Title credit goes to File 770 contributing editor of the day Nicole J. LeBoeuf-Little.]