(1) "Should Zurich ever hold a Worldcon, I think we've got the GOH's hotel room," says Tom Galloway. It's the Grand Kameha's Space Suite.
Always dreamed of going to space but never felt cut out for grueling astronaut training?

Soon it'll be possible to (almost) indulge this fantasy without leaving Earth.

A hotel in Zurich, Switzerland, has just unveiled a new suite kitted out to look like the inside of a space station.

Grand Kameha's Space Suite comes equipped with a "zero gravity" bed — built to look like it's floating above the ground — and steam bath designed to simulate a view into the universe.
(2) Tor Books is celebrating 35 years with a new logo.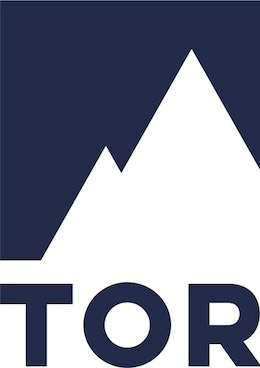 Ain't no mountain high enough?
(3) Author Tom Purdom has been in the hospital since August 5 reports the Broad Street Review —
You may know Tom as the author of five acclaimed science fiction novels as well as novelettes that appear in Asimov's Science Fiction Magazine. More likely you know him as the peripatetic and prolific chronicler of Philadelphia's diverse classical music groups, whose scene he has covered for this and other publications since 1988. Tom's relentless curiosity has also blessed BSR readers with thoughtful explorations of countless other topics, from arms control to religion to professional soccer to the growing appeal of older women in his senior years. As the paragraph above suggests, even at 79, Tom retains a youthful appetite for the cultural rewards of urban life and an eagerness to go public with his enthusiasms.

Hit from behind

At least that was the case until last month. Tom's byline hasn't appeared in BSR or anywhere else since August 11. Nor is he now living a life that anyone would describe as satisfying. Instead, Tom has spent the past seven weeks in a hospital bed, most of that time with his head held aloft by a neck brace, his arms and body connected to tubes, his lungs fed oxygen from a tank….

On August 5, Tom was enjoying his daily three-mile stroll along Philadelphia's new Schuylkill River Trail. Behind him on bicycles, unknown to Tom, were a grown woman, a schoolteacher, and her elderly father. The woman, noticing one of her students walking the trail, waved happily and called to her father to share her discovery. The father turned his head and, in his distraction, crashed into Tom from behind.

In an instant, the active life Tom had savored for decades was shut down, at least temporarily. The blow to his back caused spinal injuries; his fall to the pavement caused a concussion, an enormous bump on his forehead, and two black eyes. His diaphragm was paralyzed.
(4) "Pluto's Big Moon Charon Reveals a Colorful and Violent History" – read about it on the NASA site.
At half the diameter of Pluto, Charon is the largest satellite relative to its planet in the solar system. Many New Horizons scientists expected Charon to be a monotonous, crater-battered world; instead, they're finding a landscape covered with mountains, canyons, landslides, surface-color variations and more.

"We thought the probability of seeing such interesting features on this satellite of a world at the far edge of our solar system was low," said Ross Beyer, an affiliate of the New Horizons Geology, Geophysics and Imaging (GGI) team from the SETI Institute and NASA Ames Research Center in Mountain View, California, "but I couldn't be more delighted with what we see."
(5) Genevieve Valentine reviews Ancillary Mercy for NPR.
Breq has spent two books trying to bring down the head of the Radch, a galaxy-spanning empire. It's complicated work (for one thing, the imperial civil war is between cloned iterations of the Empress herself), so it's just as well for the series that Breq accidentally keeps falling into broken things that need fixing on a more local level: Her devoted lieutenant Seivarden, captaincy of a ship whose human crew has no idea of their leader's past, a planetary assignment with the expected imperial prejudice, and a space station awash in all the cultural minutiae the Radchaai empire can offer. And luckily for readers, that's quite a bit.
(6) George R.R. Martin previews his big investment in Santa Fe's arts scene in "Meow Wolf Roars".
The House of Eternal Return, long adrift is time and space, is spinning back towards earth and its eventual landing on the south side of Santa Fe… courtesy of the madmen and madwomen of Meow Wolf, the City Different's wildest artist's collective.

Remember Silva Lanes? That derelict bowling alley I bought last winter? If not, go back to January and February on this very Not A Blog and read the old posts. Or just Google "Silva Lanes" and my name, and you'll find plenty of press coverage.

Anyway… work has been proceeding down on the south side ever since. My own construction crew has gutted the remains of the old structure, torn up the parking lot, and has been working day and night to bring everything up to code. Meanwhile, Meow Wolf's artists have been across the street, making magic… and now they've moved in and started the installations. The two construction crews are working side by side.
(7) The local papers have also featured the development.
Santa Fe New Mexican – "Meow Wolf banks on returns with ambitious new exhibit".
Take a kernel from the Children's Museum, a wrinkle from an Explora science exhibit and a seam from Burning Man, and one has the inceptions of what Meow Wolf is hoping to create in Santa Fe.

But the exhibit that is being developed, designed, programmed, manufactured, cut and cobble together by the arts group in a 35,000 square foot former bowling alley is perhaps unlike what has ever come before.

The House of Eternal Return, an electronics- and sensory-heavy exhibit, will feature a Victorian house with passageways, forests, caves, treehouses, bridges, a light cloud, a sideways bus, an arcade and workship spaces.

As planned, visitors will be primed with lasers, smoke, touch sensors, color, story and fantasy.
Albuquerque Journal – "Meow Wolf's latest futuristic project bends time and space".
George R.R. Martin, who bought the old Silva Lanes bowling alley for $750,000 on agreement to lease it to Meow Wolf, is now financing a $1 million to $2 million renovation of the building.

"Meow Wolf's project is going to be exciting and strange," Martin said in an email. "It's something the city has never seen before.

Once open, the fantasy house will allow visitors to touch hundreds of digital connections imbedded in everything from walls and doors to furniture and personal items. Sensors will trigger a range of visiual and audio experiences, providing in many cases elaborate, visual transport to wild places.
(8) I doubt this has changed for all values of "we"….
#WhenIWasYourAge We consumed Twinkles, Cool Whip, and Yoo-hoo, without questioning their chemical composition.

— Neil deGrasse Tyson (@neiltyson) October 5, 2015
(9) Everybody needs a hobby. Emily Stoneking's is making "Cruelty-Free Knit Anatomy Specimens".
Will R. adds, "The alien autopsy is pretty good."
Uh, yeah….
(10) Larry Correia responded to a comment on his "Fisking the New York Times' Modern Man" post —
Well, since I get far more traffic than File 770, somebody must care.
Really? Let's see what Alexa has to say about that.
But in the interest of full disclosure, I will tell you who is way out in front of this race —
(11) Adam-Troy Castro's review of Upside Down concludes —
A pretty dumb story partially redeemed by some downright amazing visuals, it's actually the second best movie where Kirsten Dunst kisses a guy upside down…
(12) Dave Freer starts the week by sharing his opinions about "Cultural appropriation and Political Correctness in writing" at Mad Genius Club.
Enter the newest shibboleth of Arts world (along with 23 sexes) intended to divide and exclude.

Cultural appropriation.

I'm a wicked man because I talked about Yogurt (Turkic) and Matryoshka dolls (Russian) and shibboleth (Hebrew). These words, and a meaning of them have all become quite normal in English, understood, accepted… and maybe not quite what they meant (or still mean) in their root-culture.

But the culture of the permanently offended (the one I adopt nothing from, because yes, I consider it inferior, and overdue for the scrapheap of history.) has discovered it as a new and valuable thing to… you guessed it!… Be offended by. Demand reparations for the terrible damage done. Exclusivity even. Heaven help you if you're not gay, and write about something that could be considered gay culture, or Aboriginal, or Inuit or quite possibly of sex number 23 (is that the one where you identify as coffee table?). Contrariwise, you are to be utterly condemned, pilloried, attacked, decried as a sexist, racist, homophobic misogynist if you don't include all the possible groups (including number 23) in your books, in the prescribed stereotype roles.
(13) Do not be confused by the last post – the following movie is not a documentary. "'No Men Beyond This Point' Sci-Fi Comedy Lands At Samuel Goldwyn".
Samuel Goldwyn Films has acquired worldwide rights (excluding Canada) to writer-director Mark Sawers' sci-fi comedy satire No Men Beyond This Point, which just had its North American premiere in the Vanguard section at the Toronto Film Festival. The pic is set in a world where women no longer need men in order to reproduce and are no longer giving birth to male babies, leaving the male population on the verge of extinction. A 2016 release is in the works.
(14) Today's Birthday Boy –
1952 – Clive Barker
(15) Apex Magazine publisher Jason Sizemore has announced a significant change to the magazine's publication model. Subscribers will continue to get the new eBook edition delivered via email or to their Kindle account on the first Tuesday of each month. While Apex Magazine's content will still be available as a free read, instead of posting the entire issue's contents on that first Tuesday, they will be released over the course of the month.
Example: On the first Tuesday of the month, the entire issue becomes available to our subscribers (and to those who pay $2.99 for our nicely formatted eBook edition through Apex or our other vendors). That day, we will only post one of that issue's short stories. One Wednesday, we will publish one poem, and on Thursday we will publish a nonfiction piece. A week later on the following Tuesday, we will repeat the cycle.

We at Apex Magazine feel like this is an ideal situation for our readers and our administrators. It rewards subscribers further with early access to content. It also allows us to focus on each contributing author singularly each week on the website. Readers win, authors win, subscribers win, and Apex Magazine wins!
(16) Councilmember Mike Bonin represents the 11th District in the city of Los Angeles. And the councilman says he has "the best collection of Justice Society of America action figures in all of Los Angeles."
[Thanks to Steven H Silver, Will R., James H. Burns, JJ, Tom Galloway, and John King Tarpinian for some of these stories. Title credit goes to File 770 contributing editor of the day Soon Lee.]