(1) "THE FUTURE WAS SO BAD." "HOW BAD WAS IT?" The Library of Congress' National Book Festival Blog introduces "2020 National Book Festival Highlights: Dystopian Worlds".
Why is it that some of us love dystopian novels, the kind of fiction that takes a dim, bleak view of the future? Is it because writers of this genre show us how bad things can become if we aren't careful? Or that we can feel better about the current state of affairs because they aren't nearly as bad as the book's scenario?

The "Dystopian Worlds" conversation at the 2020 National Book Festival featured Dark Star trilogy novelist Marlon James, who spoke with sci-fi/fantasy writer Jeff VanderMeer. James's most recent novel is "Black Leopard, Red Wolf" (Riverhead), and VanderMeer's is "A Peculiar Peril" (Farrar, Straus & Giroux). Everdeen Mason, senior audience editor of The Washington Post, moderated and, in her words, is an "occasional book critic."
(2) BLOOM'S FINAL LE GUIN APPRECIATION. "The Strange Friendships of Ursula K. Le Guin's 'The Left Hand of Darkness'" in The New Yorker is an essay was drawn from The Bright Book of Life: Novels to Read and Reread by Harold Bloom (d. 2019), out this month.
…Though I have written about "The Left Hand of Darkness" before, in 1987 and again in 2000, I have forgotten what I said and do not want to consult it now, but, rather, make a fresh start on this marvellous romance. In one of her letters, Ursula remarked that writing "The Dispossessed" was liberating for her, and she seemed to prefer it to "The Left Hand of Darkness." Rereading both, I find myself torn between the two. The protagonist, Shevek, in "The Dispossessed," is far more interesting than anyone in the earlier book, and yet he and his story manifest something of the ambivalence of Le Guin's subtitle: "An Ambiguous Utopia."

In a fierce introduction to "The Left Hand of Darkness," Le Guin charmingly remarks, "A novelist's business is lying." She adumbrates:

"I talk about the gods; I am an atheist. But I am an artist too, and therefore a liar. Distrust everything I say. I am telling the truth.

"The only truth I can understand or express is, logically defined, a lie. Psychologically defined, a symbol. Aesthetically defined, a metaphor."

Always in Le Guin we hear reverberations of Lao Tzu's "Tao Te Ching," which she translated, with J. P. Seaton, as "A Book About the Way and the Power of the Way" (1997). We corresponded about her understanding of the Tao, yet I had to confess my permanent difficulty in absorbing this way that is not a way. I myself always keep to hand a copy of "The Bhagavad-Gita" as rendered by Barbara Stoler Miller, which I purchased in the autumn of 1986, the year of its publication. After hundreds of readings, I think I know what Krishna means by "dark inertia," "passion," and "lucidity," but a dozen readings of the Le Guin-Seaton "Tao Te Ching" have left me muttering that I do not apprehend the water and stone of the Way. Is it that I am not enough open to my own female component? That seems not right. I am more my late mother than my late father. What moves me most in Ursula is the serenity. I lack it utterly….
(3) EATING THE FANTASTIC. Scott Edelman invites listeners to loaf around with A.C. Wise in Episode 132 of his Eating the Fantastic podcast as they nibble — she on chocolate zucchini bread and he on cherry pecan bread.
Wise is a two-time finalist for the Nebula Award, two-time finalist for the Sunburst Award, and a finalist for the Lambda Literary Award. Plus she's won the Sunburst Award for Excellence in Canadian Literature of the Fantastic. Her fiction has appeared in Uncanny, Tor.com, Shimmer, and multiple Year's Best anthologies. Her work can also be found in two collections, The Ultra Fabulous Glitter Squadron Saves the World Again and The Kissing Booth Girl and Other Stories, both published with Lethe Press. Her debut novel, Wendy, Darling, will be out from Titan Books in June 2021, and a new short story collection, The Ghost Sequences, will be published by Undertow Books next August.

We discussed how her first professionally published fiction ended up printed on a coffee can, the 24-hour challenge which led to the creation of her Lambda Award-nominated collection, which comic book character obsesses her the most, how individual stories can act as commentary on all stories, why she enjoys wielding the power of ambiguity, how workshopping with other writers can help make stories better, what The Queen's Gambit can teach us about dealing with reader expectations, the unexpected way a flash fiction piece turned into her first novel, and much more
(4) SLF WANTS ENTRIES FOR ILLUSTRATION OF THE YEAR. The Speculative Literature Foundation is making an open call for original artwork combining fantasy and science fiction themes, to be featured as its cover art (Illustrationof the Year or Artwork) for 2021.
Artwork will be displayed on the Speculative Literature Foundation's (SLF) website and social media accounts. Artwork will also be used as a visual element of SLF's marketing material and swag, including but not limited to, bookmarks, pins, posters, etc., and may be cropped or otherwise minimally altered to fit these different formats.

The winning artist will receive $500.00 (USD) and will be announced, along with the selected Artwork, on SLF's website and in a press release.

This is the SLF's second international open call for Illustration of the Year, and the fourth consecutive year that it has featured an illustration. The SLF, founded in 2004 by author and creative writing professor Mary Anne Mohanraj, is a global non-profit arts foundation serving the speculative literature (science fiction, fantasy, and horror) community. It provides resources to speculative fiction writers, editors, illustrators, and publishers, and aims to develop a greater public appreciation of this art.

Submission Dates: November 20, 2020 at 12:01 a.m. through December 20, 2020 at 11:59 p.m.

Criteria: Each artist (Artist) may submit one (1) artwork for consideration. The artwork may be created digitally or by hand (no photography). The subject matter must combine fantasy and science fiction elements as well as incorporate SLF's literary focus. All artwork must be submitted in both jpeg and pdf formats. Aspect ratio must work for the website banner, being at least 1500 points wide, and 400-500 points high. Final resolution for print must be at least 11 inches wide and 300 dpi. Files are limited to 10MB.

Submit artwork to [email protected], including your name, email address, phone number and short bio.
(5) DON'T INVITEMS. LitHub's Chris Gosden explains "Why Harry Houdini DID NOT Like Arthur Conan Doyle".
… Later in 1924 Houdini wrote a book exposing mediums and their activities at séances—A Magician among the Spirits.

Houdini's position was complex and interesting. The greatest illusionist of the last century became the great debunker of illusions. Conversely, Houdini was keen to stress the physical skill and strength that formed the basis for his act and to reveal the tricks employed by others, many of whom claimed not to be tricksters. Houdini himself became the subject of myth-making, seen by some as having shamanistic powers; and Conan Doyle was not alone in considering Houdini to be a magician, a view expressed in his book The Edge of the Unknown (1930).

Conan Doyle's two-volume work The History of Spiritualism (1926) was an argument for the veracity and validity of the spiritualist movement, citing, among many other cases, the Davenport brothers and the Spirit Cabinet as an instance when people were able to summon spirits.

Important issues were contained in the disagreements between Houdini and Doyle that resonated elsewhere. First was the issue of evidence and how different people were either convinced by, or skeptical of, exactly the same set of events, such as the activities within the Davenports' Spirit Cabinet. The creator of the arch-empiricist and logician, Sherlock Holmes, was famously credulous. Houdini took a lot to be convinced of other-worldly phenomena.

Deeper issues were also involved, concerning the nature of the person and of reality more broadly. Were people divided into body and spirit, with the latter surviving the death of the body? As skepticism concerning religious belief grew, so did doubts about life after death, which in turn threw notions of the composition of the person into doubt—perhaps people did not have souls or some form of immaterial reality?…
(6) THE G.O.A.T. In "An Oral History of 'Marge vs The Monorail', the Episode That Changed 'The Simpsons'" on Vice, Sean Cole interviews the people involved in "Marge vs. The Monorail," which many think is the greatest episode of The Simpsons. The episode was written by Conan O'Brien, directed by Rich Moore (who won an Oscar for Zootopia) and had guest spots by Phil Hartman and Leonard Nimoy.
Jeff Martin: Mindless groupthink is a recurrent theme on The Simpsons, and I think the monorail episode is the best – and certainly my favourite – example of Springfield mob mentality. Watching the episode, I decided to go ahead and time it. From Lanley whistling in the back of the auditorium to the entire town marching on the town hall steps singing "Monorail!" is a little less than two minutes. I think it took Harold Hill at least four minutes to whip up River City.

Rich Moore: That musical number was almost harder to pull off than the whole third act climax. I'd done "A Streetcar Named Marge" before. That was a big musical spectacular, so it felt like, 'Okay, we're going to have to pull off what we did on that episode.' That's hard to do when you're not working under the same roof as the animators. We would send a very complete blueprint, with all the key posing and animation timing, to Korea [where the bulk of animation is done by a studio called AKOM], but there was a bit of crossing your fingers and hoping, since you're not there in the room to direct them. Everything is being communicated through instructions on exposure sheets, which have been translated from English to Korean.

Jeff Martin: Every single word of the monorail song was unchanged from Conan's first draft, which is impressive. My niche on the show in those days was to actually write the tunes to the songs. I wrote a bunch of songs, so I was assigned to set the monorail song to music. It's sort of like, "Bum, bum, bum, bum. I think I'm done!" It's barely a song. It's just sort of a rhythm and "Monorail! Monorail! Monorail!" The notion that Conan and I co-wrote that song is laughable. I've told Conan over the years that he had his part in that song. Elton John, meaning me, needs Bernie Taupin, meaning him.
(7) VOSS OBIT. Actor Philip Voss has died of COVID-19 at the age of 84. The Guardian ran anoverview of his career.
…His television career had begun in the first (1963) season of Doctor Who, with William Hartnell, as Acomat, the leader of Mongolian bandits, in the Marco Polo story, and as a young Dulcian, Wahed, a humanoid pacifist killed by Quarks, a few years later, with Patrick Troughton as the second doctor. His last television role was as Ian McKellen's acid-tongued brother, Mason, in the sitcom Vicious (2013-16).

In the late 1970s he was also a member of the BBC Radio Drama Company, working with the directors Jane Morgan and Celia De Wolff, in subsequent years, on The Lord of the Rings (he was Lord of the Nazgûl)… On film, he popped up in Octopussy (1983) with Roger Moore as James Bond, Trevor Nunn's Lady Jane (1986), Bob Rafelson's Mountains of the Moon (1990) and as Laura's father in Four Weddings and a Funeral (1994).
(8) MEDIA ANNIVERSARY.
1980 — Forty years ago, Roger Zelazny would win the Balrog Award for "The Last Defenders of Camelot". It was originally published in Asimov's SF Adventure Magazine, Summer 1979. The Balrog Award were a set of awards given annually from 1979 to 1985 for the best works and achievements of genre fiction in the previous year. You knew what they were named after. The awards were originally announced by editor Jonathan Bacon in Issue #15 of Fantasy Crossroads and presented at the Fool-Con II convention on April Fool's Day, 1979. Bacon says that they were not to considered serious awards.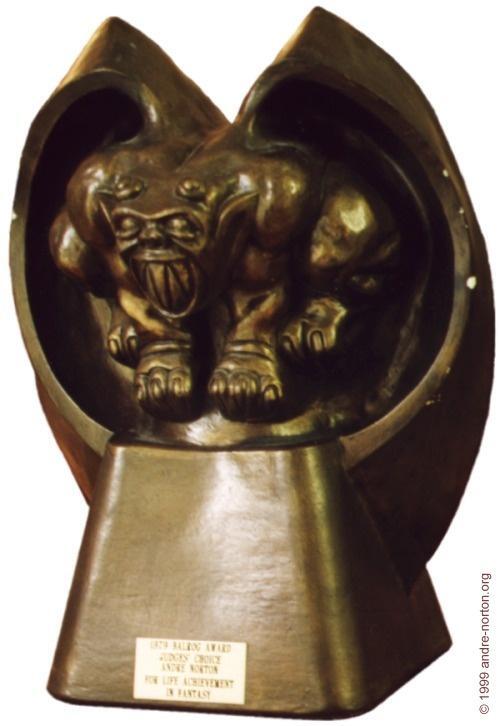 (9) MEDIA BIRTHDAY.
November 20, 1964 — The First Men in the Moon premiered. It's an adaptation by screenwriter Nigel Kneale of H. G. Wells novel of the same name. It was produced by Charles H. Schneer, and directed by Nathan Juran. It starred Edward Judd, Martha Hyer and Lionel Jeffries. Ray Harryhausen of course did the special effects with sculptor Bryan Kneale constructing the Selenites from Harryhausen's designs. With the exception of the grinch critic at the New York Times, critics loved it, though it was a box-office bomb which Harryhausen thought was the fault of too much comedy in the script. It holds a respectable sixty-seven percent rating among audience reviewers at Rotten Tomatoes.
(10) TODAY'S BIRTHDAYS.
[Compiled by Cat Eldridge and John Hertz.]
Born November 20, 1858 – Selma Lagerlöf.  Nine novels, a score of shorter stories for us, many others of each outside our field.  First woman to win Nobel Prize in Literature; given "in appreciation of the lofty idealism, vivid imagination, and spiritual perception that characterize her writings".  (Died 1940) [JH]
Born November 20, 1923 – Len Moffatt.  Fan Guest of Honor at Westercon 25.  Forry Award (for life contribution to SF; given to pros and fans, some people are both).  With wife June, Fan GoH at Loscon 8; TAFF (Trans-Atlantic Fan Fund) delegates, publishing The Moffatt House Abroad; Evans-Freehafer Award (for service to L.A. Science Fantasy Society); fanzine Moonshine; L & J and I published Button-Tack (memorial zine for Rick Sneary – rhymes with "sherry"); L & J posthumously in First Fandom Hall of Fame.  My appreciation of Len here.  (Died 2010) [JH]
Born November 20, 1926 — John Gardner. Author of more Bond novels that one would think possible. He'd write fourteen original James Bond novels, more than Fleming wrote, and the novelized versions of two Bond films. He also dip into the Sherlock universe, writing three novels around the character of Professor Moriarty. Rights to film them were optioned but never developed. (Died 2007.) (CE)
Born November 20, 1929 — Jerry Hardin, 91. He's best known for playing Deep Throat on The X-Files. He's also been on Quantum Leap, Starman, Brimstone and Strange World, plus he was in the Doomsday Virus miniseries. And he made a rather good Samuel Clemens in the two part "Time's Arrow" story on Next Gen. (CE) 
Born November 20, 1932 — Richard Dawson. Usually one appearance in a genre film or show isn't enough to make the Birthday list but he was Damon Killian on The Running Man, a juicy enough role to ensure his making this list, and twenty years earlier he was Joey on Munster, Go Home! He'd voiceLong John Silver on an animated Treasure Island film in the Seventies as well. And he had a one-off on the classic Fantasy Island. (Died 2012.) (CE) 
Born November 20, 1936 – Don DeLillo, 84.  A dozen novels, half as many shorter stories, for us; four other novels, a score of other shorter stories, plays, a screenplay.  Nat'l Book Award, PEN/Faulkner Award (Poets, Essayists, Novelists), PEN / Saul Bellow Award, Lib'y of Congress Award.  More here.  [JH]
Born November 20, 1944 — Molly Gloss, 76. She received the Otherwise Award for her Wild Life novel, and nominated for another one for The Dazzle of Day novel.  Much of her excellent short stories are collected in the recently released Unforeseen which along with her two genre novels are available from the usual digital suspects. (CE) 
Born November 20, 1950 – Donita Paul, 70.  A dozen novels.  Romances and juveniles under another name.  Why shouldn't a Christian author write of dragons – what about St. George? [JH]
Born November 20, 1956 — Bo Derek, 64. She makes the Birthday list for being Jane Parker in Tarzan, the Ape Man. There's also Ghosts Can't Do It and Horror 101 as wellas the two Sharknado films she just did. (CE)
Born November 20, 1959 — Sean Young, 61. Rachael and her clone in the original Blade Runner and the sequel. More intriguingly she played Chani in Dune. A bit old for the role, wasn't she? She was the lead, Helen Hyde, in Dr. Jekyll and Ms. Hyde. And she's a Trekkie as she was in the Star Trek: Renegades video fanfic pilot as Dr. Lucien. (CE) 
Born November 20, 1972 – Cerece Rennie Murphy, 48.  Seven novels, one shorter story.  Ardent fan of John Donne, Alice Walker, Kurt Vonnegut, and Alexander Pope from an early age.  A 2nd Grade teacher applauds a CRM book for children, "I have struggled to find books with African-American characters who are not stereotyped or set in a time period of racial struggle."  [JH]
(11) COMICS SECTION.
Rich Horton says this Rhymes With Orange reminded him of Howard Waldrop's first sale (to Analog! Possibly even to Campbell!) — "Lunchbox".
(12) GREAT DAYS OF ANIMATION. Join legendary animator Glen Keane, director of Over The Moon, for a virtual retrospective conversation with filmmaker and animator Sergio Pablos. Free event on Saturday, December 5 at 7:30 p.m. Pacific. Register here.
A 38-year veteran of Walt Disney Feature Animation, Glen Keane trained under Walt Disney's Nine Old Men. Keane went on to create many beloved Disney characters such as The Little Mermaid, Aladdin, The Beast, Tarzan, and Rapunzel. In 2012, Keane departed Disney to begin Glen Keane Productions as a way to further his artistic explorations in animation, design, and film. He has since gone on to collaborate with Google, the Paris Ballet, and Kobe Bryant. In 2017, he animated and directed the Academy Award-winning animated film "Dear Basketball" in collaboration with legends Kobe Bryant and John Williams. Most recently, he directed OVER THE MOON, now available on Netflix.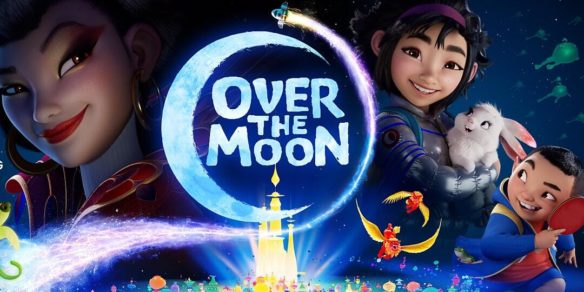 (13) A STARCHY PARABLE. [Item by rcade.] The AmITheAsshole subreddit is a place for people to find out whether they've done something to someone else that makes them an asshole.
A woman asked: "AITA for "ruining" the rice that my boyfriend cooks with by consolidating the multiple bags of rice which he claims are "different" into a single container?"
Here's where it becomes fodder for File 770. Commenter SelectNetwork1 has responded in the form of a fairy tale in this thread. [There are now over 4K comments, and it took OGH 10 minutes to find it again, so we're just going to quote it in full.]
Once there was a princess who always wanted things her way. There were three bags of rice in the kitchen and every day she asked, why can't all the rice be in the same bag? They are all the same." And every day her boyfriend replied, "They look the same to you because you only look at them from a distance, but they are not the same. They won't cook right if they're mixed together."

One day, the princess's boyfriend went away for the weekend, leaving the princess home alone. The three bags of rice sitting were all she could think about. They are the same! she thought, over and over. Why are they not in the same bag together! At last she could stand it no more. She went to the kitchen, found a single, big container, and dumped all three bags of rice into it. Then she shook it very hard so the grains would mix. There, now all the rice is together, she thought. At last, she was at peace.

A few hours later, there was a knock at the door. The princess went to answer it, and on the front step was a mysterious woman. "Did you mix three bags of rice all together?" asked the mysterious woman. "They were all the same, they belonged in one bag," said the princess. The mysterious woman seemed to grow to a hundred feet tall! The princess cowered, and let out a squeak. She covered her eyes with her hands, and realized her hands were paws! She had been turned into a mouse.

The mysterious woman picked her up and put the mouse princess on her shoulder. The mouse princess clung to her shirt as the mysterious woman went into the house and walked straight to the kitchen. She took the big bag of rice and dumped it out on the kitchen table, then gently lifted the mouse princess off her shoulder and set her down beside the rice, which towered above her mouse head like a mountain. "Do you wish to become a human princess again?" the mysterious woman asked, and the mouse princess nodded and squeaked. "Then you must separate these grains of rice that you have mixed together. Only then will you return to your true form."

The mouse princess stared up at the mountain of rice: it was too large to contemplate, and the rice was all the same! It seemed like an impossible task. She turned back to the mysterious woman, but she had vanished: the kitchen was empty.

For a while, the mouse princess sulked. Eventually, she got bored, and picked up a grain of rice between her paws. "It's just rice, it's all the same," she tried to say, but it came out as "squeak." She put it aside, and picked up another grain of rice. "See, just rice?" she tried to say, but that, too, came out as "squeak." This grain was heavier than the first one, and she looked more closely at it. The first grain was long and thin, and this one was a little shorter, and fatter at the middle. She pawed through the pile and came up with another: this grain was shorter and fatter still. "They are not the same!" she tried to exclaim, but it came out as "Squeak!"

The mouse princess contemplated the mountain of rice, and for the first time since she had been turned into a mouse by the mysterious stranger, she felt a little hope. She took the three grains of rice and set them down in three corners of the table, then went back to the mountain of rice and began to take it apart, one grain at a time.

The longer she worked, the easier it became. After a while, she didn't have to examine the grains to tell them apart, she could see the difference as soon as she as much as glanced at them. She worked until she was exhausted, then she fell asleep on a pile of rice, and woke up again a few hours later to begin working again. She worked and slept, worked and slept, and worked again.

After three days and three nights, the mouse princess was finished. As soon as she pushed the last grain of rice into its pile, she felt as if the room were shrinking around her! She leapt off the table before she could spill the rice, and landed on the floor on her human feet.

Just as she was getting her bearings, she heard the front door open. Her boyfriend was home! She swiftly found the original bags and swept the three piles of rice into their three separate containers. Just as she set the last bag of rice on the table, her boyfriend walked into the room. When he saw the bags of rice, he sighed. "I've told you before, they are not the same just because they look the same to you," he said. The princess smiled. "I know," she said. "All the rice looked the same to me when I looked at them only from a distance; now I have looked closer, and I understand that each rice is unique."

The human princess's boyfriend looked surprised, but happy. "I'll start making dinner," he said. "What kind of rice would you like to eat?"

"The medium-length one," the princess said. "But rinse it carefully… I think I saw a mouse around here somewhere."
(14) STAY FROSTY. Variety peeks behind the curtain as "George Clooney Navigates Two Worlds in Sci-Fi Drama 'The Midnight Sky'".
Netflix's sci-fi drama "The Midnight Sky," set for release next month, will see George Clooney as a scientist in the Arctic trying to protect a little girl, and prevent a group of astronauts from coming back home after a global catastrophe.

"It's two different worlds; we were basically saying we were going to shoot 'The Revenant' and stop, and then shoot 'Gravity,'" said Clooney about his seventh feature as a director during an online seminar at EnergaCamerimage Film Festival dedicated to "The Midnight Sky," an adaptation of Lily Brooks-Dalton novel "Good Morning, Midnight." He was accompanied by the film's cinematographer Martin Ruhe.

"Usually, when space movies are shot, up is up and down is down, and that's not exactly how it works. In 'Gravity,' the camera was constantly rotating. We wanted to keep the idea of the horizon being different, without making everyone throw up along the way. But our first conversation was: 'How do we shoot winter'?," said Clooney, mentioning that while two-thirds of Earthbound sequences were shot in Iceland, one-third was completed on the sound stage, "which was as cold as Iceland for some reason!," he said.
(15) A LITTLE GAFFE. "Star Wars: The Mandalorian Has Its Own Game of Thrones Coffee Cup Blunder" in "Chapter 12: The Seige."
…For the second time on The Mandalorian, an on-set mistake has been noticed, reminding fans of the infamous coffee cup on Game of Thrones. Photo at the link.

Without giving too much away, this episode sees Mando and Baby Yoda return to Nevarro, where Din Djarrin reunites with Greef Carga and Cara Dune to shut down an old Imperial base on the planet. While they're working through the base, getting into a shootout with a few stormtroopers, a pretty obvious mistake can be noticed in the background….

In the back-left corner of the frame, a man can be seen that clearly isn't a part of the Star Wars universe. He's wearing a t-shirt, blue jeans, and a watch. You can only see the left side of his body, and his head is thankfully out of the frame, but it's still very noticeable.
(16) LAST LIGHTNING. People reports "The CW's Black Lightning to End with Season 4".
Black Lightning is coming to an end, the CW announced Friday.

The superhero drama will conclude with its upcoming fourth season, set to premiere in February 2021. Though the network did not give a reason for the series' end, showrunner Salim Akil released a statement thanking the cast, crew and fans.

"When we first started the Black Lighting journey, I knew that Jefferson Pierce and his family of powerful Black women would be a unique addition to the superhero genre," the statement said, according to Entertainment Weekly.

He continued, "The love that Blerds and all comic book fans around the globe have shown this series over the past three seasons proved what we imagined: Black people want to see themselves in all their complexities."
(17) NIGHT OF THE GAS GIANTS, Mental Floss urges everyone, "Don't Miss Saturn And Jupiter's Great Conjunction on the Winter Solstice" on December 21.
In 2020, skygazers were treated to meteor showers, a new comet, and a Halloween blue moon. One of the last major astronomical events of the year is set to fall on the night of the winter solstice. On December 21, look up to catch Saturn in conjunction with Jupiter.

WHAT IS THE CONJUNCTION OF SATURN AND JUPITER?

In astronomy, a conjunction occurs when two planets appear exceptionally close in the night sky. Two of our solar system's gas giants will share a celestial "kiss" on the longest night of the year. The rare meeting of Saturn and Jupiter is known as the "great conjunction" by astronomers.
(18) A MODEST DESIGN PROPOSAL. The election coverage is winding down, so here's what Fox News has moved on to: "Grow-your-own human steaks meal kit is not 'technically' cannibalism, makers say".
…A "DIY meal kit" for growing steaks made from human cells was recently nominated for "design of the year" by the London-based Design Museum.

Named the Ouroboros Steak after the circular symbol of a snake eating itself tail-first, the hypothetical kit would come with everything one needs to use their own cells to grow miniature human meat steaks.

"People think that eating oneself is cannibalism, which technically this is not," Grace Knight, one of the designers, told Dezeen magazine.
(19) THAT'S NO MOON! The Planetary Society pointed readers to NASA's story "Earth May Have Captured a 1960s-Era Rocket Booster". This one's not a conjunction – it's just regular junk.
Scientists at NASA's Jet Propulsion Laboratory were puzzled over Earth's newest moon: an object in orbit around the Earth, temporarily captured by our planet's gravity. Tracing the object's trajectory back through time, they discovered it came from Earth itself in 1966, when NASA launched Surveyor 2 to the Moon. The object is likely the rocket's upper stage.
[Thanks to John King Tarpinian, Michael Toman, Rich Horton, Martin Morse Wooster, JJ, Cat Eldridge, Andrew Porter, John Hertz, rcade, Contrarius, and Mike Kennedy for some of these stories. Title credit goes to File 770 contributing editor of the day Jack Lint.]