(1) DARK ART. Christine Feehan has applied for a trademark on the word "Dark" for a "Series of fiction works, namely, novels and books."
Feehan is a California author of paranormal romance, paranormal military thrillers and fantasy.
The application to the US Patent and Trademark Office, filed November 20, describes her claim as follows:
International Class 016: Series of fiction works, namely, novels and books.

In International Class 016, the mark was first used by the applicant or the applicant's related company or licensee or predecessor in interest at least as early as 11/13/1998, and first used in commerce at least as early as 03/03/1999, and is now in use in such commerce. The applicant is submitting one(or more) specimen(s) showing the mark as used in commerce on or in connection with any item in the class of listed goods/services, consisting of a(n) amazon.com website showing books in series being sold, book catalog showing series of books with mark, personal website showing series of books with mark..

The mark consists of standard characters, without claim to any particular font style, size, or color.
Will the mark be granted? What use will the author make of it?
Last year Faleena Hopkins triggered "Cockygate" when she claimed exclusive rights to "cocky" for romance titles. Hopkins sent notices to multiple authors telling them to change the titles of their books and asked Amazon to take down all other cocky-titled romance books (not just series).
The Authors Guild got involved in the litigation and Hopkins withdrew her trademark claim. The Guild's settlement announcement also said:
…The Trademark Office clarified that the owner of a trademark in a book series title cannot use that trademark against single book titles. Since single titles cannot serve as trademarks, they also cannot infringe series title trademarks. So, if another author or a publisher ever tries to stop you from using a single book title because of their series trademark, you can tell them to take a hike. Only series titles can infringe another series title.
(2) MAGNIFICENT SEVEN. Nicholas Whyte does an epic roundup of "Blake's 7: the third series" at his From The Heart of Europe blog. In addition to his commentary and links to episodes on YouTube, he also keeps track of such trivia as appearances by actors who also had roles in Doctor Who, and includes clips of some of the betterlines of dialog. such as –
Dialogue triumph:

Avon: That one's Cally. I'll introduce her more formally when she wakes up. This one is Vila. I should really introduce him now; he's at his best when he's unconscious.
(3) FIND THE BEST SHORT FANTASY. Rocket Stack Rank posted its annual roundup "Outstanding High Fantasy of 2018" with 39 stories that were that were finalists for major SF/F awards, included in "year's best" SF/F anthologies, or recommended by prolific reviewers in short fiction.
Included are some observations obtained from highlighting specific recommenders and pivoting the table by publication, author, awards, year's best anthologies, and reviewers.
(4) ROCINANTE LIFTS OFF 12/13. Amazon has dropped the trailer for the next season of The Expanse:
Season 4 of The Expanse, its first as a global Amazon Original, begins a new chapter for the series with the crew of the Rocinante on a mission from the U.N. to explore new worlds beyond the Ring Gate. Humanity has been given access to thousands of Earth-like planets which has created a land rush and furthered tensions between the opposing nations of Earth, Mars and the Belt. Ilus is the first of these planets, one rich with natural resources but also marked by the ruins of a long dead alien civilization. While Earthers, Martians and Belters maneuver to colonize Ilus and its natural resources, these early explorers don't understand this new world and are unaware of the larger dangers that await them.
(5) 55 YEARS AGO. Galactic Journey's Mark Yon covers pop culture and the latest British sff books, prozines, film, TV – the latest as of November 25, 1964 that is: "The Times They Are a-Changin'… Science Fantasy December 1964/January 1965".
…On the television the genre pickings have still not been many. I am still enjoying most of Doctor Who, and Jessica's excellent reports on that series' progress need no further comment from me, but my latest find this month has been another popular series for children. I am quite surprised how much I have enjoyed its undemanding entertainment, as Gerry Anderson's Stingray has been shown on ITV. Be warned though – it's a puppet series! Nevertheless, its enthusiasm and energy, combined with great music in a wonderful title sequence has made this unexpected fun. I understand that it has been entirely filmed in colour, although like the majority of the 14 million British households with a television, we're forced to watch it in good old black-and-white.
(6) GIVING THANKS FOR THE WEIRD. [Item by Martin Morse Wooster.]The November 24 episode of The Simpsons was a Thanksgiving version of Treehouse of Horror, and all three segments were sf or fantasy. The first episode recreated the original Thanksgiving, with cast members playing the Pilgrims, the Indians, and the turkeys. The second episode had a personal assistant AI like Siri or Alexa, and the AI version of Marge did a better job of preparing Thanksgiving dinner than Marge did. But the best segment was when a space ark fled Earth because of climate change, and Bart Simpson finds a can of cranberry sauce and decides to replicate it, skipping all the warnings about how you shouldn't replicate organic objects. Of course, Bart ignores the warnings, and the cranberry sauce comes to life and becomes very hungry.
(7) THE GREATEST? BBC says it's a real icebreaker: "Frozen 2 rakes in $350 million worldwide on box office debut". But I could use a hand interpreting the second paragraph – those places aren't part of "worldwide"?
Frozen 2 raked in $350 million (nearly £272m) in its opening weekend worldwide, beating forecasts and the box office debut of the original film.

The sequel made about £15m in the UK and Ireland and $127m (£98.9m) in the US and Canada, which are not counted towards the worldwide figures.

The 2013 original took $93m (£72.28m) during its first five days in theatres, according to Reuters.

It ended up making a whopping $1.27bn in total.

Disney say the sequel has set a new record for the biggest opening weekend for an animation.

That's owing to the fact they consider this year's remake of the Lion King, which made $269m on its opening weekend, to be a live action film.

But some feel the digital 3D film is more of a photo-realistic animation
(8) TODAY IN HISTORY.
November 26, 1977 — Space Academy aired "My Favorite Marcia". The YA series stars Commander Isaac Gampu as played by Jonathan Harris. And the Big Bad in this episode is Robby the Robot with a different head. And a black paint job.
November 26, 1986 – Star Trek IV: The Voyage Home premiered. Featuring the all still living main cast of the original series, it was financially quite successful, liked by critics and fans alike. It currently has an 81% rating at Rotten Tomatoes among viewers. It placed second to Aliens for the Best Dramatic Presentation Hugo at Conspiracy '87.
November 26, 1997 — Alien Resurrection premiered. The final instalment in the Alien film franchise, it starred Sigourney Weaver and Winona Ryder. It was the last Alien film for Weaver as she was not in Alien vs. Predator. It did well at the box office and holds a 39% rating at Rotten Tomatoes.
(9) TODAY'S BIRTHDAYS.
[Compiled by Cat Eldridge.]
Born November 26, 1897 — Naomi Mary Margaret Mitchison, Baroness Mitchison, CBE (née Haldane). Author of many historical novels with genre trappings such as The Corn King and the Spring Queen and The Bull Calves but also new wave SF such as Memoirs of a Spacewoman, pure fantasy Graeme and the Dragon and an Arthurian novel in Chapel Perilous. (Died 1999.)
Born November 26, 1910 — Cyril Cusack. Fireman Captain Beatty on the classic version of Fahrenheit 451. He's Mr. Charrington, the shopkeeper in Nineteen Eighty-four, and several roles on Tales of the Unexpected round out his genre acting. (Died 1993.)
Born November 26, 1919 — Frederik Pohl. Writer, editor, and fan who was active for more seventy-five years from his first published work, the 1937 poem "Elegy to a Dead Satellite: Luna" to his final novel All the Lives He Led. That he was great and that he was honored for being great is beyond doubt — If I'm counting correctly, he won four Hugo and three Nebula Awards, and his 1979 novel Jem, Pohl won a U.S. National Book Award in the one-off category Science Fiction. SWFA made him the 12th recipient of its Damon Knight Memorial Grand Master Award in 1993, and he was inducted by the Science Fiction and Fantasy Hall of Fame in 1998. OK, setting aside Awards which are fucking impressive, there's the matter of him editing Astonishing Stories, Galaxy Science Fiction, Worlds of If, andSuper Science Stories which were a companion to Astonishing Stories, plus the Star Science Fiction anthologies –and well let's just say the list goes on. I'm sure I've not listed something that y'all like here. As writer, he was amazing. My favorite was the Heechee series though I confess some novels were far better than others. Gateway won the Hugo Award for Best Novel, the 1978 Locus Award for Best Novel, the 1977 Nebula Award for Best Novel, and the 1978 John W. Campbell Memorial Award for Best Science Fiction Novel. Very impressive. Man Plus I think is phenomenal, the sequel less so. Your opinion of course will no doubt vary. The Space Merchants co-written with Cyril M. Kornbluth in 1952 is, I think, damn fun. (Died 2013.)
Born November 26, 1939 — Tina Turner, 80. She gets noted here for being the oh-so-over-the-top Aunty Entity in Mad Max Beyond Thunderdome, but let's not forget her as The Acid Queen in Tommy as well and for appearing as The Mayor in The Last Action Hero which is at least genre adjacent.
Born November 26, 1945 — Daniel Davis, 74. I'm singling him out for Birthday Honors for being his two appearances as Professor Moriarty on Next Gen. He has one-offs on MacGyver, Gotham and Elementary. He played a Judge in The Prestige film. He also voiced several characters on the animated Men in Black series.
Born November 26, 1961 — Steve Macdonald, 58. A fan and longtime pro filker ever since he first went to a filk con in 1992. In 2001, he went on a "WorlDream" tour, attending every filk con in the world held that year. He's now resident where he moved to marry fellow filker Kerstin (Katy) Droge.
Born November 26, 1966 — Kristin Bauer van Straten, 53. Best known for being Pamela Swynford De Beaufort on True Blood, and as sorceress Maleficent on Once Upon a Time. She was also the voice of Killer Frost in the most excellent Suicide Squad: Hell to Pay film.
Born November 26, 1988 — Tamsin Egerton, 31. She was the young Morgaine, and I do mean young, in The Mists of Avalon series. She goes on to be Kate Dickens in the Hans Christian Andersen: My Life as a Fairytale series, Miranda Helhoughton in the Sherlock Holmes and the Case of the Silk Stocking film and Guinevere in the Camelot series. Oh, and she's Nancy Spungen in an episode of Psychobitches which is least genre adjacent if not genre.
Born November 26, 1988 — Hafþór Júlíus Björnsson, 31. He played Gregor "The Mountain" Clegane on the Game of Thrones for five seasons. That's it for his genre acting, but he co-founded Icelandic Mountain Vodka whose primary product is a seven-time distilled Icelandic vodka. Surely something Filers can appreciate!
(10) RE-FINDING NEMO. [Item by Daniel Dern.] I'm behind in doing a Windsor McKay/Little Nemo post, but this is a close-out item and probably going fast, so: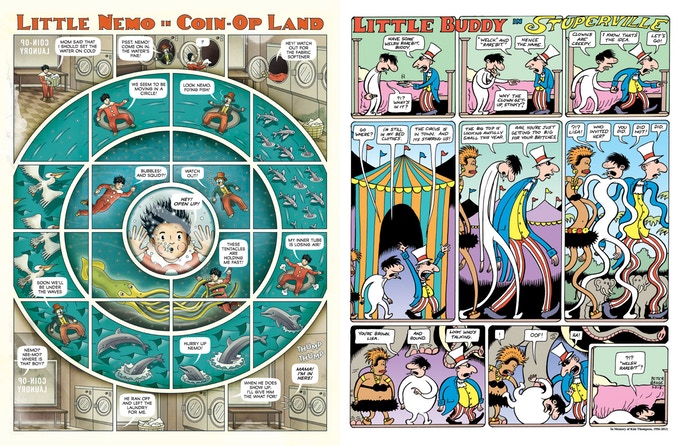 For you $45 plus shipping – $7.95, via USPS (you can spend more for faster), down from the original $124.99
My point: If you are a McKay/Nemo fan, and think you might be interested, now is the time, before they're gone (or gone at this price). (Needless to say, I ordered mine before sending this item to OGH.)
The book is 16″x21″ — the same size as the original McKay strips, back when the "Sunday Funnies" were humongous… and Nemo (and many others) got an entire of these pages. There are, as an item or comment a few weeks/months back noted, two volumes of McKay's Nemo that are themselves full-sized. They ain't cheap. (I own the first one, felt that was enough that I didn't follow up and get the second… I do, to be fair, have enough smaller-sized Nemo volumes.
From the listing:
By Bill Sienkiewicz, Charles Vess, P. Craig Russell, David Mack et al. Contemporary artists pay tribute to this beloved and imaginative Sunday page. They have created 118 entirely new Little Nemo pages, all full Sunday page size! Contributors also include Paul Pope, J.H. Williams III, Carla Speed McNeil, Peter Bagge, Dean Haspiel, Farel Dalrymple, Marc Hempel, Nate Powell, Jeremy Bastian, Jim Rugg, Ron Wimberly, Scott Morse, David Petersen, J.G. Jones, Mike Allred, Dean Motter, Yuko Shimizu, Roger Langridge, Craig Thompson, and Mark Buckingham, among many others.
The Kickstarter page has a video about the project. Enjoy!
(11) YOUNG CREATORS. [Item by Martin Morse Wooster.] The Washington Post's Michael Cavna interviews Lynda Barry.  Barry, who teaches interdisciplinary creativity at the University of Wisconsin (Madison), says that she's going to use her Macarthur Fellowship to study four-year-olds who see writing and drawing as one thing to determine when kids see writing and drawing as separate activities and then give up drawing. One result, she says, may be to find ways to teach adults who don't think they can draw to start making art again. "How MacArthur 'genius' Lynda Barry is exploring brain creativity with true artists: Preschoolers".
… "Most people stop drawing when they reach the age of 8 or so, because they couldn't draw a nose or hands," said Barry, 63. "The beautiful thing is that their drawing style is intact from that time. Those people, if you can get them past being freaked out, have the most interesting lines — and have a faster trajectory to making really original comics than people who have been drawing for a long, long time."
(12) POHL SHORT AND LONG. James Davis Nicoll marks the Pohl centenary with a bouquet of brief reviews: "Celebrating Frederik Pohl's 100th Birthday with Five Overlooked Classics".
…No discussion of authors of Pohl's vintage would be complete without mentioning their shorter works.1972's collection The Gold at the Starbow's End contains five of Pohl's finest, two of which are standouts.

The first standout is the title novella, in which a small crew of astronauts are dispatched on a slow voyage to Alpha Centauri. They have been assured that a world awaits them; this is a lie. There is no world and they have not been told of the true goals of their project. The project is a success. If only the geniuses who created the program had asked themselves what the consequences of success might be…

The other standout is 1972's The Merchant of Venus. The discovery of alien relics on Venus has spurred colonization of that hostile world. Maintaining a human presence on Venus is fearfully expensive. It's not subsidized by the home world; colonists must pay for their keep. This is a challenge for Audee Walthers, who is facing impending organ failure and doesn't have the dosh to pay the doctor….
(13) STAR WARS — GONE TO POT. Eater realizes that the "'Star Wars' Instant Pot Gets Us Closer to an Entire 'Star Wars' Kitchen".
The launch of Disney+ show The Mandalorian, and the introduction of baby Yoda, has brought upon us the latest round of Star Wars obsession, with plenty of product tie-ins to aid the fandom. Last month, Le Creuset introduced a line of Star Wars-branded cookware, including a C-3P0 Dutch oven and a porg pie bird. But if you're torn between wanting to use a Star Wars casserole dish and needing to braise ribs quickly, a new line of Star Wars Instant Pots is here….

(14) CRASH LANDING. Even though Plagiarism Today's headline says "You Wouldn't Plagiarize an Airport" without a question mark, it certainly can't be an absolute statement —
In what has to be one of the more bizarre plagiarism stories in recent memory, Qatar Airways accused Singapore's Changi Airport Group of plagiarizing not a paper, an idea or a proposal, but an airport.

The accusation was made by Akbar Al Baker, who is the CEO of both Qatar Airways and Hamad International Airport. In a recent press conference, he claimed that Singapore's Changi Airport was a plagiarism of a planned expansion of Hamad International Aiport in Doha, Qatar.
(15) CHARACTER STUDY. At Rapid Transmissions, Joseph Hurtgen suggests "Seven ways to write great characters". First up —
Make your characters likable

Will Smith and Tom Hanks have made their careers by playing likable characters. Some of these characters are hyperintelligent and some profoundly dumb. Some inspire laughter and others tears. But the characters they play are always easy to like. They have a quality about them that makes you feel like, given the chance, you'd get along with them.

So, why does this matter? It matters because people like rooting for a likable person. People want the good guy to get the girl. They want the honorable person to rise to the top. Unfortunately, life doesn't always deal out its cards fairly. Bad guys win all the time. As a result, people want to escape into a fiction governed by poetic justice, where the bad guys run up against the shit they deserve and the good guys get to sit back and have a cold one.
But no need to limit yourself, Hurtgen's second suggestion is —
Make your characters unlikable…
(16) RED SHIFT. In "We Made Star Wars R-Rated," YouTube's Corridor Crew takes some scenes from the second trilogy and adds the gore and splatter that Lucasfilms forgot to include….
[Thanks to John King Tarpinian, Mike Kennedy, Olav Rokne, James Davis Nicoll, Daniel Dern, Eric Wong, Martin Morse Wooster, JJ, Cat Eldridge, Chip Hitchcock, N., and Andrew Porter for some of these stories. Title credit goes to File 770 contributing editor of the day Daniel Dern.]