(1) SUPERHEROES BY ACCIDENT. The DC Universe streaming service debuts Doom Patrol on February 15.
Just like us. Only totally different. #DCUDoomPatrol series premiere on February 15, only on #DCUNIVERSE. DOOM PATROL reimagines one of DC's most beloved groups of Super Heroes: Robotman aka Cliff Steele (BRENDAN FRASER), Negative Man aka Larry Trainor (MATT BOMER), Elasti-Woman aka Rita Farr (APRIL BOWLBY) and Crazy Jane (DIANE GUERRERO), led by modern-day mad scientist Niles Caulder aka The Chief (TIMOTHY DALTON). Each member of the Doom Patrol suffered a horrible accident that gave them superhuman abilities, but also left them scarred and disfigured. Traumatized and downtrodden, the team found their purpose through The Chief, coming together to investigate the weirdest phenomena in existence. Following the mysterious disappearance of The Chief these reluctant heroes will find themselves in a place they never expected to be, called to action by none other than Cyborg (JOIVAN WADE), who comes to them with a mission hard to refuse. Part support group, part Super Hero team, the Doom Patrol is a band of superpowered freaks who fight for a world that wants nothing to do with them.
(2) READ EMSHWILLER. The Library of America's "Story of the Week" is "Pelt" by Carol Emshwiller, who died February 2.
One of the best-known of the 150-plus stories Emshwiller published between 1954 and 2016, is the often-anthologized "Pelt," which was most recently reprinted in the Library of America collection, The Future Is Female! Describing the trek of a trophy hunter accompanied by his dog on a distant planet; the story is told from the dog's point of view—one of Emshwiller's numerous tales that explore the interactions of predators and prey or that adopt a non-human perspective. "I took several classes in prey animal psychology, which actually were classes on the psychology of everything," she explained in her Contemporary Authors essay. "About how we, being predators and having predators such as cats and dogs around us all the time, understand predators, but know very little about prey animals."
(3) FALLING OFF THE EDGE OF THE EARTH. Don't expect to see too many IKEA customers at the 2020 Worldcon — "IKEA sells world map but forgets to include New Zealand".
Global furniture retailer IKEA has garnered online infamy after a bemused customer shared a photo of a map that notably did not include New Zealand.

…IKEA has since apologised in a statement to the BBC.

"IKEA is responsible for securing correct and compliant motifs on all our products," they wrote.

"We can see that the process has failed regarding the product BJÖRKSTA world map – we regret this mistake and apologise…."
(4) EUROCON 2019. TitanCon EuroCon 2019 Memberships are on sale. The convention will be held August 22-25 in Belfast, Ireland.
Our payment system is back online for all those who have been patiently waiting to book their memberships to this year's Convention. If you're ready to buy your membership please click through the link below where you'll find the button to our Grenadine site for credit or debit card payments using Stripe.

Our Membership Rates are currently the same as they were prior to taking the sales page down to change payment systems, so those who have been trying to book have not lost out at all.
These rates are:

Adult Attending £52.00
Young Adult Attending £36.50
Child Attending £21.00
Supporting Upgrade £42.00

On the membership page you'll also find information on our code of conduct, data policy, and scheduled future increases to our membership fees.
(5) WORLDBUILDING WITH JEMISIN. Here's a transcript of Ezra Klein's podcast with N.K. Jemisin from August 2018 where she walked him through a world building exercise she does with students.
EK: We are going to do something today that I'm incredibly excited about, because I have never done it before. We're going to build a world. What is world building, in the science fiction/fantasy sense, because it seems to have a specific meaning that those who aren't familiar with it may just not know.
NKJ: It does. It's one of the things that makes SFF unique among literary forms, just because you're not doing a story in the first world, which is what we call our world/this world. We're often using secondary worlds, i.e. worlds that aren't earth. Could be another planet, another reality, could be another universe! It's somewhere where the laws of physics don't work the same way. there may be magic, there might be creatures or beings that don't exist in our world. Could be strange environmental circumstances, but who knows. It's a staple of science fiction and fantasy writing.
(6) PAINFUL FUTURES. NPR's Arkady Martine, in "New Collection Asks: What Might The 'People's Future' Look Like?", reviews the stories assembled by editors Victor LaValle and John Joseph Adams.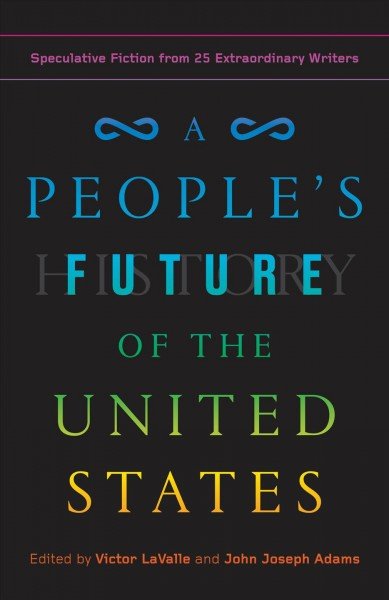 This collection of 25 stories from speculative fiction's sharpest voices presents visions of future Americas that are born, bloody and aching, from the peril and difficulty of this present moment.

In his introduction, editor Victor LaValle writes about how this book derives from the project of its namesake, Howard Zinn's A People's History of the United States — the story of this place, as told by its people, all of its people. Indigenous and immigrant, female and queer and poor, rural and urban; a history spoken by the voiceless. This collection is full of futures which belong to the same people Zinn centered.

They are, in majority, not comfortable or easy futures — nor would one expect them to be, derived as they are from the second year of the Trump presidency and its pervasive damage to the marginalized of the United States. Several of these stories are brutal in their plausible despair — but all of them are rich with an undercurrent of, if not resistance, then the profound resilience of human beings, particularly those who have too often been denied rights and voices. As a whole, the collection challenges the ideas of who the people of the future United States might be — and therefore also challenges assumptions about who the people of the United States are now.
(7) SFRA. The Science Fiction Research Association's Support a New Scholar Award has been won by Beata Gubacsi. This excellence-based grant is helps fund one graduate student of outstanding promise by covering SFRA membership costs for two years.
Beata Gubacsi is a PhD candidate at the University of Liverpool. Her research interests are genre, trauma, climate and animal studies, technology in medicine and health care with a focus on gaming and mental health. While working on her thesis, "Literature of Monstrosity: Posthumanism and the New Weird", she has also been involved in Bluecoat Liverpool's science fiction projects as part of her LiNK placement, and co-hosting and facilitating workshops at the Being Human Festival, Tate Exchange, and Nottingham New Art Exchange. She is author of the column, "Medical Humanities 2.0", for The Polyphony, the blog of the Institute for Medical Humanities at Durham University while also running the Current Research in Speculative Fiction Conference. Most recently, she has joined the team of the Fantastika Journal as assistant reviews editor.
(8) IMPROVING THE CLASSICS. Hayati Evren's art is news to me!
(9) UNGERER OBIT. Tomi Ungerer (1931-2019), Alsatian writer, cartoonist and illustrator has died: "Renowned French Author And Illustrator Tomi Ungerer Dies At 87".
The renowned French cartoonist, author and illustrator Tomi Ungerer, a lifelong activist who protested against racial segregation, the Vietnam war and the election of US President Donald Trump, has died at the age of 87 in Ireland, his former adviser told AFP on Saturday.

…He was obsessed with books from an early age.

"For me, if there was a heaven it would be a library," he told AFP in a 2016 interview, adding that he was "brought up on reading".

Ungerer's oeuvre ranged from globally celebrated children's books like The Three Robbers and The Moon Man to erotic drawings as well as satirical paintings and political posters. He wrote in three languages: English, French and German.

He published over 140 books which have been translated into 30 languages.
(10) TODAY IN HISTORY
February 10, 1957 –Roger Corman's Not Of This Earth premiered in theatres.
February 10, 1957 — Attack Of The Crab Monsters debuted.
(11) TODAY'S BIRTHDAYS.
[Compiled by Cat Eldridge.]
Born February 10, 1904 — Lurton Blassingame. Literary agent for Heinlein. No, usually I don't do such creatures here but he makes the birthday list because Grumbles from the Grave has more letters to Blassingame than to any other correspondent. And even some of Blassingames's letters to Heinlein are included. (Died 1988)
Born February 10, 1906 — Lon Chaney Jr. I certainly best remember him as  playing Larry Talbot in The Wolf Man but he has a lot of other roles as well: The Ghost of Frankenstein as The Monster (hey, correct billing!), The Mummy's Tomb as The Mummy Kharis or Son of Dracula as Count Dracula, he played all the great monsters, often multiple times. (Died 1973.)
Born February 10, 1920 — Robert Park Mills. He was the managing editor of Ellery Queen's Mystery Magazine beginning in 1948 and The Magazine of Fantasy and Science Fiction the following year. He also edited Venture Science Fiction for several years. Under him, F&SF won an impressive three Hugo Awards for best magazine in 1959, 1960 and 1963. (Died 1986.)
Born February 10, 1929 — Jerry Goldsmith. Composer whose music grace many a genre undertaking including, and this is nona completing listing, Alien, Star Trek: The Motion Picture, Poltergeist, Planet of the Apes, The Man from U.N.C.L.E. series, Star Trek: Voyager, The Mummy, The Twilight Zone (need I say the original series?) and he even did the music for Damnation Alley! (Died 2004.)
Born February 10, 1953 — John Shirley, 66. I not going to even attempt a complete précis of his career. I read and much enjoyed his first novel City Come A-Walkin and oddly enough his Grimm: The Icy Touch is damn good too in way many of those sharecropped novels aren't. I see that to my surprise he wrote a episode of Deep Space Nine, "Visionary" and also wrote three episodes of the '12 Teenage Mutant Ninja Turtles. 
Born February 10, 1967 — Laura Dern, 52. Ok I'm going to note she's in David Lynch's Blue Velvet as Sandy Williams which is not genre but which is one fucking weird film. Jurassic Park where she is Dr. Ellie Sattler is her first SF film followed by Jurassic Park III and a name change to Dr. Ellie Degler.  Such are the things movie trivia is made of. Star Wars: The Last Jedi has her showing as Vice Admiral Amilyn Holdo.  I think her first genre appearance was on Shelley Duvall's Nightmare Classics series as Rebecca in "The Strange Case of Dr. Jekyll and Mr. Hyde" episode.
Born February 10, 1992 — Karen Fukuhara, 27. She is known for her role of Katana in Suicide Squad, as well as voicing Glimmer in the She-Ra and the Princesses of Power series. She plays Female in The Boys, the forthcoming web series based on The Boys by Garth Ennis and Darick Robertson. 
(12) COMICS SECTION.
(13) LOVE WILL BE PROVED. Chuck Tingle today announced he'll be a guest at CONvergence in Minneapolis over the July 4-7 weekend.
In 2016 Tingle was nominated for a Hugo Award for his short story, Space Raptor Butt Invasion. As a response to an alt-right fan group conspiring to politicize his works, Tingle announced video game designer and anti-harassment activist Zoë Quinn would accept the award on his behalf if he won. His story did not win and Tingle subsequently published Pounded in the Butt by My Hugo Award Loss, which went viral on social media.

Billings newspaper The New York Times says, "By creating an online community in which his particular outlook—what he calls his 'unique way'—is not just accepted but celebrated, Mr. Tingle has delivered a strong rebuke to the intolerant forces that used him as a prop in attacking diverse voices in the sci-fi world."
(14) MISSY SERIES. Big Finish has released Missy, Series 1, audio adventures with Doctor Who's rival, voiced by Michelle Gomez.
Missy… alone, unleashed and unfettered. What does she get up to when the Doctor isn't around? Well, Missy has a plan. And to carry it out, she's going to have to break some rules. And people. And planets. Look out universe, Missy is on a mission. And nobody is going to stop her…
(15) HOURGLASS FIGURE. Ultima Thule's shape is under discussion in "Nasa's New Horizons: 'Space snowman' appears squashed".
It seems the "space snowman" is more like a "gingerbread man".

Scientists studying the distant object known as Ultima Thule are revising ideas about its shape after examining the latest images downlinked to Earth.

The pictures, taken by the New Horizons probe on 1 January, show the apparently bulbous body to be quite flat.

This interpretation is evident from the data acquired by the Nasa spacecraft when it looked back at icy Ultima Thule as it zoomed past at 50,000km/h.
(16) SUR-REALITY TV. Not genre, but this woman live-tweeting closed-captioned screenshots of Forensic Files is hilarious. Thread starts here.
(17) ANOTHER SFF BOOZE TIE-IN. SYFY Wire asks "Are you ready for Predator Whiskey? Dutch Bourbon says anytime".
"Get to the choppa!" is about to take on a whole new meaning. Silver Screen Bottling Company and Fox Studios have joined forces to release Dutch Bourbon Whiskey, a tie-in brand paying tribute to Arnold Schwarzenegger's character, Maj. Alan "Dutch" Schaefer, in John McTiernan's 1987 sci-fi action classic Predator.

According to the bottler, the spirit's logo is emblazoned with, yes, a chopper set against the targeting crosshairs made famous by the alien hunter with Ah-nuld's now iconic line "Get to the chopper."
(18) DO ANDROIDS DREAM OF ELECTRIC CATS? [Item by Mike Kennedy.]Cat Trigger Warning: Fast Company wants you to know, "This AI dreams about cats–and they'll haunt your nightmares." They look at some work Nvidia has done with their AI StyleGAN—beyond generating human faces that don't actually exist (for which they grabbed tons of headlines). It turns out that they're also into SJW Credential (AI Weirdness: "Letting neural networks be weird • GANCats"). Some of the generated cate are… just… a… bit… bizarre…
A few months ago, Nvidia's AI photo generation technology went viral. The media marveled at the uncanny technological power of the company's engine, called StyleGAN, which generates photos of people that don't actually exist.

But while people were busy gawking at how real these machine-generated people looked, they missed the other important part of Nvidia's experiment: Computer-generated cats.
(19) TANGLED UP IN BLUE. Walt Disney Studios released a new trailer for its live-action Aladdin. I'm not worried whether Will Smith can fill Robin Williams' slippers – because I know nobody can! The movie comes to theaters May 24.
[Thanks to Cora Buhlert, Andrew Porter, Mike Kennedy, Michael Toman, Carl Slaughter. Chip Hitchcock, JJ, John King Tarpinian, Michael J. Walsh, Bonnie McDaniel, Cat Eldridge, and Martin Morse Wooster for some of these stories. Title credit goes to File 770 contributing editor of the day Steve Davidson.]