(1) UNBOXING DAY. Juliette Wade's copies have arrived!
(2) IF IT WASN'T FOR THE HONOR OF THE THING. John Scalzi unpacks his "General Unstructured Thoughts On 'Being Cancelled'" at Whatever.
…2. 'Canceling' is certain people discovering that capitalism doesn't love them as much anymore. I don't want to say that capitalism is value-neutral, because, whoooooo boy, it is not, buuuuuuut it is pretty much 100% percent accurate that capitalism will always, always, follow the money. And where is the money? Well, in America two decades into the 21st century, the large capitalist structures have decided that the money will be multicultural* and socially inclusive* and politically liberal*, and all those asterisks are there because it should be understood that the capitalist take on each of these concepts is heavily modified and strained through the "to the extent we can make money off this" filter, i.e., don't expect capitalism to lead us to a multicultural American utopia, just expect it to be happy to rent-seek inclusively on the way there….
(3) ANCESTORS. Ann Leckie is interested in genealogy. Look who fell out of her family tree —
(4) IT'S NOT BLOWIN' IN THE WIND. At Vector, Paul Kincaid tries to deduce the elusive answer to "When Was Westworld?"
There is no particular issue with the timeline of the original 1973 film, Westworld, written and directed by Michael Crichton. It is set in the then near future, 1983, and the linear action takes place entirely within the Delos theme park. But when the film became the basis for the television series created by Jonathan Nolan and Lisa Joy, Westworld (2016-present), time became a complex and confusing issue.

Nolan had already displayed a rather cavalier attitude towards time in his earlier television series, Person of Interest (2011-2016). The first series, first broadcast in the autumn of 2011, was set in 2012, but contained multiple flashbacks to events over the previous decade. Although these flashbacks are often dated, it can be difficult to construct a coherent timeline for the two principal characters, Harold Finch (Michael Emerson) and John Reese (Jim Caviezel). But when it came to Westworld, that tendency to play fast and loose with chronology became an often understated but defining characteristic of the series.

To date there have been three series of Westworld (it has subsequently been renewed for a fourth season)…each of which presents time in a different way, even though theoretically each is a direct sequel to the series before….
(5) GOONAN MEMORIAL SCHEDULED. There'll be a Zoom memorial held for Kathleen Ann Goonan on March 7 at 3:00 p.m. Eastern. Register here. Those who wish to speak should reach out to [email protected].
(6) SNYDER'S JUSTICE LEAGUE. HBO Max released a new trailer for The Snyder Cut of Justice League which includes new footage of Jared Leto as the Joker.
(7) MEDIA BIRTHDAY.
February 14, 1988 — On this date in 1988 on BBC 2, the Red Dwarf series premiered. It was created by Rob Grant and Doug Naylor and it aired on BBC Two between 1988 and 1999, and on Dave since 2009. It is a sort of a SF comedy. We think. It's based off Dave Hollins: Space Cadet, a BBC Radio 4 series. The official website explains the convoluted cast changes over three decades far better than we could. The audience reviewers at Rotten Tomatoes give it an excellent rating of eighty percent. (CE)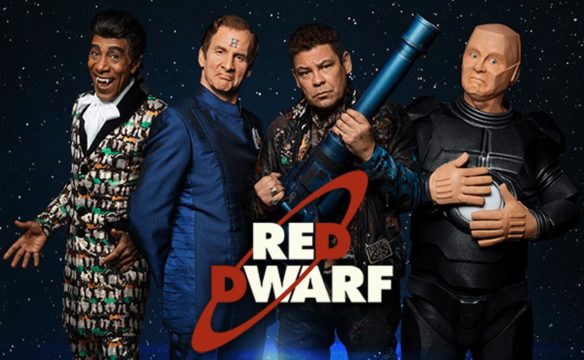 (8) TODAY'S BIRTHDAYS.
[Compiled by Cat Eldridge and John Hertz.]
Born February 14, 1906 – John Gould.  Three hundred interiors for us; much else in a long career for the pulps (so called because printed on cheap wood-pulp paper) and others e.g. Redbook, The Saturday Evening Post.  Advertising and fine art too.  Here is a cover for The Spider (no, not that one).  Here is an interior from the Jan 31 Astounding (illustrating C.D. Willard, "The Eye of Allah").  Here is a 1948 toucan.  Here is a 1960 page for General Electric's celestial-guidance system.  (Died 1996) [JH]  
Born February 14, 1919 – Dave Kyle.  A Pictorial History of SF and The Illustrated Book of SF Ideas and Dreams – a title which is like him.  Three novels, ten shorter stories.  A dozen anecdotes of "The Worldcon from the Beginning" (1939, 1956-57, 1962-63, 1969, 1974, 1977, 1982, 1986-88) in the souvenir book for Noreascon Three the 47th Worldcon; chaired NYCon II the 14th, was Fan Guest of Honor at ConStellation the 41st; by 2011 had attended more Worldcons than anyone else fan or pro.  Two dozen fanhistory articles in Mimosa; see here.  Big Heart (our highest service award; later administered it, 2000-16; after his death, named for him).  Our Gracious Host's appreciation here.  Notes by me here.  (Died 2016) [JH]
Born February 14, 1925 – J.T. McIntosh.  A score of novels, a hundred shorter stories.  Journalist under another name.  I wish I could tell you that "Men Like Mules" was about Bel Riose, or even that "200 Years to Christmas" was about Eratosthenes, but it's not so.  Nevertheless his early work warrants revival.  (Died 2008) [JH]
Born February 14, 1942 — Andrew Robinson, 79. Elim Garak on Deep Space Nine. He wrote a  novel based on his character, A Stitch in Time  and a novella, "The Calling" which can be found in Prophecy and Change, a DS9 anthology edited by Marco Palmieri. Other genre credits include Larry Cotton in Hellraiser, appearing in The Puppet Masters as Hawthorne and playing John F. Kennedy on the The New Twilight Zone. (CE)
Born February 14, 1951 — John Vornholt, 70. I was musing on the difference between fanfic and profic (if such a word exists) when I ran across this writer. He's written in a number of media properties with the most extensive being the Trek verse where he's written several dozen works, but he's penned works also in the Babylon 5, Buffyverse, Dinotopia, Earth 2, Marvel metaverse… Well you get the idea. All authorized, but really no different than fanfic on the end, are they? Other than they pay a lot better. (CE) 
Born February 14, 1952 — Gwyneth Jones, 69. Interesting person that she is, let's start with her thoughts on chestnuts she did when she was Winter Queen at Green Man. Just because I can. Now regarding her fiction, I'd strongly recommend her Bold As Love series of a Britain that went to pieces as it now certainly is, and her twenty year-old Deconstructing the Starships: Science, Fiction and Reality polemic is still worth reading. (CE) 
Born February 14, 1954 – Jeff Easley, age 67.  A hundred covers, two dozen interiors.  Here is the Jul 84 Amazing.  Here is the Dec 98 Dragon.  Here is Legions of Space.  Here is Empire of Imagination.  [JH]
Born February 14, 1963 — Enrico Colantoni, 58. Any excuse to mention Galaxy Quest is one I'll gladly take. He played a delightful Mathesar on that film and that was his first genre role, lucky bastard. Up next for him was A.I. Artificial Intelligence as The Murderer followed by appearing in the most excellent animated Justice League Dark as the voice of Felix Faust where his fate was very, very bad. He had an amazing role on Person of Interest as Charlie Burton / Carl Elias. Not genre, but his acting as Sgt. Gregory Parker on Flashpoint, a Canadian police drama television series is worth noting as it that excellent series. (CE) 
Born February 14, 1970 — Simon Pegg, 51. Best known for playing Montgomery Scott in the new Star Trek franchise. His first foray into genre was Shaun of the Dead which he co-wrote and had an acting role in. Late gernre roles include Land of the Dead where he's a Photo Booth Zombie, Diary of the Dead where he has a cameo as a Newsreader, and he portrays Benji Dunn in the ongoing Mission: Impossible franchise. (CE) 
Born February 14, 1972 – Sarah Shun-lien Bynum, age 49.  A novel (won the Janet Heidinger Kafka Prize) and two shorter stories for us; another novel, eight other shorter stories.  "I'm always looking and hoping for the swerve [alluding to Joan Retallack]."  [JH]
Born February 14, 1975 — M. Darusha Wehm, 46. New Zealand resident writer who was nominated for the Nebula Award and won the New Zealand Sir Julius Vogel Award for The Martian Job novel. They say it's interactive fiction. You can read the standalone prequel novella, Retaking Elysium, on their website which can be found here. (CE)
Born February 14, 1991 – Roshani Chokshi, age 30.  Nine novels (three NY Times Best-Sellers), half a dozen shorter stories; two poems in Strange Horizons and Uncanny.  Top of her class in law school, so dropped out and wrote.  Greek and Hindu myth, magic in 19th Century Paris.  Has read Emma, Frankenstein, Ivanhoe, Lolita, Moby-Dick, M. Tatar's Annotated Grimm, Complete Stories & Poems of Lewis Carroll.  [JH]
(9) COMICS SECTION.
Off the Mark shows how kaiju celebrate Valentine's Day.
Sarah C. Andersen thinks the action really happens on Valentine's Night.
Lar De Souza depicts the surprising truth:
(10) NOTES FROM A BOSKONE 58 INTERVIEW.
(11) THE JETSONS. SYFY Wire eavesdrops as "SpaceX founder Elon Musk teases a lofty Tesla upgrade in the future" in a podcast.
During a recent appearance on The Joe Rogan Experience podcast, Musk commented that he'd love to have upcoming Tesla Roadster hover "like a meter above the ground." Musk always makes the most of his visits to Rogan's online program and it's usually a treasure of interesting antics and sound bites.

"Maybe it can hover like a meter above the ground, or something like that," he explained to the popular comedian and host. "If you plummet, it'll blow out the suspension, but you're not gonna die."

Clearly not completely satisfied with the Roadster's current roster of options, Musk has previously claimed that a next-generation version might be offered with a SpaceX package with rocket-like thrusters employing pressurized air to assist in acceleration, deceleration, and handling.
(12) THE BREW THAT IS TRUE. "Archaeologists unearth world's oldest known beer factory in Egypt" – Yahoo! has the story.
American and Egyptian archaeologists have unearthed what could be the oldest known beer factory at one of the most prominent archaeological sites of ancient Egypt, a top antiquities official said on Saturday.

Mostafa Waziri, secretary general of the Supreme Council of Antiquities, said the factory was found in Abydos, an ancient burial ground located in the desert west of the Nile River, more than 280 miles south of Cairo.

He said the factory apparently dates back to the region of King Narmer, who is widely known for his unification of ancient Egypt at the beginning of the First Dynastic Period (3150BC-2613BC)….
(13) VIDEO OF THE DAY. In "How Wonder Woman 1984 Should Have Ended" on YouTube, the How It Should Have Ended team takes on the many problems of Wonder Woman 1984.
[Thanks to John Hertz, Scott Edelman, JJ, Mike Kennedy, John King Tarpinian, Martin Morse Wooster, Michael Toman, Cat Eldridge, and Andrew Porter for some of these stories. Title credit goes to File 770 contributing editor of the day Daniel Dern.]